1 View
Muzzys Celebrates Successful UTV Race Season
November 20th, 2009 11:56 AM
Share
Muzzys' drivers sweep podium at Lucas Oil short course racing
Muzzys Performance Products has reason to celebrate. After the 14-race inaugural season for Lucas Oil short course racing, the top three finishers in the 2009 Unlimited UTV class were driving Kawasaki Teryx side-by-sides with high performance engines and Muzzys dual exhaust systems. Chad George ( took first place in the series, followed by Robert Vanbeekum ( and Tyler Winbury (
"Everyone at Muzzys would like to congratulate Chad, Bobby and Tyler on a great season," says Rob Muzzy. "The competition was fierce in the Unlimited UTV Class, and these guys showed tenacity to make the podium for the season."
The exhaust systems that Chad, Bobby and Tyler ran all season are basically the same as the Muzzys standard Teryx Dual Exhaust. "We learned a lot this race season and put that insight into our new Teryx PRO Exhaust which are a perfect match to big bore Teryx engines," says Muzzy.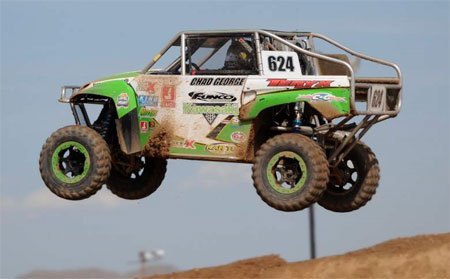 Not only do Muzzys dual exhaust systems perform and sound great, they are proved durable.
"Chad and Tyler both ran with the same exhaust in their Funco Teryxs all season long," says Grant George of Funco Motorsports. "The power and durability of Muzzys' exhaust is second to none."
Muzzys Performance Products exhaust and big bore kits are all made in the United States and are available from Muzzys or at powersports dealers across the country. More information about Muzzys Performance Products can be found Muzzys.com. More information regarding the Lucas Oil Off Road Racing Series may be found at LucasOilOffRoad.com.
Related Reading
2010 Kawasaki Teryx 750 FI 4×4 Review
2009 Kawasaki Teryx 750 FI 4×4 Sport Review
Published November 20th, 2009 11:56 AM