9 Views
Polaris expands Breeze family of on-road products
May 19th, 2010 9:14 AM
Share
We're committed to finding, researching, and recommending the best products. We earn commissions from purchases you make using links in our articles. Learn more here
Breeze lineup now includes three models
Polaris Industries Inc. has unveiled its new Breeze Neighborhood Vehicle model line-up.
"Since our launch in fall 2009, the Breeze and its MyChoice rear seat conversion capability have been very well received, so we're thrilled to offer two new models to our customers," says Greg Thompson, marketing manager for the Breeze family of vehicles. New to the line-up is Polaris' first street-legal electric-powered neighborhood vehicle, the Polaris Breeze SL; and a new 2-passenger version of the Breeze.
Each new model features an advanced, adjustable suspension and plush, contoured seating that is designed to deliver a comfortable and smooth ride. Boasting an automotive look, premium cut-and-sew seat design, and metallic paint colors, each Polaris Breeze promises to stand out from other neighborhood vehicles.
"The Breeze SL and two-passenger Breeze are yet two more examples of how Polaris is offering new and exciting ways for consumers to enjoy a master-planned community lifestyle," says Marc Tullemans, director of Polaris' Neighborhood Vehicle business. "We've added the innovation consumers have come to expect from Polaris into all-electric vehicles, making every Breeze a smart and fun choice for the whole family."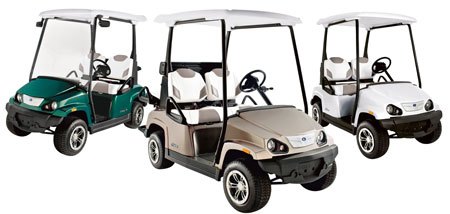 The new Polaris Breeze models will be available for test rides and purchase beginning June 1, at select Polaris Neighborhood Vehicle dealerships. Specific dealer locations can be found at http://www.polarisbreeze.com/. In addition to Suede Metallic, the vehicles will also be available in premium metallic colors Pearl White and Northwoods Green.
"Throughout 2010, we'll continue to expand our dealer network and product availability, and hope the excitement around the Breeze thus far continues as consumers see and ride these wonderful new models we've added to the line," says Tullemans.
Polaris Breeze Model Line-up
Breeze – MyChoice
Launched in 2009, the Polaris Breeze with MyChoice rear seat conversion allows anyone to effortlessly switch between golfing, riding with up to four passengers, or carrying cargo. It can be done on the fly, by anyone, anytime so you're ready for whatever your day will bring.
Breeze – 2 Passenger
New to the line-up, the two-passenger Breeze meets the consumer need to fit more cargo comfortably in their golf cars. According to Polaris, this Breeze touts the largest utility basket available as well as deep dash storage so you have plenty of room to stow and carry your gear.
Breeze SL
A street-legal Breeze SL can be used on many public roads with a posted speed limit of 35 MPH or less, making it a fun and fuel-saving alternative to cars for drivers making numerous short trips around their communities. Featuring retractable seatbelts, driver- and passenger-side mirrors, and a light weight, high impact windshield, the Breeze SL let's you ride with peace of mind. It also currently qualifies for a 10 percent federal tax credit that rewards owners for purchasing street legal vehicles that are environmentally friendly with low-emissions and energy consumption.
Related Reading
Polaris introduces electric powered Breeze Published May 19th, 2010 9:14 AM
Top Brands
Popular Articles