1 View
Polaris Workers Ride for Cancer
October 30th, 2007 1:02 PM
Share
A group of employees from Polaris Industries Inc. raised money for the American Cancer Society by driving from their research and development facility in Wyoming, Minn. to the birthplace of the company in Roseau, Minn.
The 430-mile journey was made on Polaris RANGER RZRs and raised more than US$6,500 for cancer.
The choice of vehicle was no accident.
"We found a way to get up there legally on RZRs on county roads," Polaris program manager Jim Endrizzi told ATV.com. "The RZR is considered a Class II ATV in Minnesota, which means you can drive it on county roads."
The 12-person team drove six vehicles on paved and gravel roads along with some off-road trail sections.
The 13-hour trip wasn't the easiest thing the riders have ever done and the weather didn't exactly cooperate.
"It was raining and it was pretty cold outside," says Endrizzi. "It was a long day. We started at five in the morning and got there at about six.
Endrizzi says everybody who was on the ride helped organize it.
Though he had never spent 13 hours in one of his company's Ranger RZRs before, he hopes to do it again next year.
"We'll probably make this an annual thing, or try to anyway," says Endrizzi.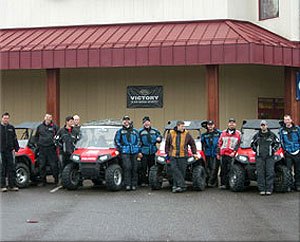 Published October 30th, 2007 1:02 PM
Top Brands
Popular Articles