105 Views
Kemimoto Has the Goods To Outfit Your Can-Am Maverick X3 For Adventure
November 1st, 2022 11:31 AM
Share
We're committed to finding, researching, and recommending the best products. We earn commissions from purchases you make using links in our articles. Learn more here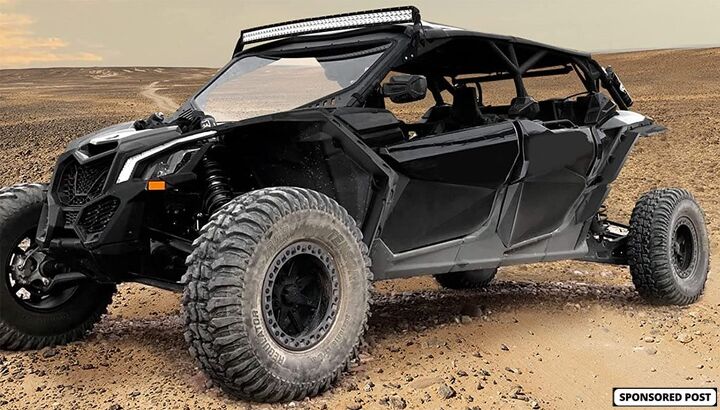 Whether you've been a Can-Am Maverick X3 owner for three weeks or three years, sooner or later, you're going to start finding reasons to accessorize. Roofs, doors, and side mirrors are among the most popular accessories that owners install on their Maverick X3s, and there's a big market for add-on storage solutions like bins and door bags. These additions might seem small, but taken altogether, accessories like these can take your Can-Am from basic UTV to fully equipped adventure-ready trail machine in no time flat.
When you get to the point of accessorizing your Can-Am Maverick X3, to our minds, there's one brand that should hover near the top of your list of places to turn: Kemimoto. Founded in 2011 by die-hard ATV and UTV enthusiasts, Kemimoto has quickly grown to become one of the premier ATV/UTV accessories brands in the industry, with a full line of products designed and engineered for all the hottest models from Can-Am, Honda, and Polaris. As a member of SEMA – the Specialty Equipment Market Association – Kemimoto is officially recognized by the industry as an established source for quality aftermarket ATV and UTV accessories.
What's more, Kemimoto's selection of accessories for the Can-Am Maverick X3 is as impressive as it is extensive.
Can-Am Maverick X3 Tablet Holder and Storage Box
Take, for instance, Kemimoto's Can-Am Maverick X3 Tablet Holder with Storage Box. This tough, practical add-on mounts easily to your X3's dash and adds a convenient mounting solution for a smart tablet, which you can use for multimedia, navigation, or any other app you might want to have ready access to out on the trail. It also includes a storage cubby perfect for stowing keys, gloves, sunglasses, and other personal items.
Can-Am Maverick X3 Door Bags
If you need a bit more space, Kemimoto also offers some spacious Maverick X3 door bags, made from durable fabric with removable knee cushions to keep you from bashing your knees out on the trail. These door bags also feature concealed cup/key holders, and very high-quality sealed zippers to keep the elements away from your belongings.
Can-Am Maverick X3 Lower Door Insert Panels
While we're on the topic of doors, Kemimoto offers lower door insert panels for the single-row Maverick X3 Sport and two-row Maverick X3 MAX. These rugged plastic lower panels feature a sturdy metal frame for rigidity, and rubber strip seals to prevent rattling and keep more stuff – rain, snow, pebbles, etc. – out of the cabin. Their construction helps to keep the door panels weighing much less than a comparable set of aluminum door inserts, and they're also remarkably affordable.
Can-Am Maverick X3 Roof
When it comes time to implement additional cabin protection from the elements and hazards like pebbles and tree branches, you can turn to Kemimoto's perfect-fit roof panels for the Can-Am Maverick X3 Sport and Maverick X3 MAX. These sturdy polypropylene panels are made to the same level of quality as Can-Am's own OEM Maverick X3 roof panels – lightweight and soft, yet durable, and able to provide protection against everything from falling branches to small boulders, not to mention the sun on a particularly bright day. The roof is designed to install easily in a matter of minutes with no gaps, and it's windshield-compatible so you can rope in even more protection.
Can-Am Maverick X3 Fender Flares
To top it all off, Kemimoto even makes a set of extra-wide mud fender flares for the Can-Am Maverick X3, and besides instantly making the UTV look that much more aggressive and intimidating, the fender flares also deflect mud, rocks, and other debris away from the vehicle whenever it's being run hard in messy conditions. These ultra-wide mud fender flares are molded from tough impact-resistant textured plastic, and they install with just a few bolts per piece, making them hands down one of the niftiest, coolest-looking accessories you can install in under an hour.
If you're a Can-Am Maverick X3 owner and you're convinced that Kemimoto just might have the accessories you've been waiting for, now is a great time to check out their web store. Readers of this site have access to a special 16% discount site-wide for a limited time. Just go to kemimoto.com, shop around, and enter the code "ATV" at check out to enjoy 16% off a roof, side mirrors, storage bags – whatever you feel your Can-Am has been missing all this time. Published November 1st, 2022 11:19 AM
Top Brands
Popular Articles