15 Views
Klim Terra Firma Dust Suit and R1 Fresh Air Helmet Review
August 9th, 2018 3:39 PM
Share
We're committed to finding, researching, and recommending the best products. We earn commissions from purchases you make using links in our articles. Learn more here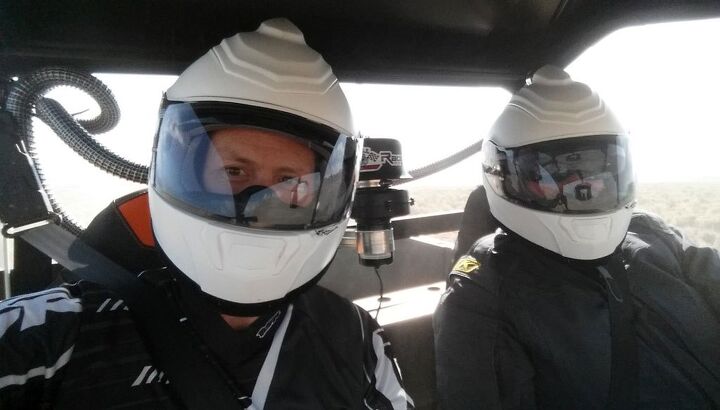 Nobody likes to eat dust when they ride and we've had a chance to test out some new gear that virtually eliminates that – the Klim Terra Firma suit and R1 Fresh Air helmet.
On the other side of the ATV.com fence is Snowmobile.com, where we off-roaders spend time in Rocky Mountain powder, just as we spend time in Rocky Mountain dirt and sand.
Winter powder is clean. Summer dirt is not.
Winter is cold, most of the time. Summer is hot, most of the time.
When we at ATV.com cross the fence over to Snowmobile.com, we rekindle our long and storied history with Klim, a winter apparel company from Rigby, Idaho. But even in the summer, we can still be found in Klim gear, which has been producing off-road ATV and motorcycle gear for about 10 years now.
Klim's founder, Justin Summers, is an off-road trophy truck racer. Famous events like the Baja 1000 and Mint 400 are races where Summers and his trophy truck team spend their summer. While piloting his black Ford F150 trophy truck, Summers made note of the many sport Side-by-Side racers and copilots wearing high-tech fire-proof dust suits with pressurized fresh air helmets. While competing in these fast off-road truck races, Summers began contemplating about Klim and its off-road mission statement and what Klim could offer the sport UTV rider who chases desert and forest trail dirt.
The end result is Klim's new Terra Firma suit and R1 Fresh Air helmet.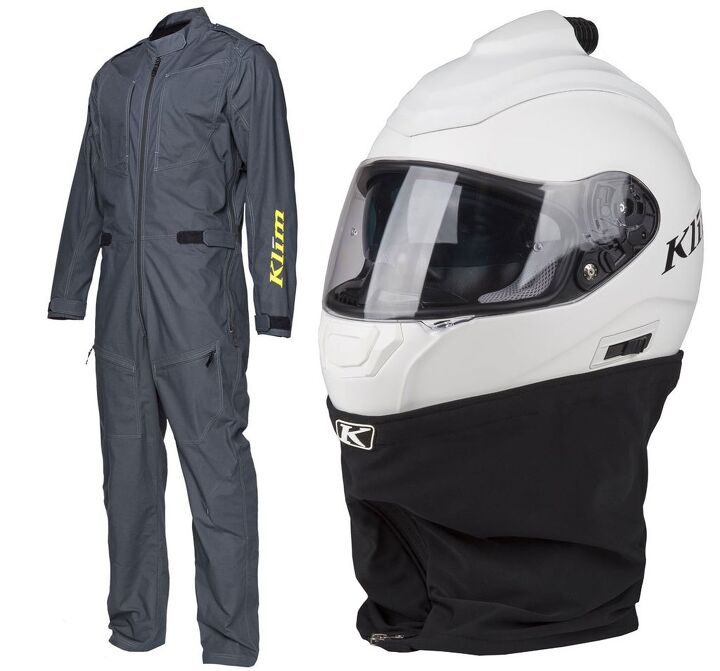 KLIM's Terra Firma Dust Suit (left) is a smart suit made specific for SxS riding in dusty conditions. KLIM's new R1 Fresh Air UTV Helmet (right) is shown here with removable dust skirt.
Terra Firma Dust Suit
Klim reports, "The Terra Firma Dust Suit revolutionizes the recreational UTV market with high-performance comfort and the convenience of staying clean in all conditions…the Terra Firma Dust Suit fits over clothes to provide a dirt-blocking barrier…. [It is] built out of a proprietary polyester/cotton water-resistant main body fabric…[that] features intelligent stretch panels….It's packable, portable and comes with a removable driver's-side kneepad…."
R1 Fresh Air Helmet
"KLIM's all-new R1 Air Fresh Air Helmet [was designed]…for direct-connection to today's best on-board fresh air pump systems…. Engineered to supply UTV drivers and passengers with constant fresh air pressure inside the helmet system, the R1 Air Fresh, Fresh Air Helmet system…ensure maximum comfort for the longest rides. The result is a positive air pressure environment inside the helmet system—stopping dust infiltration before it starts.
"A standard 1-inch barbed fitting on the crown of the R1 Air [helmet] easily connects to fresh air pumps and the included dust skirt attaches to the R1 Air to perfectly integrate into the KLIM Terra Firma Dust Suit. The R1 Air's sealed shell, optically clear face shield and integral sun visor keep your comfort levels high when you're chasing the last bit of sunlight. The shield is Pinlock ready so you can extend your riding season without fear of fogging. The R1 AIR Fresh Air Helmet is DOT certified…."
Klim relies on PCI Race Radios' fresh air pump to supply the clean oxygen to the R1 helmet. To learn more about the fresh air pump from PCI Race Radio, travel over to this link.
Our Experience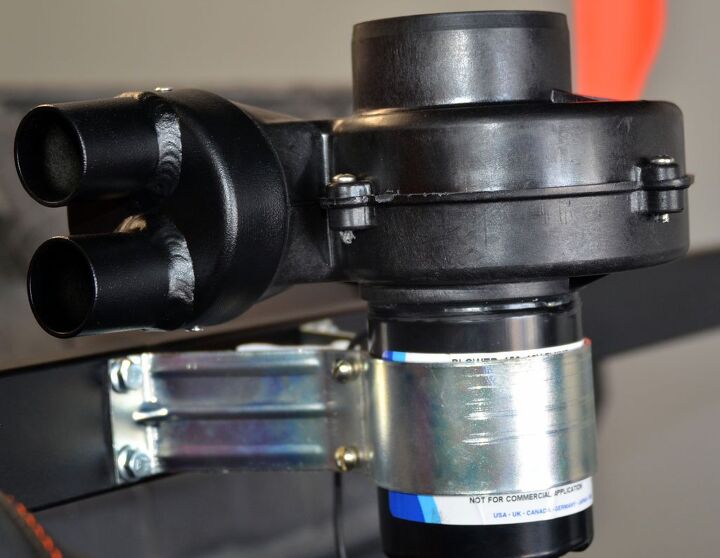 Here, the PCI fresh air pump without its filter and hood, has two air discharge outlets the move much air through its hoses.
Over the past several months, we've piloted a 2017 Polaris General Deluxe in some dusty and sandy conditions and we are pleased how the Klim R1 helmet, hooked to the PCI fresh air pump and tied to the Terra Firma suit, kept the dust out of our eyes, off our clothes and out our lungs.
After receiving the long-term evaluation unit from Polaris, and prior to some multi-day event rides, Klim Media Relations guy, Stephen Clark provided us with a complete dust fighting package, the Terra Firma suit, R1 helmet and PCI air pump. On a late June day, Clark assisted us in installing the fresh air pump unit. If you have basic electrical knowledge about positive (live) and negative (ground), on and off (open and closed respectively), and can operate a drill, wire cutters, and some open and box-end wrenches, then in about two hours, you and a pal, can install the PCI air pump and hoses.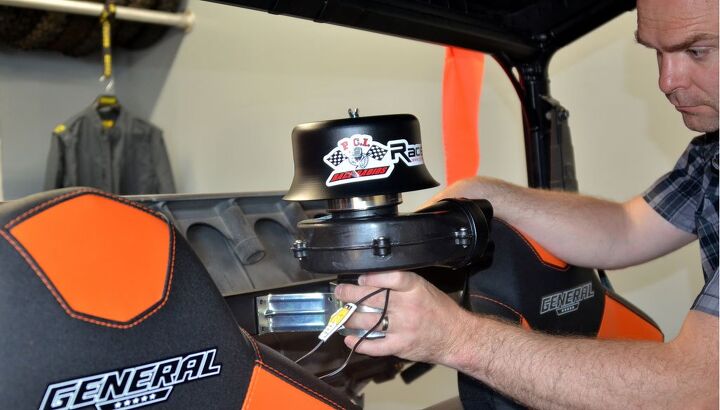 Stephen Clark from Klim assisted ATV.com on installing the PCI fresh air pump. Installation took about 90 minutes. The install is not complicated.
Some hints to store away if doing this as a DIY – do it yourself. Ensure the pump is positioned in location not to restrict the rearview mirror's line-of-sight. Route the air hoses in such a way the tubes remain unobstructed, but not in a way they become tangled with the seatbelts. When securing excess hose length to the roll cage, leave enough hose length to allow the driver and passenger to move their head forward and side-to-side.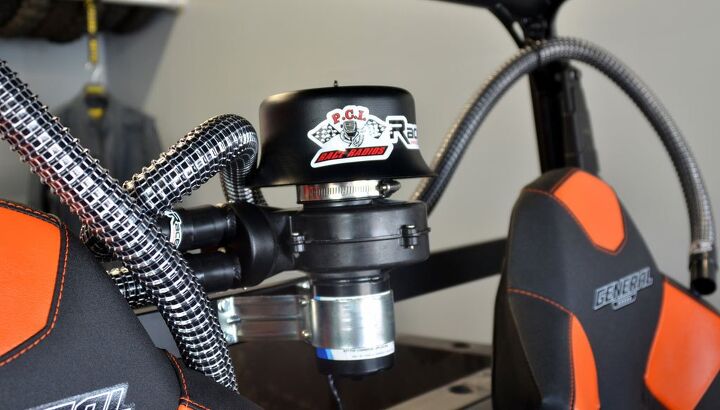 Once installed and assembled, the fresh air pump appears both clean and functionable. It does not limit rear view mirror as much as we thought; placement is crucial.
The experience with the Terra Firma dust suit, R1 helmet and PCI pump was pleasant indeed, but also a pain in the rear. On every event ride, such as Rally in the Pines and UTV Invasion, we were stopped every few minutes and asked why we had a vacuum hooked to our helmets. Actually, this was a good thing for we became ambassadors for product that worked better than how we thought it would.
For example, when chasing other UTVs on the dusty trails around MacKay, Idaho, we were able to cinch up to the lead UTV while sucking in clean and fresh air. Our eyes remained dust free and our nose and mouth did not fill with dust, and we all know what it's like to blow black- and muddy-boogers for days on end, right?
How many UTVers have you seen with a skull-faced bandana across their nose and mouth with goggles covering their eyes? Plenty, right? Or, UTV drivers and their passengers wearing motocross helmets with goggles? Can you say hot? The R1 helmet cures all that.
Ok, we know what you are thinking…windshield. Yes, true, but not so true. Full windshields hold motor heat inside the cab. Half-windshields still allow dust to enter the cab at slow- to moderate-speeds. Also, half-windshield create negative pressure inside the cab which, for many UTVs, the vacuum-like pressure pulls dust into the cab; this amplifies as speed increases. The dust-free answer is the R1 helmet with PCI fresh air pump.
Dust on clothes? That's OK. With Klim's helmet and dust suit, at the end of a dirty ride, unhook from the R1 air helmet, shed the breathable cotton clothes, and head to Big Judd's for a burger, as your face and the clothes under the dust suit are clean.
In concert with the R1 helmet is the Terra Firma suit. Being this suit is light and stretchy, it fits nice and lose over a polo-like shirt and fashionable shorts. After removing the Terra Firma dust suit, our clothes were clean. Many UTV owners are picky about keeping their truck clean and with the Terra Firma suit, a truck's cab will stay mostly dust-free after removing the Terra Firma suit and storing it in a gear bag; this was our experience.
The R1 helmet has two visors, an outer full-face visor, and an inner retractable half-shield that is a darkened sun visor. When driving into the sun, the inner sun shield knocked out the sun's glare.
From a summer-long experience with the R1 helmet we give these recommendations. First, install an on-board helmet-to-helmet communication system. With fresh air pumping into the helmet, one-on-one communication is non-existent. When the driver and passenger need to communicate, a couple gyrations occur. First, spastic sign language starts which leads to uncalled for finger waving. This then degrades to lifting the shield(s) and yelling. When "What?" is often repeated, the driver or passenger turns off the air pump, followed by the driver stopping the UTV – to prevent wind noise from drowning out the conversation – and finally the two are on speaking terms. Talk to a PCI representative to have a communication unit installed; trust us, your spouse and friends will thank you.
When we first tried the R1 helmet, we removed the dust skirt that covers the neck area, because we thought we knew what was best. Besides, the dust skirt looked like a cold-weather add-on. Being the curious type, we installed the dust skirts and tucked them inside our Terra Firma suit or motorcycle jersey. What a positive difference the skirt made as it directed cool- and fresh-air down to our upper body. Yes, air conditioning. Point to the wise: do not remove the R1 helmet's dust skirt, for it diverts cool air down to the body, and that is welcome relief on hot days.
As we used the R1 helmet, Terra Firma dust suit and PCI pump on high mountain trails and at the St. Anthony Sand Dunes, St. Anthony, Idaho, we discovered one annoyance. When following a turbocharged UTV with free flowing exhaust, the pop, pop and braap, braap the motor emitted, at times bounced around inside the helmet; the air pump captured the noisy sonic waves and dumped them into our ears. This was a rare occurrence – conditions had to be right – but when it happened, our ears rocked.
Other than the above, the R1 Air-Fresh, Fresh Air helmet, Terra Firma Dust Suit and PCI fresh air pump are some the finest, most-appreciated, and ATV.com-endorsed UTV products we have tested.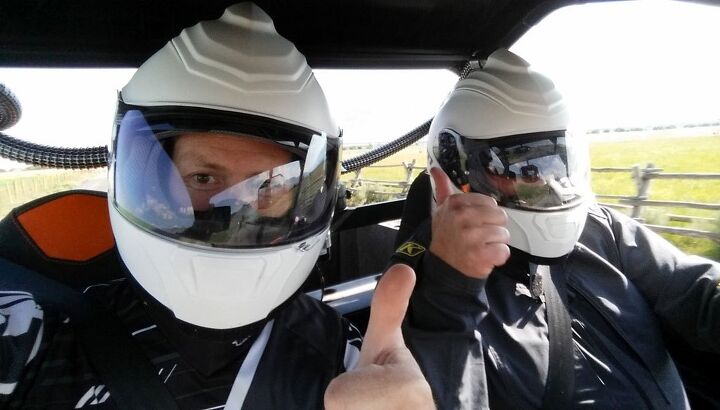 You bet, thumbs up. The R1 helmet and Terra Firma dust suit from Klim are two products that make SxS riding in dusty conditions, breathable and manageable.
Roger Raymond, who tested the products at Rally in the Pines this past July, said the Klim products "are essential for UTV riding." ATV.com test rider Kevin Allred echoed the same that serious UTV riders "should fully consider these Klim products."
In closing, an air pump with an air-fresh helmet and dust suit may not be the first aftermarket items under consideration when modifying your sport UTV; but it should be. Given everything we've tested over the years, we rate Klim's R1 helmet, Terra Firma suit and PCI pump as our first choice product to install, next to, and equal to, the PCI two-way communication radio.
Get Klim Terra Firma Dust Suit and R1 Fresh Air Helmet Here
For more information, go to Klim.com or visit your local dealer who sales Klim's off-road apparel. Published September 10th, 2017 10:07 PM
Top Brands
Popular Articles