33 Views
ATV Food Plot Accessories
January 14th, 2020 4:57 PM
Share
We're committed to finding, researching, and recommending the best products. We earn commissions from purchases you make using links in our articles. Learn more here
Grooming equipment attachments can go a long way to helping hunters hit their marks
Quality deer management is all the rage among white tail deer hunters. Providing highly nutritious forage for deer will increase their antler size, help them survive high-stress conditions and hopefully help you fill the trophy space on your wall.
Even a small food plot only a half-acre in size can noticeably improve deer hunting. ATV accessory manufacturers have caught on to this booming market and there are more ATV and UTV implements available today than ever before. Food plot packages are available for small, medium and large food plot acreages—some are 'one-pass' designs that can make putting in a plot a snap. Here is a selection of some makes and models on the market.
Quadivator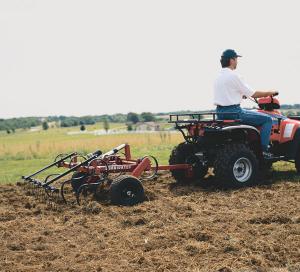 Quadivator has extensive experience in developing ATV implements. The four-foot wide Deluxe Quadivator, priced at US$1,425, comes standard as a cultivator attachment with harrows and is equipped with an electric depth control which is operated from a switch mounted on the ATV or UTV. The Quadivator has a heavy duty square steel frame and powder coated finish. It hooks up easily to an ATV or lawn tractor and can be used with numerous attachments. Some of the attachments include: a 'hilling moldboard,' for US$120, that molds a row into a continuous hill for planting corn or other crops; a tandem disc for breaking up turf that is covered with vegetation, costing US$795; a US$499 chemical applicator, which covers a wide swath of ground and can be used to apply herbicides or pesticides; and last, a barbed wire dispenser, at US$130, designed to cleanly unroll two spools of barbed wire simultaneously. http://www.quadivator.com/
Great Day Inc.
Paul Meeks, owner of Great Day, began prototyping his first food-plot sprayers on a Honda three-wheeler back in 1981. That initial design has grown into an entire family of all sorts of ATV and UTV accessories. Great Day's Plot-Pro, at US$246, has a 15-gallon tank that is constructed of corrosion-proof polyethylene and 12-volt 60 PSI pump. A spraying boom can be extended to cover a 15-ft. spray swath for managing food plots, gardens or orchards. The boom can also be retracted for access through narrow openings.
There is also a 25-gallon capacity version, with a 25' spray width, priced at US$270. Both models install quickly with straps, with a large 15" fill opening and a splash-proof vented cap. The Plot Pro hand-wand can be set to deliver a fine mist for delicate, controlled applications or adjusted to reach out to 25 feet. http://www.greatdayinc.com/ .
Kasco
Kasco builds rugged, high-end food plot implements for land managers. Their Plotter's Choice is a professional-level implement that can be used as a drill for planting row crops or as a broadcast spreader for seeding grasses. This deluxe combination unit can disk, plant and cultipack all in one pass. When used as a drill it plants four rows, ten inches apart. Depth control and metering rate are fully adjustable. The entire unit is just 48" wide and all components in the lower areas are free-rolling so it can be pulled behind an ATV or UTV to a remote food plot site. The Plotter's Choice is available with either a three-point hitch or a pin-type hitch attachment, priced at US$5,025.
Kasco also makes the Versa Drill, a US$6,885 drill implement for row crops. The unit has a unique ground-hugging design that is suitable for use on rocky and uneven terrain, and can plant five rows that are 9" on center, and also cultipacks for true one-pass planting. Total width is only 48", so this implement is designed to be pulled to remote locations. http://www.kascomfg.com/
Kolpin
Kolpin's Dirtworks series of ATV and UTV accessories is designed for use by year-round or small deer-farmers. The foundation for many of these implements is the company's custom three-point hitch system. The WHS03 Category '0' three-point hitch is for UTVs and has an extra-heavy-duty frame. It comes with a built-in electric actuator that can be operated from the dashboard of the UTV to raise the hitch when the UTV is being driven in reverse. This hitch has 15" of travel at the drawbar and the lift arms are all threaded so they can be adjusted for various heights. Heavy 5/8" pins are used to attach implements to the hitch. The price for this hitch is US$829.99.
Kolpin's three-point hitch for ATVs has all the same functionality as the UTV model, but is constructed from slightly lighter-gauge steel, and costs less at US$689.99. As for attachments, the company's 54" wide disk plow allows for adjustable disking angles and has eight hardened disks. The disk blades turn on sealed ball bearings that are zero maintenance. The disk plow carries a price tag of US$349.99.
Another accessory is the Seeder/Cultipactor, at US$862. This tool is 48" wide and has a spring-loaded compactor to help properly bed the planted seed. A dial adjustment allows for different types of seeds, and the driver can control the deposition rate without getting off the vehicle.
A 60" rake has replaceable hardened-steel tines and can be used in pull or push mode. The rake can be turned at five different angles to change the drag rate. The rake costs US$345.
Kolpin also manufactures two versions of S-tine cultivators—an eight-tine version priced at US$345 and a six-tine model for US$288.
One last note: If a lower-powered ATV is to be used for food plot work, Kolpin recommends a trailer, to extend the three-point hitch connection farther behind the quad. This specialized trailer costs US$287.99. http://www.kolpinpowersports.com/
Plotmaster
Tecomate Wildlife Systems' 'Plotmaster series is a group of food plot implements with some unique features. For example, the US$2,299 Hunter 300 has a 'ganged' disk design with five disks in the front and five in the middle of the unit. This double-disking feature helps to achieve optimum soil breakdown for planting. The 300, like the company's other models, also has a patented, electrically-controlled 'Versa-seeder' design that can be loaded with nearly any type of seed from corn to grass. An integral metal drag smooths soil down over the planted seed, while an adjustable cultipacker brings up the rear, ensuring that food plot seeds are properly bedded in the soil to help achieve optimum germination. All of the Plotmaster models have an electric actuator built in for easy height adjustment so the implements can be raised off the ground for transport to and from the food plot area.
A Plotmaster Hunter 400 takes all of the features of the 300 and adds a foot of width to cover more area in less time. The 400 has six disks per gang in the front and rear, and the disk cutting width is 48" instead of 36" as on the 300. The cultipacker on the Hunter 400 is naturally also wider at 52", compared to 38" on the 300 model. The Hunter 400 costs $5,829.
http://www.theplotmaster.com/
Frontier Implement, Div. of John Deere
The biggest name in the agriculture industry has now released equipment for the quality whitetail management crowd under its Frontier Implement brand. The FP12 Series line of food plot implements makes putting in a food plot much less time-consuming. For example, model FP1204 can be connected to a UTV or ATV's three-point or single-point hitch. This model incorporates tools like a four-foot-wide disk with six 16" hardened disks, a cultivator, seeder and culti-packer. Turning points, chisel points and sweeps are all standard. The tools on the FP1204 can be used individually for maintaining an established field or all together for one-pass planting on fallow ground.
http://www.deere.com/
Arctic Cat
If you own a recent-year Arctic Cat ATV, you can use Cat's Speedpoint accessories to perform many kinds of food plot activities. The newest system is based on the Speedpoint three-point hitch, which has a built-in electric actuator that is controlled with a handlebar-mounted switch. The actuator can be adjusted upward or downward to vary the pressure and depth at which the implement is pressed into the soil. Downward pressures of as much as 600 lbs can be achieved with the unit. The hitch has a price tag of US$750.
Other Speedpoint tools can be installed to this hitch in seconds, including Arctic Cat's moldboard plow, at US$499. This three-part plow system has a coulter in the front to cut sod, a hardened-steel plow, and a gauge wheel in the back to help monitor the pressure and depth.
The company also has a US$459 single disk, with eight notched, hardened-steel disks that have zero-maintenance sealed bearings. This type of tool is good for maintaining ground that has already been broken up. A 'tandem disk' assembly with 16 notched, hardened disks is designed for breaking up fallow ground. This heavy-duty assembly costs US$849.95. And a cultivator, priced at US$399, has individually replaceable tines for custom-cultivating everything from crops to trees.
http://www.arcticcat.com/
Nichols Trailers
Many trailers work fine as ATV carriers, but they are too wide or too pretty to pull down a woodland trail. Other trailers are narrow enough to be pulled behind an ATV but don't meet on-highway regulations. The new US$1,629 Hunter's Advantage Sportsman dual-purpose trailer from Nichols Trailers meets both of these needs. It was designed specifically for rugged outdoors applications. Steel-tube construction ensures years of durability, the prow-shaped front is designed to push through brush and the bed tilts for easy loading and unloading of an ATV, UTV, game or equipment.
http://www.nicholstrailers.com/
Related Reading: Published January 30th, 2008 1:39 PM
Top Brands
Popular Articles