20 Views
CTEK MULTI US 3300 Battery Charger Review
June 26th, 2015 2:29 PM
Share
We're committed to finding, researching, and recommending the best products. We earn commissions from purchases you make using links in our articles. Learn more here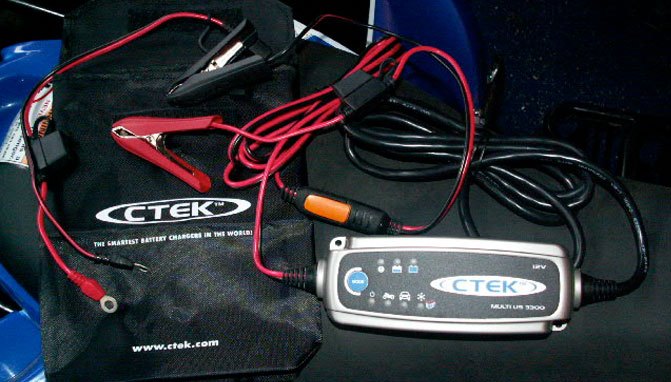 A compact and easy to use charger
We've all had those days were all we wanted to do is go ride to escape whatever problems we may have going on in life, to relax, push in that throttle, and experience those much needed moments of peace and freedom that come with riding ATVs. A dead battery in your ATV can smear that painted picture of utopia and imprison your hopes of riding that day. There are a lot of things that can make your battery run dry, like leaving the key on, cold weather, and not maintaining a proper charge.
When I first received the CTEK MULTI US 3300 battery charger I wasn't sure how I was going to test it, as I thought all my batteries in my ATVs were charged. My original plan was to just leave the key on over night on the Raptor 250 and charge it the next day. To my surprise, the battery was already completely drained! I thought I was relatively good about not forgetting to turn the key off, but this time I goofed.
The versatile CTEK MULTI US 3300 charger comes with clamps and screw-on leads.
Connecting the CTEK battery charger was a cinch. Unlike chargers I've used in the past the CTEK comes with both clamps and screw-on leads. One thing I liked about the CTEK clamps is that they are small enough to get a good grip on the terminals. Some chargers I've used before were mainly intended for charging cars and other large vehicles. The clamps on those chargers were too bulky and often don't catch a good grip on an ATV battery without removal. The settings on the CTEK charger are simple and easy to use. There are settings for each application that it's designed for. CTEK claims its MULTI US 3300 battery charger was created for use on ATVs, Motorcycles, snowmobiles, as well as campers and trucks.
Since the weather is beginning to turn for the worse, the battery in my truck had taken quite a blow from the cold and seemed like it was getting worse with every turn of the ignition. I decided to hook up the CTEK charger to the battery in my truck and leave it over night. I chose to use the cold setting (which was indicated with a snowflake) and attached the alligator clamps to the terminals. After plugging the MULTI US 3300 into the wall I went to bed. The next morning I went out, unplugged the charger from the wall and detached the clamps from the battery. My truck then started without any hesitation and fired right up.
Because of the smaller clamps on the CTEK MULTI US 3300 it's easy to get a good connection on ATV batteries.
Besides having multiple charging applications I can use, the CTEK MULTI US 3300 features a splashproof and weatherproof design so you don't have to worry about it getting rained or snowed when you use it outside. CTEK also patented its charger with a technology that protects against sparks, short circuits, and reversed polarity. CTEK wasn't lying when it says it makes 'the smartest chargers in the world!'
Despite its small size, the CTEK MULTI US 3300 had no trouble charging up a truck battery.
Whether you're planning on storing your ATV over the winter or choosing to bear the cold weather to continue riding year around, having a battery charger on hand is a must. If you don't maintain your battery over the winter you can count on buying a new battery as soon as it warms up. If you are looking at investing in a charger for your vehicles I would highly recommend the CTEK MULTI US 3300 not only because of its compact and versatility but its ease of use.
If you're in the market for a new charger you can find a retailer close to you or just purchase it online by visiting http://www.ctek.com/. Published December 10th, 2008 11:52 AM
Top Brands
Popular Articles