1 View
CTEK US 0.8 12V Battery Charger Review
June 24th, 2015 2:19 PM
Share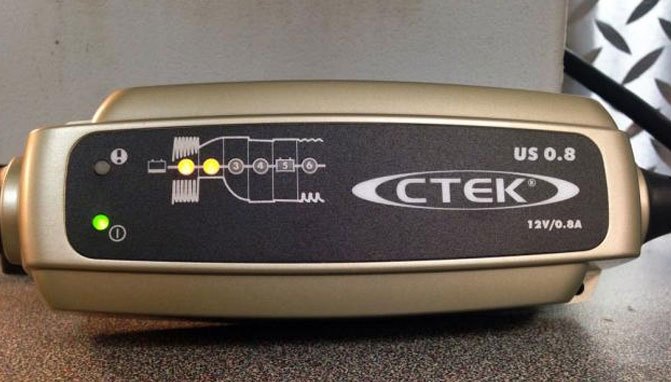 If you've got an ATV or UTV in your garage, you'd be smart to pick up a small charger like the CTEK US 0.8.
Treat your ATV battery to a spa day
One of the most neglected parts of any ATV or UTV has to be the battery. We use these little engineered marvels to start our machines time and time again on the trail yet when it comes time to give love back it rarely happens. After replacing the lead acid battery in our Sport ATV this winter it became clear we needed to pay more attention to the power behind the fire on our ride.
Understanding the principles of batteries can be complicated, but if you just know that someone in the world of charging systems already has a product for you it removes a little stress from the garage. The company we have recently come to know for charging electronics is CTEK. This company was formed in 1997 and keywords for their products include safety, simplicity and flexibility. This is exactly what we found when cracking open the small brown box left by UPS on the front porch.
The CTEK US 0.8 12V charger has several useful features, but the one that got our attention is that the charger can possibly help bring back to life a well drained or over sulfated battery. This means that if you did happen to forget to put your battery on a charger, as we all do, and it still has a little glimmer of hope the CTEK can potentially revive the battery through an eight-step process starting with a desulfation mode. The charger then tests the battery to see if it is indeed suitable to be charged. Through a few more processes the battery is then brought back to life and ready for use provided nothing is permanently damaged. The reason this is a good feature is because some battery chargers will not recognize a battery that is gone too low on charge and will just basically tell you it's no good. CTEK has given us one more chance to salvage the piles of batteries in the garage.
Read our review of the CTEK MULTI US 3300 Battery Charger
We have not been kind to many of our batteries, but we can make amends with the CTEK charger.
Some other cool features are be the shock-proof body of the CTEK charger, spark-proof clamps that will not spark if touched together, and internal circuitry that will let you know if you happen to reverse polarity. This is a great feature because some worn batteries may not have a clear negative or positive symbol at the terminal – especially when working in the low light areas in the shop. If you happen to hook the clamps up wrong, the CTEK charger will illuminate a light letting you know something is wrong. This keeps you from burning things up. It really does make using the device pretty much idiot proof.
Not sure which clamp goes where? The CTEK charger won't damage your battery if you have reversed the polarity.
CTEK also has small, bright LED lights that give you good amounts of information on just how the battery is doing through the eight points of the charging. Another good feature is what CTEK calls its Comfort Connect series of accessories. These all have weather tight plugs on the ends and there are at least 10 different accessories for really getting serious on knowing how the battery is functioning and using its power at anytime. Our charger came with a Comfort Connect pig tail to be bolted on the battery so that when we get ready to charge the beast it only has to be plugged up and no disassembly of the quad is needed. Pretty cool stuff.
Read our Primer on ATV Batteries
The LED lights let you know what the CTEK charger is doing at any given moment.
This little power-packing device really takes the hassle out of battery woes and when used properly can extend the life of your existing battery as well. This will be a tough and very much needed addition to our shop for sure as it is super simple to hook up and works like a small miracle on some of our toughest batteries. We bet you could use one as well. At $49.99 it's not going to break the bank and will pay for itself if you can save even one battery from the scrap heap.
Visit SmarterCharger.com for more information.
Published February 7th, 2014 2:55 PM
Top Brands
Popular Articles