1 View
MotoPumps Mini Pro Inflator Review
June 16th, 2015 6:21 PM
Share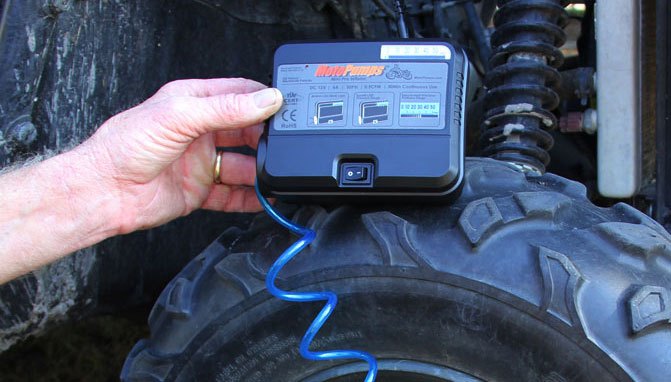 Ultra compact tire inflator impresses
Some people say the best products come as solutions to a problem. While flat tires are nothing new, nor are "travel size" inflator pumps, I recently had the opportunity to test out a new 12-volt tire inflator from MotoPumps and was quite impressed.
At first glance it seems just like any old tire inflator. Standard 12V cigarette lighter plug and an air hose to connect the pump to the tire. Really, what more could you expect?
After receiving the pump and looking at it in more detail, I have to admit I was very impressed. It provides a number of convenient features that other pump manufacturers simply leave out and the overall size of the pump was noteworthy. To say the MotoPumps Mini Pro inflator is compact is an understatement. The package arrived via US Postal Service and actually fit inside my rather small apartment PO box. That alone told me the pump would be great for overnight camping trips or even long distance races like Baja.
The Mini Pro Tire Inflator from MotoPumps surprised us with its ultra compact size.
Special Features
The pump itself is a basic, 12-volt inflator pump. It features a three-foot polyurethane coiled air hose with a screw on, zero loss valve stem attachment. Inside the hose compartment is a blue LED light to help out in the event you're working at night. It also has a backlit LED tire pressure gauge that actually works. The coiled hose seems like a small thing, but if you've used many of these pumps, you know that getting all the hoses and wires back where they belong for easy storage can be a headache. The MotoPumps' air hose coils easily and actually stays put inside its compartment.
After you use the Mini Pro Tire Inflator, it's simple to put it away thanks to its coiled air hose.
MotoPumps offers two versions of the Mini Pro Inflator pump, the Basic and the Deluxe. I tested the deluxe model, which comes with a convenient neoprene storage case as well as two additional power connectors.
A backlit LED tire pressure gauge lets you know how much air you've added even in the dark.
Both include the standard cigarette lighter pigtail connector and a long nine-foot cable, ensuring you'll be able to reach all four corners of your ATV or UTV. Something I really liked was the optional battery clip and battery ring terminal connectors available with the Deluxe kit. Sure, almost every UTV on the market and most utility ATVs come with a 12-volt accessories plug, but this pump is designed to work for virtually every off-road vehicle, be it an ATV, UTV or motorcycle. The ring terminal connector includes a dust cap so you can leave the cord connected and quickly connect the pump without having to remove any body plastic while getting to the battery. I like options and the MotoPumps Mini Pro definitely delivers.
If your ATV or UTV doesn't come with a 12V plug, you can attach the Mini Pro Tire Inflator (Deluxe edition) directly to the battery.
How it Works
To test the Mini Pro Tire Inflator I let the air out of a tire on a Yamaha Rhino to see how quickly it would inflate. After connecting to the power source and the valve stem, I hit the switch. The pump motor operates at a claimed 69 decibels, which isn't uncommon and isn't overly loud. It took about two and a half minutes to inflate the tire to nine psi. The built-in pressure gauge is a nice feature that a lot of similar pumps leave out and its backlit with an LED light. With a max rating of 50 psi you should have no problem seating a bead on an ATV or UTV tire. If you're airing up multiple tires, just don't operate the pump for longer than 30 minutes at a time.
It took about two and a half minutes to fully inflate our UTV tire to nine psi.
Final Thoughts
For a simple product that performs a very specific function, the Mini Pro Tire Inflator gets a thumbs up from me. The sheer size of the pump is probably the most impressive feature and the additional power connector options are a nice touch. The MotoPumps Mini Pro will fit in just about any vehicle glove box with room to spare.
The Mini Pro Tire Inflator is so small it barely takes up any room in your glove box.
Another nice touch is the variety of sport inflator tips, which could be used for inflating an athletic ball or even an air mattress. The entire kit, including cords and all, fit nicely in the supplied neoprene carrying case, which will keep the pump safe from hard impacts and dust.
CTEK US 0.8 12V Battery Charger Review
At $69.99 for the Basic pump and $79.99 for the Deluxe, I have no problem recommending adding the MotoPumps Mini Pro Tire Inflator pump to your arsenal. Whether you're an overnight adventure rider or just a weekend warrior making tracks in the dunes, you never know when a flat tire is going to happen and this pump is a small price to pay to be prepared. Couple it with a tire plug kit (MotoPumps offers those also) and you can drastically reduce the chances of having a riding trip cut short due to a flat tire.
For more information on the Mini Pro Tire Inflator, visit MotoPumps.com.
Mini Pro Tire Inflator Specs
Price
$69.99 – 79.99
Max Pressure
50 PSI
Flow Rate
.50 cfm @ 0psi / 14lpm @ 0psi
Weight
18.2oz / 516g
Air Outlet
Zero loss inflation valve stem connector
Additional Fittings
Sports Inflator tips (3)
Inflation Rate
7 minutes, 195/60/R15 tire
Run Duration
30 Minutes/20 minutes cool down time
Voltage
12 VDC
Max Current
6 AMP
Power
72 W
Noise
69 dB
Motor
Geared, fan cooled
Dimensions
4.75″ x 6″ x 2″ / 120mm x 150mm x 50mm
Power Cord Length
9.34′ / 3.0m
Recommended Fuses
Cigarette Lighter Receptacle: 15AMP




Cigarette Plug: 250V/15AMP
Air Hose Length
3.25'/1.0m
Certifications
CE, RoHS, TUV Factory
Warranty
Limited One Year
Published September 24th, 2014 6:12 AM
Top Brands
Popular Articles