1 View
New DMC Exhaust System for Raptor 700
June 16th, 2015 4:11 PM
Share
Raptor 700 Force-4 Twin Megaphone meant for highly modified machines
DMC Exhaust of Riverside, Calif. has announced its new Raptor 700 Force-4 Twin Megaphone exhaust.
"We've put a lot of research and development into this new system that's virtually guaranteed to pass everyone and everything – except a sound test," DMC says in a release.
DMC says this is a true bolt-on system and fits all Raptor 700 models with no cutting, bending or hacking involved. The DMC Force-4 is produced using 100% stainless steel headers and megaphone construction. Large diameter max-flow individual headers are, according to DMC, easy to install and mount on each side of the Raptor, with the entire system tucking neatly inside the frame rails.
Each system, which retails for $819.95, also includes black anodized alloy heat shields, precision laser cut stainless steel flanges, and USDA approved Spark arrestors. DMC says custom megaphone tuning is easily accomplished using the company's optional rear cone inlets.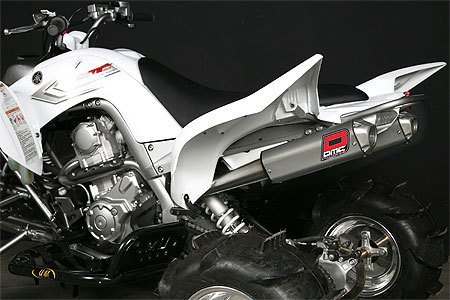 Here's DMC's take on how the Force-4 works:
Like the 2-stroke pulse chamber, scavenging is maximized with the twin megaphones, delivering maximum engine efficiency. The reverse cone of a megaphone "times" the negative wave pulse reflection to correspond with the period of valve overlap. This low pressure helps to pull in a fresh intake charge while the intake valve is opening. This low pressure also helps to remove the remaining exhaust gases before the exhaust valve closes.
DMC says the Force-4 was created specifically for Raptors with some, if not all, of the following modifications:
• Big Bore/Stroker up to 900cc+
• Race Ported head
• Oversize valves
• Race Cam
• Nitrous System
• Throttle Body modifications.
For Raptors with less drastic modifications, DMC recommends the DMC Raptor 700 Twin system, which retails for $789.95.
Visit dmc-on-line.com for more information.
Published August 13th, 2008 12:02 PM
Top Brands
Popular Articles