1 View
Rath Racing Introduces KTM Skid Plate
June 16th, 2015 4:10 PM
Share
Same skid plate used by factory KTM riders
Rath Racing Inc. has introduced a new skid plate that the company claims will reinforce and protect the frame of the KTM XC ATV.
The Rath Racing KTM Skid Plate was designed specifically for the Factory KTM/FRE cross country team and used exclusively by Adam McGill and Taylor Kiser. Now anybody who owns a KTM quad can get the same performance as the pros.
These skid plates are made out of 5052 10 gauge aluminum – laser cut for precise fit and finish.
"We take the quality one step further by computerized CNC forming," Rath Racing says in a release. "We also incorporated an additional lower frame rail side supports by wrapping contoured edges around frame rails – increasing strength and durability of your frame."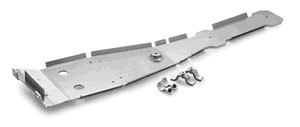 Sold complete with billet hardware clamps and stainless steel bolts, the Rath Racing KTM Skid Plate retails for $139.95. For more information, visit http://www.rathracing.com/.
Published October 20th, 2008 3:54 PM