1 View
Slip-on Exhaust System for Honda TRX 400EX
June 16th, 2015 4:13 PM
Share
M-7 exhaust boosts horsepower across powerband
Two Brothers Racing of Santa Ana, Calif. has released its M-7 series exhaust system for the 2008 Honda TRX 400EX.
Sporting a precision mandrel bent brushed stainless slip tube and brushed aluminum canister, the M-7 slip-on system offers a performance boost for the TRX 400EX.
According to Dyno tests done by Two Brothers, the M-7 boosts horsepower across the entire powerband. At 6,400 rpm, an M-7-equipped TRX 400EX pumps out 26.4 ponies, compared to 25.0 hp in stock form.
"Performance gains of our slip-ons are similar to our full systems at a fraction of the cost," Two Brothers Racing says in a release. "We are sure that when you pull this exhaust system out of the box, install it on your ATV and feel the performance, you will agree that it is the absolute top level."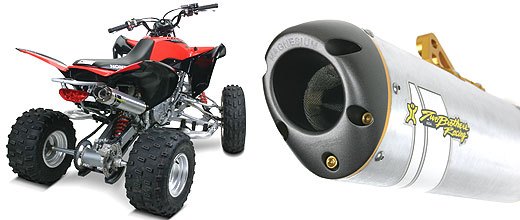 The M-7, which has an MSRP of $329.98, is made, tested and assembled in the United States, features a CNC machined TIG welded canister mount for easy installation and added durability, CNC machined and threaded inlet and outlet and a 2.25-inch x 0.035-inch stainless steel spiral bound perf core.
Like the company's other off-road systems, this exhaust features the patent-pending Variable Axis Locking Exhaust (V.A.L.E.) attachment system and X-Lite retaining ring. These features cut down on weight significantly because they eliminate the need for springs and create an adjustable mount that is solid when fixed in place.
Also included with the M-7 series exhaust system is a factory installed, US Forestry Service approved spark arrestor screen.
Published April 24th, 2008 1:14 PM