2 Views
Riding With Dracula on the Secret Trails of Romania
June 18th, 2018 2:18 PM
Share
We're committed to finding, researching, and recommending the best products. We earn commissions from purchases you make using links in our articles. Learn more here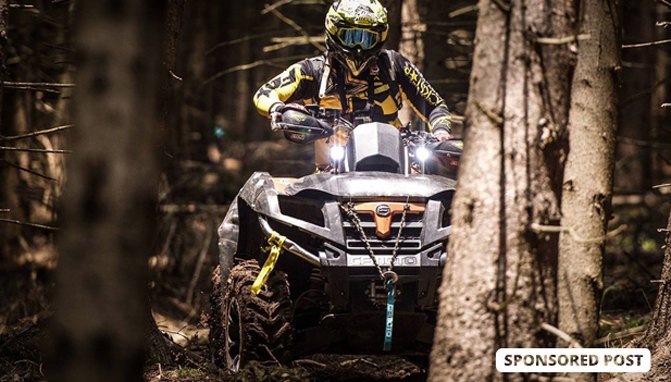 Make no mistake, the U.S. has some of the most impressive off-road trails we've ever seen, but there comes a time when every ATV rider will want to experience something a bit different than the endless vistas of American trails.
If you really want to get away and ride some new trails in a quaint little place where adventure and history come together, we suggest considering one of the lesser known destinations in Europe and testing your mettle on Romania's soil. Here are three trails that best illustrate the burgeoning Romanian off-road adventure market, just make sure you take Dracula author Bram Stoker's advice and pack some serious garlic supplies.
1. Transalpina
You may have heard of Transfagarasan–Top Gear did a feature on it and called it "World's best road trip". Transalpina is its lesser known sister: shorter but at higher altitude, wilder and less touched by mankind. Most of it consists of sprawling, winding asphalt road with a myriad of opportunities to leave the concrete behind and get a taste of the off-road on the mountainous paths of the Carpathians. These trails are welcoming and casual, but depending on the weather you may be in for a challenge.
What to expect? Breathtaking scenery with lush forests, serene lakes, wooden churches and monasteries, sheep and sheep-herders, the occasional brown bear and villages that look like they have been lifted from a different time.
2. Macin and the Danube Delta
Adventure through the rocky hillsides of Europe's oldest mountains, Macin, on a journey that takes you all the way to the Danube Delta. The scenery is rough, with stone formations that endure the test of time, eroded beyond recognition but still standing, pristine landscapes that somehow avoided becoming "tourist fodder." The infrastructure here is still developing, and while unfit for those accustomed to modern comforts, it's perfect for adventurers and thrill-seekers willing to step off the beaten path.
Travel less than 40 miles eastwards and reach the outskirts of the Danube Delta, the second largest and best-preserved European delta. A birdwatcher's paradise that is under strict environmental control, certain areas still welcome ATV riders and provide them with a vast and wild playground, sand, mud and wetlands flanked by reed and willows. Trails here are beginner friendly, making it less about taming the wilderness and more about accepting it – the scenery, flora and fauna are at the core of this experience, so this might be a better fit for naturalists and outdoorsmen rather than racers and technicians.
What to expect? Marshland, sand, mud, birds of every shape or color, reed, frogs, a myriad of insects, snakes and tortoises, probably the best fish soup you've ever had.
3. Hunt the Wolf
You already probably know about the Hunt the Wolf race, advertised as the hardest and toughest ATV race in Europe. It takes place every year and the 2018 edition took place somewhere near the city of Cluj-Napoca, Romania. While the previous two trails were mostly beginner friendly, this one is as extreme as it gets, complete with extra-gnarly terrain, steep hills, river crossings and muddy areas. Be warned: this trail should only be attempted as part of an organized group; we suggest you simply join the next Hunt the Wolf event and test your mettle there.
What to expect? Bruises, mud, effort, pushing the vehicle to the limit, feeling like a conqueror.
We imagine that most of you won't fly your beloved ATV all the way to Europe so you basically have two options: either rent one from one of the hundreds of businesses that offer this type of service, or, if you're in a spending mood, buy one from one of the local ATV dealers. Published June 15th, 2018 12:27 PM
Top Brands
Popular Articles