1 View
Duck Hunting in Mississippi With the Polaris Ranger Crew
May 2nd, 2016 9:24 AM
Share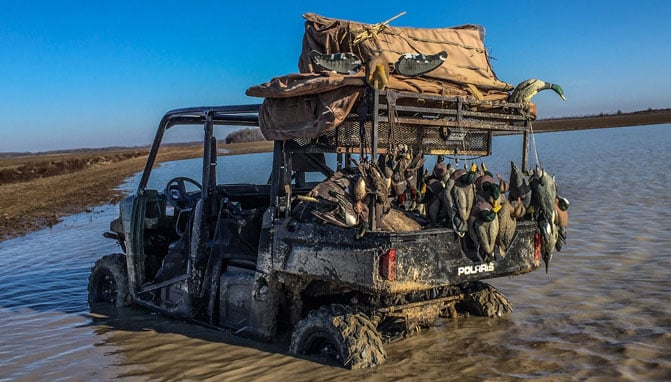 We get muddy looking for ducks in the Mississippi Delta
The fine folks at the Mississippi State board of tourism invited me along to join them at the Delta Southern Outfitters hideout in Ruleville Miss. for a little late season Duck hunting.
Located in the Mississippi Delta, also considered the duck hunting Flyway, Delta Southern Outfitters made us feel right at home. Each year thousands of birds migrate south for the winter. It is my understanding that the area we were hunting is the migration path for these Ducks as well as many other species of winged animals.
Delta Southern Outfitters hosted our duck hunting expedition.
I joined up with a young eager group of guys searching for Duck and scouring the property in a 2015 Polaris Ranger Crew. This Ranger Crew was decked out with a nicely constructed duck decoy storage rack with gun storage as well as room for the ultimate duck-hunting tool, the Labrador retriever.
Our Polaris Ranger Crew held an assortment of duck decoys.
Hunting Duck is a new adventure for me, but the experience of Walker Noel, Luke Simmons and the crew at Delta Southern Outfitters was evident from the start and they made me feel right at home. Duck hunting in Mississippi is very big deal and stimulates the economy via tourism dollars each year. Farmers and duck hunting guides make great use of their farmlands and fields of flooded rice, soybean and cornfields, as well as flooded timber. Delta Southern Outfitters and many others fill the long winters, when crops are not growing, with work by bringing in eager hunters. The fields are flooded using nearby rivers or tributaries to provide a place that a duck would want to land and provide a habitat that the ducks can come back to year after year.
The first day of our hunt was spent in the crisp early morning cruising through hundreds of acres to get into a prime landing zone for our prey. After the Polaris Ranger Crew was loaded we pulled away from the truck and slipped into the muddy marshlands. The Ranger Crew allowed room for four of us as well as the lab to cruise comfortably. Even though we had encountered many sections of deep muddy water, it was encouraging to see the Ranger simply drive right on through the mire. This also started setting off bells in my head of the very different types of diverse terrain scenarios the Duck hunter has to face out on the job. How could we add to this rig to make it even better than it was without putting the reliability of the factory machine in jeopardy? It was a question that I would study on the entire trip.
The view from our hunting blind.
With the stock suspension settings and stock ground clearance we had little trouble, if any, the entire time, though a tad more center ground clearance would have kept us from rubbing the belly of the beast quite as much. The mud was thick, but did not seem to stick to the Ranger like I had expected. One thing most duck hunters will encounter during the season is a lot of mud as well as some deep water. Getting through the mud and keeping forward momentum can be a challenge, but this can be even more of a challenge with an extra 100 lbs of rack and gear. Add in four riders and a trusty hunting dog and you have some heavy loads bearing down on the machine. The flooded fields of rice and corn can become a mudder's dream, but a hunter's equipment nightmare.
The Polaris Ranger Crew gamely fought its way through the mud and muck of Mississippi.
Standing in the marshy wetlands armed with a shotgun and a vest full of shells, I patiently awaited the arrival of what would be a variety of Duck. Anything from Greenheads, Mallard Drakes, Pintail, wood ducks and many others would drop in. Our day was not only filled with successful hunting, but long conversations about current events and our love for the outdoors.
A big part of duck hunting is just sitting still and waiting.
Most duck hunting days wrap up by noon and it was time to jump back in our Polaris Ranger Crew to get back to the lodge. We had a chance to get some equipment relocation done before heading back to the lodge, so we hitched to a sled blind to relocate the massive steel structure for future hunts. The Polaris Ranger Crew seemed to love the extra weight and finally we had proven to ourselves the tow-ability of these machines. A strong low gear and four wheels pulling snatched the blind along like a small paperweight and relocating was swift and effortless.
Towing our duck blind was no challenge for the Ranger Crew.
Nick Tarlton had also joined us at camp to introduce us to his company called Mimicrist. This camouflage pattern design company will make you your very own exclusive camo pattern if you just happen to need one. If you just need something a little different from the regular mainstream patterns, then take a look around the Mimicrist site and give them a call. The new 2016 Karma camo is made for duck hunters and is ready to add to clothing of your choice. I just wonder what our Polaris Ranger crew would look like decked out in the Karma wetlands pattern. The photography used to design the pattern is amazing and it seems like you could get lost in the reeds. Stephen Kirkpatrick is behind the amazing photography in these patterns and is a respected wildlife photographer.
Mimicrist's Karma pattern is striking.
Duck hunting is definitely a tough sport if you have not spent time shooting from a layout blind, but the actual hunt is only a small portion of what it really gave me. Watching the world wake up in the peaceful morning and spending time with new friends is the best part of most any hunting. Getting to use these vehicles like the Polaris Ranger Crew to get a job done gives me a new appreciation for the very different tasks you can accomplish in a well equipped UTV.
Our hunting group poses with the day's harvest.
There are many great reasons to visit Mississippi and duck hunting the Delta Fly way has been added to my list for sure.
Published March 3rd, 2016 1:37 PM
Top Brands
Popular Articles