1 View
Nikola Motor Company Teases 520 Horsepower Electric UTV
June 24th, 2016 11:32 AM
Share
We're committed to finding, researching, and recommending the best products. We earn commissions from purchases you make using links in our articles. Learn more here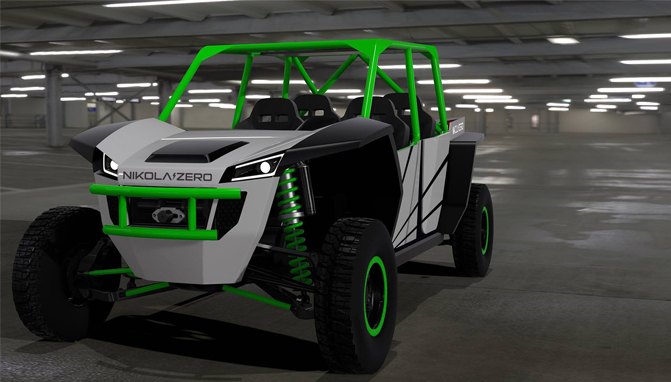 Could this electric UTV be the next game changing new vehicle?
In recent years we've seen the performance gap between UTVs and sand cars getting smaller and smaller. Everything from horsepower numbers to suspension travel and even the price tag. It's not at all uncommon to see a UTV out in the dunes that cost upwards of $50,000.
Most recently, a newcomer to the UTV game appears intent on narrowing that gap even further, if not eliminating it all together. Nikola Motor Company, a Salt Lake City based "premium electronic vehicle" manufacturer is jumping headlong into the off-road world and aiming to make a splash with its Nikola Zero off-road vehicle. Social media is abuzz with renderings and outlandish specification information touting everything from 520 horsepower to 20 inches of suspension travel.
In an effort to stay ahead of the competition, only renderings of the vehicle have been released so far.
Very little information is available about the company or this new vehicle, but the company's website provides answers to many of the specification-related questions most consumers will have and we were fortunate enough to speak directly with the company's CEO, Trevor Milton.
Milton assured us the company is bringing technology the industry has never seen before and if the numbers are any indication, we'd have to agree. For starters the all electric 400V drivetrain puts out a claimed 520 horsepower from four separate electric motors. That's a lot of ponies and a machine like that had better have a chassis that can handle it, much less keep it under control. Milton informed us the frame would be a steel and aluminum hybrid, although the production vehicle is likely to make use of a composite material to help keep the weight down. The current model weighs in at a hefty 1900 pounds; that's more than 200 pounds over the next closest competitor, but when considering the power to weight ratio, it's unlikely the extra weight will be an issue.
Aluminum 6061-T6 upper and lower control arms will work in tandem with massive FOX 3.0 Podium Internal Bypass shocks to provide 20 inches of suspension travel. The next closest production UTVs are the Polaris RZR XP Turbo and Wildcat 1000, each with 18 inches in the rear only, while the Zero features 20 inches on all four corners.
With massive FOX 3.0 Podium Internal Bypass Shocks, the lines between UTVs and trophy trucks or sand cars are beginning to blur.
Despite being almost two feet longer than its next closest competitor, the Nikola Zero's wheelbase is comparable to other vehicles in the class at 118 inches; just an inch more than the RZR 4 and Maverick MAX and six inches less than the Wildcat 4 1000. It's important to note that we're comparing the four-seat versions of each model. Milton did mention that a two-seat version will be available, but the only specifications listed on the company's website at this time are for the four-seat version.
No information is given on the brand of tire being used, but the website does state a size of 32". Two wheel configurations are listed; cast aluminum and Method Wide-Five beadlock. As one would expect, the Zero provides electronic power steering as well as active descent control.
Another first for the UTV industry, the Zero offers up to 10 degrees of rear steer capability. According to Milton, rear steer is a selectable feature and when activated, the vehicle automatically adjusts the degree of assistance up to 20 mph. At speeds greater than 20 mph the rear steer feature is deactivated. "It's designed to enhance steering and control in low speed situations" offers Milton. "It makes navigating trails and rock climbing a whole new experience." We've seen a few UTVs equipped with hydraulic rear steer in the past and it's definitely a wild feature.
Die hard rock crawlers will love the selectable rear steer assistance.
Nikola is also boasting about better braking courtesy of large 14" discs with three-piston calipers and regenerative braking technology thanks to the individual motors on each wheel. It's worth mentioning that the power supplied is essentially cut in half in 2WD mode since the front two motors will be disengaged.
Charging the vehicle is one of the big questions most users will have and the company provides a few different options. The Zero can plug into a standard 110V outlet, but will be out of commission overnight. An industry standard J1772 car charger will have you back up and running in about 4-6 hours, though we imagine most users will elect for Nikola's optional high speed Genset charger that can take the vehicle from fully drained to fully charged in just two hours.
A few people have expressed displeasure over the machine's somewhat "limited" 100-150 mile range. For many dune goers or desert enthusiasts who go for a cruise and then return to camp it may not be an issue, but for adventure riders who regularly ride in the 200+ mile range, this platform may pose a problem. The machine is equipped with an onboard solar panel, though its primary function is to maintain the vehicle's 12V power supply for its accessories so as to not drain the main operating power supply.
An onboard solar panel supplies power to a host of accessories including cameras, digital monitors and both front and rear winches.
If the vehicle's specs aren't enough to at least raise your eyebrow, the Zero comes with a few extra goodies that ought to pique your interest. Beard seats with four-point harnesses will keep you and three friends comfortably inside the cockpit and three digital monitors display not only all the standard instrumentation, but provide visibility from up to four onboard cameras. The vehicle also gathers speed an elevation data as you drive and has a programmable function which allows you to create individual driver profiles that match parameters that you control. Using the integrated 4G uplink, you can access past trip information, power consumption data or even track your machine via GPS at any given time. Passengers will enjoy access to two 12V outlets, a 110V outlet and four USB outlets.
To say the Zero features automotive styling in its cockpit would be an understatement.
Although the only images that have surfaced of the vehicle are renderings, the company displayed an actual photo of a 14" brake rotor on its Facebook page with the caption "Eat your heart out Polaris and BRP." No doubt they're looking to ruffle some feathers. In all actuality, the company appeared very active on its Facebook page and took a great deal of time to answer a wide range of probing questions.
Nikola's general position seems to be that it hopes to push the industry forward by releasing a vehicle that other OEMs can and will compete with. We're all for friendly competition between manufacturers, because the users and the industry win in the end.
Not much information is available about the company, itself but Milton assured us his team is among the best of the best in electric vehicle design and engineering. "Easily among the top three percent in electric vehicle design in the world. Everything is in house from our R&D facility to our testing ground here in Utah."
When asked why the company took such a drastic leap over other competitors in the market segment verses starting small, the answer was simple; to be the new leader in every category. If the production vehicle is indeed as good as the company claims, it will definitely achieve the goal, but it will be interesting to see how the general public receives an all electric Sport UTV.
At this point the vehicle seems almost too good to be true, even with a sticker price of $37,000. We're excited to see actual photos of a real vehicle.
As for when the world will get its first glimpse of the actual vehicle, that information should be coming within a few weeks. The company is keeping a tight reign on videos and photos of the Zero until its official unveiling slated for this fall. All the information on where and when that is to take place will be in the company's next press release. In the meantime, we're left to speculate while consumers who want to throw their hat in the ring can make a $750 deposit on the $37,000 vehicle and take advantage of early bird pricing. After 5,000 units the price jumps up to $42,000, although the company says it's working on bringing that number down.
We've seen "race ready" production machines try and fail without ever gaining much traction in the ATV market, which begs the question, will the industry pay that high of price? Judging by the comments we've seen on social media, people have mixed feelings, but the truth remains that there's no shortage of people purchasing $25,000 vehicles and adding another $10,000-$15,000 in accessories.
Time will tell and you can bet we will be watching closely as this story unfolds. Seth Fargher
Growing up in Oregon, most of Seth's involvement in the powersports world was limited to what he saw in magazines and videos. Following a brief stint in the corporate world, Seth took a flying leap (literally) and moved to California to pursue a career in freestyle motocross. Though short lived, the opportunity immersed him in the industry and is now a well-established off-road writer.
More by Seth Fargher
Published May 27th, 2016 10:00 AM
Top Brands
Popular Articles