3 Views
2017 Polaris Sportsman and Scrambler Lineup Unveiled
August 3rd, 2016 12:45 AM
Share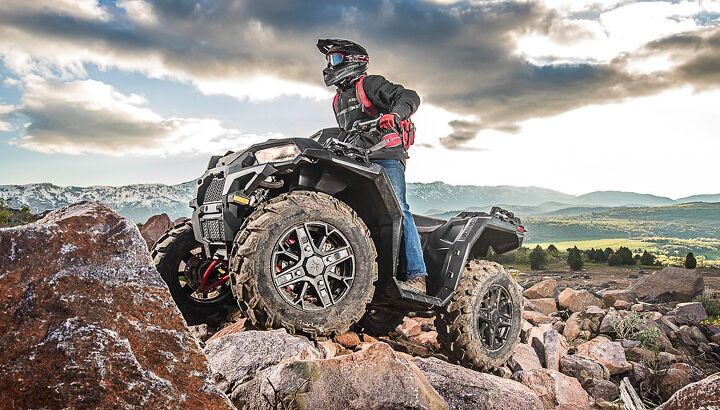 Sportsman XP 1000 returns for 2017
Polaris All-Terrain Vehicles (ATV) are the No. 1 selling brand of automatic ATVs because the lineup offers the best performance and best value. For Model Year 2017, Polaris is catering to Recreational/Utility and Sport/Utility enthusiasts by reintroducing its big bore flagship models, offering ATVs for new applications and introducing more value into the lineup.
Sport/Utility Models
Polaris is redesigning, renewing and reintroducing its flagship lineup of big bore Sportsman ATVs to offer a perfect blend of features and performance for an all-new Sport/Utility experience. The vehicles have a new rider-active design for the most sport-like experience ever on a Sportsman, in addition to delivering even more utility. To cater to a wide-variety of big bore customers, the lineup features three new standard models: the industry's most powerful Sportsman XP 1000, Sportsman 850 SP, and industry's best value big bore – the Sportsman 850. In addition to the standard models, the Sportsman XP 1000 is available in an ultra-premium Hunter Edition package and Matte Copper Limited Edition.
Built for performance-minded Sport/Utility consumers who want an ATV predominately for recreation and no compromise for working, the new Sportsman XP 1000 is the most-powerful and fastest-accelerating (0-30 mph/0-48.3 kph in 2.14 seconds) Sportsman ever. Its 90-horsepower, electronic fuel injected (EFI) ProStar 952cc engine delivers smooth, precise power, thanks to its drive-by-wire technology. Coupled with the engine is the most versatile transmission for pure sport and utility. The transmission offers a fast high gear along with the most versatile low gear, ideal for high-torque recreation and utility situations, such as technical riding in rocks and mud, and utilitarian needs such as towing and hauling.
The all-new and exclusive Three-Mode Throttle Control, standard on the Sportsman XP 1000, gives the rider ultimate control of the power delivery for the best riding experience in any situation. The operator can choose from three modes: Performance for faster acceleration and aggressive trail and sport riding; Standard for a traditional blend of torque and performance; and Work for smooth power delivery ideal for work tasks, hunting and cruising.
To complement the power, the new Sportsman XP 1000 suspension and chassis is designed for true sport/utility performance. The proven XP chassis has the highest front- and rear-approach angles to maximize ground clearance in extreme terrain. The vehicle's industry-leading, dual a-arm front suspension with anti-kickback steering provides 9 in. (22.86 cm) of travel; while the exclusive rolled Independent Rear Suspension (IRS) and tuned torsion bar provide 10.25 in. (26.04 cm) of rear travel for the smoothest ride. New, constant-radius, arched lower control arms allow for significantly more useable ground clearance to tackle tough trail conditions. The sport-tuned, variable assist Electronic Power Steering (EPS) automatically adjusts based on riding conditions for effortless low-speed technical maneuvers, and excellent rider feel and control at high speeds. For the ultimate handling in all conditions, the high-performance All-Wheel Drive (AWD) system with the Engine Braking System (EBS) and Active Descent Control (ADC) ensure enhanced traction in a wide variety of off-road terrain in all seasons.
The Sportsman XP 1000 features a new, rider-active design for the most sport-like experience ever on a Sportsman. The vehicle is the most responsive and confidence-inspiring due to an intuitive design that puts focus on the ride experience. For the driver, high-visibility sight lines allow for faster and more aggressive riding, while a motocross-inspired, dual-zone, sculpted seat maximizes rider input and comfort. To keep the driver planted, the vehicles have deep, foot wells to avoid foot slippage. New, large side panels and factory-installed fender flares provide extra protection from trail elements for a better experience in muddy trail conditions. A stainless steel, performance exhaust system provides a throaty rumble and powerful, triple hi-beam forward lighting and LED tail lights allow for additional visibility. To further enhance the ATV rider experience, the vehicle has full digital instrumentation and Bluetooth connectivity for missed calls and text messages.
To complement the new, rider-active design that creates the new sport-like experience, the vehicle delivers even more utility. An all-new rack and storage system with new, hard-working accessories ensures the vehicle can tackle any task. The new, multi-textured racks offer 360 lbs. (163 kg) of capacity, maximum grip and easy cleaning with 44 tie-down points and integrated 5-gal. (18.95-L) bucket mounts to secure all loads. The factory-installed, modular rack-extension system has six rack extenders that can be configured to handle any load; while the new, integrated front and rear storage keeps essentials secure inside the boxes. Riders also will enjoy the new, easily accessible beverage holder, more than 4 gal. (15.14 L) of front, dry storage, and 3 gal. (11.36 L) of rear dry storage. The vehicle's integrated winch and plow mount makes adding these popular accessories quick and easy. Polaris Engineered Accessories will have more than 100 accessories available, including new Lock & Ride bumpers, storage and customizable wind deflection.
The new Sportsman XP 1000 is available with aggressive 26-in. (66.04-cm) CST tires on 14-in. (35.6-cm) cast aluminum wheels with automotive-style paint in Stealth Black. For hunters, a Hunter Edition in Polaris Pursuit Camo is offered and has a new rear-centered LED work light, new Kolpin Stronghold XL Gun Scabbard, new ratcheting Kolpin Claws, cut-and-sew camo seat, 26-in. (66-cm) PXT tires, 2,500-lb. (1133-kg) Polaris winch, hand and thumb warmers, and front and rear brushguards. A Matte Copper Limited Edition model has all-new features including the industry's largest trail tires; 27-in. (68.6-cm) Maxxis VIPRs; triple-strip LED taillights; rawhide cut-and-sew seat and Matte Copper paint.
For the rider looking for big bore power and premium features for around $10,000 U.S., the Sportsman 850 SP has a smooth and torquey, 78-horsepower ProStar 850cc EFI engine with dual counter-balance shafts, standard EPS, dual A-arm front suspension, high-performance on-demand AWD, four rack extenders, automotive paint, 14-in. (35.56-cm) black cast aluminum rims, and 26-in. (66.04-cm) CST Tires. The vehicle will be available in Matte Sunset Red, Titanium Matte Metallic and Polaris Pursuit Camo.
At $8,799 U.S., the Sportsman 850 is the best value big bore available. The vehicle is perfect for the big bore customer who is looking for big power and a bigger value. The Sportsman 850 features a 78-horspower ProStar EFI engine, IRS, dual a-arm front suspension, On-Demand AWD, in-mold plastic and steel wheels. The vehicle is available in Sage Green and Indy Red.
To round out Polaris' big bore lineup, the company continues to offer the Sportsman 850 and XP 1000 High Lifter Editions, Scrambler XP 1000 in Titanium Matte Metallic, and Scrambler 850 in White Lightning.
Recreation/Utility Models
For the entry-level, Recreational/Utility customer, the Sportsman 450 H.O. is the most fully featured, best-value entry-level class ATV available. For under $6,000 U.S. for the standard model and under $7,000 U.S. for the EPS version, the vehicles offer an unprecedented value. The Sportsman 450 H.O.'s smooth, reliable, new Prostar 500cc EFI engine delivers 33 horsepower, offering full-size capability and performance at a value price.
To work harder, the fully featured Sportsman 450 H.O. offers Polaris' On-Demand True AWD, IRS, 1,225 lbs. (557.7 kg) of towing capacity, and a 180-lbs. (81.6-kg) capacity rear rack with Lock & Ride capability and 90-lbs. (40.8-kg) front rack with integrated storage. The vehicle also has industry-exclusive integrated plow and winch mounts for easier installation.
For a smoother ride, the Sportsman 450 H.O. features the proven MacPherson Strut front suspension with 8.2 in. (20.8 cm) of travel; and legendary IRS with 9.5 in. (24.1 cm) of rear travel. With 10.5 in. (26.6 cm) of ground clearance, the Sportsman 450 H.O. can maneuver over trail obstacles with ease; while the comfortable ergonomics including narrow front-of-the-seat and side panels, ample seat foam and deep heel pockets, keep driver fatigue to a minimum.
For the utility-minded, farm or ranch customer looking for a vehicle that works even harder and is purpose-built for hauling and towing, Polaris is introducing the all new Sportsman 450 H.O. and Sportsman 570 EPS Utility Editions. The vehicles have the same Sportsman legendary, smooth ride with a new, harder-working utility package for more hauling, more versatile towing and heavy-duty protection.
The Sportsman 450 H.O. Utility Edition includes new, steel tube front and rear racks with integrated storage up front and heavy-duty dual work trays on the back. The vehicle also features a new, front receiver hitch for more versatile towing options, steel front fascia and tough tube bumper for more protection when working around the farm or in the woods. The package is valued at $600 but only adds $300 to the MSRP. The Sportsman 450 H.O. Utility Edition is available in Maroon Metallic.
The Sportsman 570 EPS Utility Edition is built to work hard and provide all-day comfort and convenience. The vehicle has the same features as the Sportsman 450 H.O. Utility Edition with the addition of several options, providing more than $1,000 in value for just $500. Other features on the Sportsman 570 EPS Utility Edition include the industry's first, variable, low-speed limiter which allows the rider to set the maximum speed between 7-14 mph (11.3-22.5 kph) in 1-mph (1.6-kph) increments, making it ideal for spraying and low-speed tasks; work-specific gearing with lower gear ratio provides more low-end torque; dash-switchable, rear 12-volt utility outlet; a rear multi-hitch receiver for pulling ball or pin hitch implements; and heavy-duty, six-ply tires to take on the toughest terrain. The Sportsman 570 EPS Utility Edition is available in Maroon Metallic.
The Sportsman 450 H.O. and EPS models join the Sportsman 570, 570 EPS and 570 SP as part of Polaris' Recreation/Utility offering. The Sportsman 450 H.O. is available in Sage Green, Velocity Blue and a Maroon Metallic Utility Edition with the EPS model available in Sage Green. The Sportsman 570 and Sportsman 570 EPS are available in Sage Green, Indy Red and Polaris Pursuit Camo, with an EPS Utility Edition in Maroon Metallic. The Sportsman 570 SP is available in Sunset Red, Stealth Black and a Hunter Edition in Polaris Pursuit Camo that includes aggressive 26-in. (66.04-cm) PXT Tires, Polaris 2500-lb. (1133-kg) winch, front and rear brushguards, new Kolpin Stronghold XL Gun Scabbard, new ratcheting Kolpin Claws, cutand-sew camo seat, hand and thumb warmers, and rear work lights.
2-Up/Touring Models
The 2017 2-Up and Touring Line has seven two-passenger models with three different power options and three different chassis. For customers looking for the ultimate comfort, Polaris is offering the Sportsman Touring XP 1000 in Black Pearl; Sportsman Touring 850 SP in Sunset Red; Sportsman Touring 570 in Sage Green; Sportsman Touring 570 EPS in White Lightning; and Sportsman Touring 570 SP in Turbo Silver. The 570 models now feature a new passenger backrest providing more bolstering and improved passenger support.
For the customer who wants a two-passenger ATV that has more versatility for work applications, the Sportsman X2 570, with its lockable rear differential and rear dump box that can be configured for a second seat, is available in Sage Green. The industry's first 6×6 ATV built for two people, the Sportsman 6×6 BIG BOSS 570 EPS, debuted in March and is available in Sage Green.
Polaris offers a full line of accessories including winches, storage, plows and specialized products for all of its ATVs and is the only OEM that features an integrated plow and winch mount, giving riders the ability to take their plow on or off in seconds. For 2017, Polaris introduces a portfolio of new vehicle and rider protection options, integrated storage, terrain-specific tires, and several utility racks and attachments.
Published July 25th, 2016 9:48 PM
Top Brands
Popular Articles