1 View
Kinston, NC Gets New ATV Race Track
August 9th, 2010 11:20 AM
Share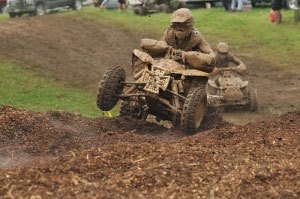 ATV race fans in North Carolina should be happy to know that a new race course will be unveiled this month in Kinston, N.C. on the Lenoir Country Fairgrounds.
The news comes a year after a motocross track for dirt bikes debuted at the facility. The motocross track has a success and four races have been held their since it opened with two more scheduled to take place.
Adding a track for ATV riders was the next logical step.
"We've modified the existing demolition derby ring to accommodate demolition derbies, ATV racing, tractor pulls; we're trying to make a multi-function area," Brian Hussey of the Fair Association told ENCToday.com. "Most of the dirt was already there; we just moved it around and re-shaped it."
The Fair Association has received plenty of help from local construction firms to get the course completed.
"We've had just such an outpouring of help," says Hussey.
Neil Pritchard has a son and daughter who race ATVs and he tells ENCToday.com that the new course has the potential to host a national championship due to the quality of the track, and the fact that the fairgrounds have electric, water, and sewer hookups for mobile homes and RVs.
Published August 9th, 2010 11:20 AM