1 View
Big Bear to Las Vegas: Day 2
January 13th, 2011 1:56 PM
Share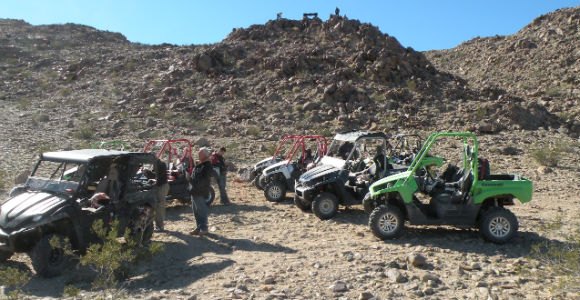 Sheer exhaustion. That's what we're feeling after arriving at our hotel in Las Vegas following a marathon day in the desert.
We left Barstow, Calif. at about 7 am. Eleven hours and more than 230 miles later we arrived dusty, tired, but still grinning after a truly memorable Kawasaki Teryx adventure.
While we had opportunities to play around on the rocks and the dunes on Day 1, we were not really afforded those luxuries on Day 2. There was simply too much ground to cover.
As much fun as the day was, as the inched closer to Sin City all we could think about was a hot shower and a big meal. Our faces were covered thick with dust after being sandblasted by gusting winds all day and we were indeed a strange sight as we sauntered into the hotel lobby.
We'll fill you in with more details soon when we have a chance to gather our thoughts and put together a full story on this epic adventure. Stay tuned!
Published November 11th, 2010 11:26 PM