1 View
Polaris Introduces PS-4 Extreme Duty 4-Cycle Engine Oil
August 3rd, 2011 3:28 PM
Share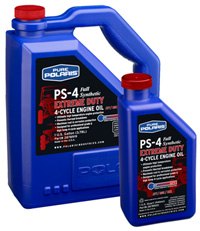 To better protect the engines in its ATVs and Ranger/RZR side-by-side vehicles, Polaris has expanded its 4-cycle oil line to include PS-4 Extreme Duty. According to Polaris, this oil is engineered to provide maximum protection in hot weather conditions.
Designed for ATV and Ranger/RZR customers who ride their machines in harsh conditions and hot temperatures, PS-4 Extreme Duty is a full-synthetic, newly-developed formulation to be used in temperatures ranging from 0°F up to 120°F.
Polaris says automotive oil is not designed to provide the protection ATVs and side-by-sides demand. Additionally, Polaris says automotive oils don't provide the high RPM shear stability or the corrosion protection needed to keep internal parts working properly.
Without any industry standards for ATV and Side-by-Side oils in place, Polaris sets its own standards.
"Thousands of hours and hundreds of thousands of miles of severe field testing have proven PS-4 Extreme Duty provides the ultimate protection for Polaris customers in hot climates and extreme applications," Polaris says in a release.
PS-4 Extreme Duty Features:
• Ultimate hot weather performance
• Increased corrosion & rust resistance
• Extremely shear stable
• Formulated specifically for Polaris 4-cycle engines
Published August 3rd, 2011 3:28 PM