1 View
Kawasaki Joins Forces With the Professional Bull Riders
June 19th, 2012 11:17 AM
Share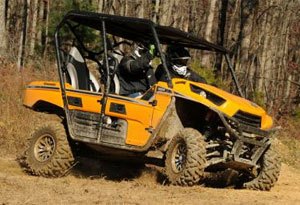 Kawasaki has long been familiar with horsepower, but its focus may soon be turning to bull power. The Professional Bull Riders (PBR) has announced that Kawasaki will be the official ATV and Side x Side of the PBR.
As part of the partnership, Kawasaki branding and advertisements will be featured during PBR's television broadcasts, along with prominent in-arena and chute signage, as well as PA announcements and JumboTron spots.
Fans will be able to experience more about Kawasaki ATVs and Side x Sides through special promotions at select PBR events.
"Kawasaki is one of the most recognizable names in powersports, and we are proud to welcome them as a partner," says PBR CEO Jim Haworth. "They have the best ATVs and Side x Sides, durable enough to be part of our dangerous and hard-hitting sport."
"PBR is home to the toughest athletes anywhere, so Kawasaki's equally tough four-wheel products are a perfect match." says Kawasaki Marketing Director Chris Brull. "This relationship recognizes those complimentary attributes and places our brand in the arenas, where riders and fans can get a closer look at the perfect vehicles for their off-road needs."
The PBR's Built Ford Tough Series (BFTS) is televised every week on CBS, CBS Sports Network, NBC, NBC Sports Network, and YouTube.
Published June 19th, 2012 11:17 AM