1 View
Traci Cecco-Pickens Retires After Clinching Ninth GNCC Title
November 6th, 2012 11:28 AM
Share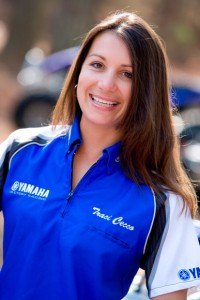 Yamaha Motor Corp., U.S.A. was on hand in Crawfordsville, Ind. at the Ironman GNCC this weekend to celebrate the career of Traci Cecco-Pickens. The long-time Yamaha rider and GNCC icon has made history by securing her ninth overall women's ATV series title and announced her retirement atop the Ironman podium.
"This ninth championship is very special to me and by far will be the most memorable – it is going to be my last championship," says Cecco-Pickens. "I am retiring from chasing championships. With nine titles, my health, friends and memories for a lifetime, I finally feel this is the right time for me."
Cecco-Pickens may be retiring from the track, but that doesn't mean she's leaving racing entirely. "I will continue to be at all of the GNCC events supporting my husband and his racing career," she said. "Racing is a tremendous part of my life, and I will truly miss competing, but it's time for me to be part of the sport I love in a different way – whether that be representing longtime sponsors at the track, working the gas can in the pits, or mentoring new lady racers." To all of the up-and-coming women racers out there, she says: "Never quit setting achievable goals, and always act like a lady."
Cecco clinched her historic championship at the last GNCC round October 6 in St. Clairsville, Ohio, allowing her to enjoy the Ironman knowing her championship is already in the books. Known as the best woman racer in the history of the sport, Cecco-Pickens captured six wins and was on the podium at every series stop this year leading up to Crawfordsville.
"Yamaha congratulates Traci on another championship season and reaching the historic milestone of winning nine championships throughout her career," says Donnie Luce, Yamaha's ATV racing coordinator. "Traci has been an inspiration, a role model, and a champion of the sport throughout her career. She's broken barriers for women in racing, and she's proven that she is one of the best riders ever in any class or category. She's a true champion and ambassador for our sport, and Yamaha is extremely proud to have been so closely involved in her successful career."
Published October 22nd, 2012 5:01 PM