1 View
Weller Racing Wins 2012 SR1 Class Championship
November 21st, 2012 11:21 AM
Share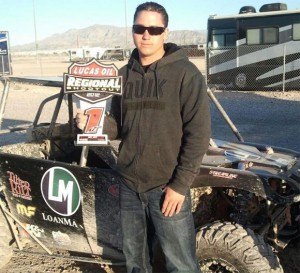 Jason Weller set out at the beginning of 2012 to bring all of the Lucas Oil Regional SR1 class racers together in the form of a five-race SR1 Championship Series that was run within the existing Regional Series' for Arizona and California. On top of accomplishing that goal, Jason would also go on to win the SR1 Championship in the AZ Regional Series, as well as in the SR1 Championship Series for 2012!
In what was a close race right to the very end, Jason would secure both Championship titles with a win at the 2012 LoanMart Regional Shootout in Las Vegas, where the final showdown took place between the California, Utah and Arizona Lucas Oil Regional racers.
With bragging rights on the line, Weller ran a flawless qualifying race in his LoanMart sponsored SR1, and backed it up with an exciting, position swapping main event race to the finish with fellow SR1 and CA Regional racer, Jimmy Fishback. With a drag race to the finish line that had the crowd on their feet, Weller just nosed out the win that would put him on top of two 2012 Championship titles.
"That was probably the most fun I have ever had racing!" says Weller. "Battling like that with someone the whole time makes it really intense! It feels great to win, but it feels even better when I look back at the top finishers in these races, and they are all racers that Weller Racing helps out and supports, too! I think it speaks very well of our products, and of our program in general."
As Weller took the championship for the AZ Lucas Oil Regional Series, fellow Weller Racing driver Jimmy Fishback secured the championship for the CA Lucas Oil Regional Series, making his first season in the SR1 class a huge success.
While Jason Weller was out front battling for the win, his wife and Pro 4 racer, Corry Weller, had her hands full with a right rear flat for most of the main event, but still managed to pull off a sixth place finish in her newly built, LoanMart/Tilted Kilt SR1.
Not only was this final shootout broadcast live over the internet via LiveTrackFeed.com, but for the first time in SR1 history, the SR1 races will also be one of three classes to featured on MavTV.
"I have already had so many people call and ask about this class," says Jason Weller. "I think next year we are going to see a pretty big increase in new racers, and I know of some current racers who are looking to build new cars and be even more competitive in 2013. We are really looking forward to seeing what next season brings as far as the competition goes!"
Weller Racing is sponsored by: Lonestar Racing – LoanMart – Walker Evans Racing – Eclipse RV /Attitude Toyhaulers – Maxxis Tires – SPARCO USA – HJC Motorsports – K&N – Magnaflow
Published November 21st, 2012 11:21 AM