1 View
Can-Am Race Report: Unadilla GNCC
September 11th, 2013 1:03 PM
Share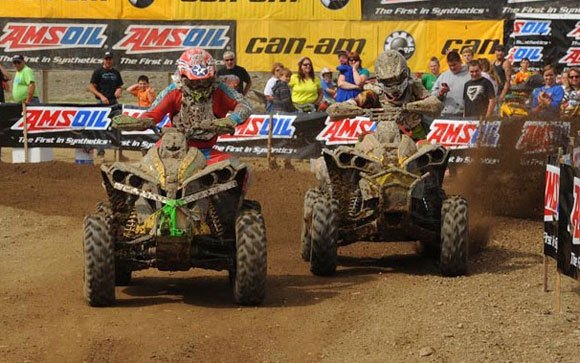 Can-Am 4×4 ATV racers won five classes at round 10 of the 2013 AMSOIL Grand National Cross Country (GNCC) series in New Berlin, New York.
Can-Am Renegade racer Michael Swift outdueled fellow U2 class competitor Rob Smith for the class victory and the top spot on the 4×4 podium at the Can-Am Unadilla event. JB Off-Road / Can-Am racer Jarrod McClure earned a third-place podium finish in the XC1 ATV Pro class aboard his DS 450 ATV. Can-Am Maverick 1000R X rs pilot Kyle Chaney also earned a victory this past weekend, winning the QR1 class at round seven of the UTV Rally Raid Northern Series in Tennessee.
"Winning all five morning 4×4 classes and having Jarrod McClure earn his first XC1 Pro class podium of the season was a great way to come out of the GNCC summer break," says Jeff Leclerc, Racing Project Leader, Can-Am. "Can-Am Maverick pilot Kyle Chaney continues to impress as he notched another impressive win in the UTV Rally Raid series."
Round 10 of the AMSOIL GNCC series was held Saturday, Sept. 7, at Unadilla Motorsports. The Can-Am Unadilla event is an annual favorite and includes challenging hills, wooded sections and, of course, a portion of the popular Unadilla motocross track and its famous Skyshot tabletop jump.
After recording five top-five finishes and also three finishes outside the top 10, Can-Am Pro Jarrod McClure was determined to earn a podium on his JB Off-Road-backed DS 450 ATV. The Pennsylvania racer did just that, as he garnered his first XC1 Pro class podium with Can-Am. He was sixth after the first lap, but had moved into fourth at the midpoint of the race. He then gained third place by lap four. McClure rode a smart race from there, to notch his first podium of 2013 and his first since finishing second at last year's Ironman GNCC.
"I've been working to get on the box all year and I am so happy it finally all came together," said McClure. "I worked really hard on the Can-Am all summer and it felt great."
U2 class and Can-Am Renegade racers Michael Swift (UXC Racing / Can-Am) and Rob Smith challenged one another for the class overall, swapping the lead several times, including on the final turn. Swift used a last-turn pass to edge Smith (BNR / Can-Am) for the class win and the top spot on the overall 4×4 podium. Swift now trails Smith by two points in the class points race with three rounds remaining.
"My Renegade worked great. I had such a good time battling with Rob (Smith) and it was great to get the win," said Swift.
In the 4×4 Open class, ATV Parts Plus / Can-Am Outlander 800R 4×4 racer and defending champion, Bryan Buckhannon stretched his winning streak to 10 as he won his class over fellow Outlander racer Sam Williams (JB Off-Road / ITP). Outlander 500 4×4 pilot Kevin Trantham also extended his winning streak in the 4×4 Lites class with his ninth straight victory. Forrest Whorton, the reigning 4×4 Senior 40+ class champion, also won at Unadilla to extend his class points lead. Can-Am ATV racer Ryan Smith recorded his fifth 4×4 Novice class win of the year and is on top of the class standings going into round 11, the Car Mate Gusher, which will be held Sept. 21, in Foxburg, Pa.
UTVRR North
JB Off-Road / Can-Am Maverick 1000R X rs pilot Kyle Chaney won the QR1 class at round seven of the Quantum Racing UTV Rally Raid Northern Series at Windrock OHV Park in Oliver Springs, Tenn. Chaney completed the most laps during the four-hour overnight event and, at one point, had more than a 13-minute lead over the runner-up finisher.
"The Maverick worked very well on the dry, dusty and hardpack Windrock OHV course. The area hadn't seen rain in quite some time, so it was harder to see," said Chaney. "I started out solo, but gained a passenger and just drove smart and ended up with another win."
Published September 11th, 2013 1:03 PM
Top Brands
Popular Articles