1 View
Marc Burnett Pilots Can-Am Maverick to San Felipe 250 Victory
March 5th, 2014 5:34 PM
Share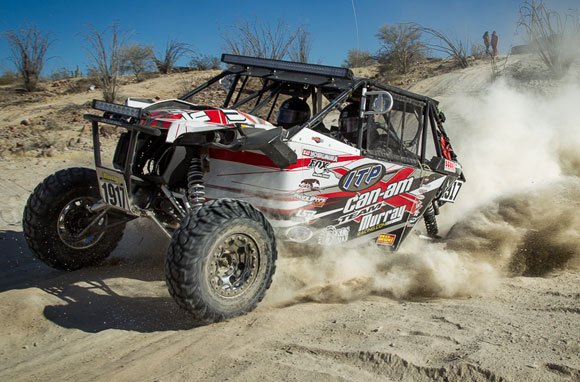 Photo by Ernesto Araiza // UTVUnderground.com
In what can only be described as a huge win for BRP, Can-Am Maverick racer Mark Burnett took the checkers at the San Felipe 250, the SCORE International opener in Mexico. Burnett was followed by Can-Am / ITP / Murray Racing in second place.
"We were thrilled with Marc Burnett's significant victory at the San Felipe 250, and to have the Murray Racing team join him on the podium," says Jeff Leclerc, racing project leader, Can-Am. "These guys have been working extremely hard, dedicating themselves to winning, and this historic 1-2 effort, which included the first-ever win in Baja for a Can-Am side-by-side, proves that both our teams and the Maverick 1000R platform are hard to beat."
The 2014 SCORE International series opener, the 28th Annual Tecate SCORE San Felipe 250 greeted side-by-side racers with a mostly unique course that was altered due to weather and a reroute. The revised course had racers travel roughly 219 miles from start to finish. Fourteen Class 19 teams entered the race, including three Can-Am Maverick squads.
Burnett, a proven desert racer with numerous wins on a bike and in trucks, came into the San Felipe 250 seeking his first finish and podium behind the wheel of the Maverick. He and co-pilot Fernando Flores logged an average speed of 38.5 mph on the course, which featured heavy rain, rocks, mud and varying temperatures and elevations, in 5:41:17 to notch his first victory with the MB Motorsports / Can-Am Maverick side-by-side. He also earned the first-ever SCORE series victory and Baja win for Can-Am.
"I am really glad to be a part of Can-Am history. It was awesome to get the first win in a SxS in Baja," says Burnett. "Racing UTVs for the first time last year was a learning curve for me. I went from racing and winning on bikes and trucks to not finishing a race in a UTV due to aftermarket parts. This year we are racing mostly stock except the suspension. We learned Can-Am builds an awesome car and there is no need for aftermarket parts."
Burnett started seventh off the line and passed many vehicles in the first 20 miles of the race and had caught up to the class leader about 10 miles later. However, a mechanical issue slowed the team and forced it to play catch up for much of the race. Once Burnett reached Mike's Sky Ranch and a familiar section of the course he knew he was back in the race. Burnett drove aggressively the rest of the way and learned at the finish he had won the race.
"We pushed hard the last 40 miles of the race," says Burnett. "We put so much time into testing the vehicle all of last year and up to the last day of the race and it paid off! I dedicated this race to my grandma who passed away in December. I would also like to thank everybody at Can-Am for believing in me, despite last year."
(Photo by Ernesto Araiza // UTVUnderground.com)
The Can-Am / ITP / Murray Racing team, comprised of Derek Murray, Steve Amarine and Monty Aldrich, also had an impressive race, completing 219 miles in a little more than six hours. The team, racing without Derek Murray who was recovering from his finger surgery, was running with the leaders early on, but was slowed by a loose injector wire. Once the issue was fixed, the team pushed hard to the finish line, but ended up second.
Published March 5th, 2014 5:27 PM
Top Brands
Popular Articles