1 View
Compact and Portable Tire Inflator From MotoPumps
June 26th, 2015 2:35 PM
Share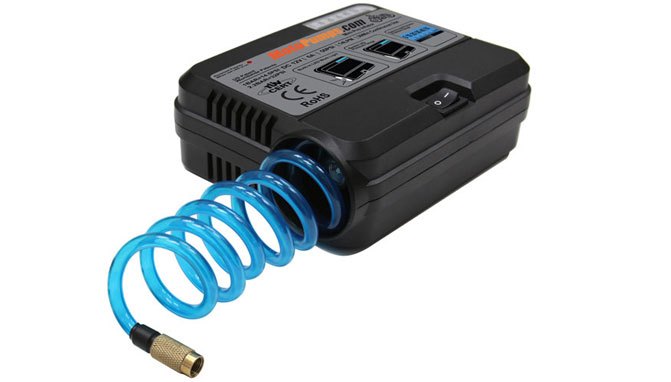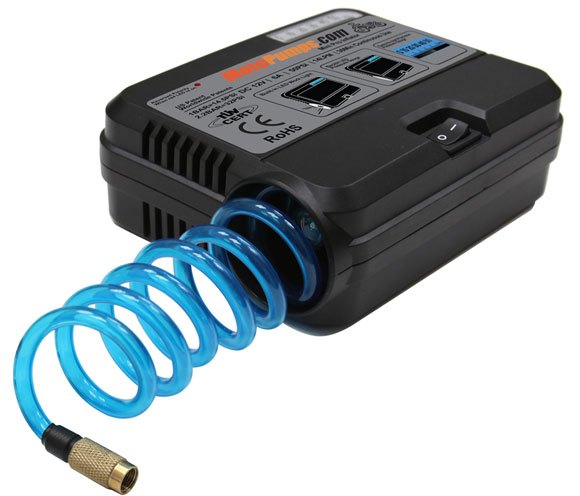 MotoPumps has recently made available its new Mini Pro Tire Inflator – a compact, all-in-one, 12-volt-powered air pump designed specifically for UTVs, ATVs and motorcycles.
According to MotoPumps, the Mini Pro is lightweight and easy to use. It is designed to quickly air up tires or even top off suspension components.
MotoPumps says the Mini Pro accurately brings most motorcycle tires up to 36 psi in around three minutes. Its backlit, bar-type pressure gauge reads in two-psi increments up to 50 psi and a bright LED work light illuminates nighttime tire repair and inflation.
The 18-ounce Mini Pro is two inches thick, 4.75 inches tall, 5.75 inches long. It draws less than 5 amps, making it compatible with CAN BUS electrical systems. The pump's fill-up speed is attained using any 12-volt battery or other power source via a 6.5-foot cord hooked through an auxiliary plug or directly to a battery. Terminal clips and a cigarette-lighter-type plug are included in the package.
For safety, the Mini Pro is equipped with a patented Integrated Polarity Protection Circuit that lights up if the positive and negative wires are not connected properly. Air is delivered through a 3.5-foot, coiled air hose, equipped with a screw-type air chuck. The power cables and air hose are stored in the all-enclosed unit's injection-molded case.
We will be getting our hands on a Mini Pro Tire Inflator in the near future, so stay tuned for a full product review. Visit MotoPumps.com for more information.
Published August 6th, 2014 2:02 PM
Top Brands
Popular Articles