1 View
Polaris Defense Unveils DAGOR Ultra-Light Combat Vehicle
October 7th, 2014 4:51 PM
Share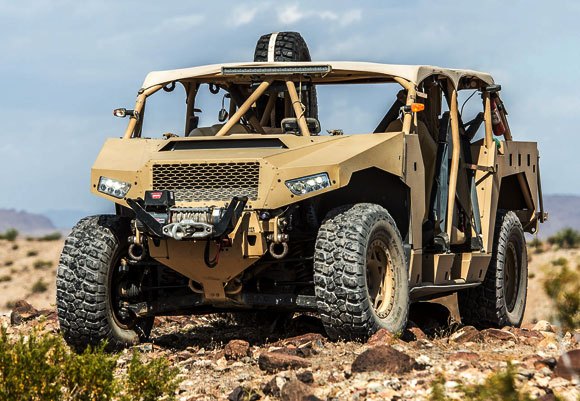 Polaris Defense has announced the launch of the DAGOR ultra-light combat vehicle, which can be seen for the first time at the 2014 Association of the United States Army Annual Meeting, in Washington, D.C., Oct. 13-15.
This is the same vehicle we told you about in July after seeing some patent documents.
The DAGOR was designed and tested, and is now under contract and in production – all in less than two years – to meet an emerging threat to SOF and light infantry forces.
"The DAGOR was engineered to meet a very demanding set of light-mobility needs for our customer," says Jed Leonard, manager of Advanced Mobility Platforms, and Polaris Defense. "It provides the optimal balance of rapid air transportability, payload and advanced mobility. The design offers our customers a modular, light-weight platform to support a variety of expeditionary missions."
This purpose-built vehicle is designed with trophy truck-inspired suspension to carry 3,250 lbs of payload or a nine-man infantry squad at a higher rate of speed over terrain usually traveled on foot.
Polaris Defense says DAGOR's design allows for ease of operation, maintenance and sustainment in support of combat operations. The vehicle uses a readily available commercial off-the-shelf (COTS) driveline, controls and components, streamlining mechanic and operator training. The diesel/JP8 COTS engine was selected for its combination of power, weight and size. The open design of the cargo bed maximizes loading space, flexibility and access for mission-essential equipment.
The vehicle curb weight is less than 4,500 lbs to maximize aircraft operational range. The width of DAGOR allows rapid loading into the CH-47 Chinook platform without modification and the weight allows it to be sling loaded under the UH-60 Black Hawk. The vehicle has completed government durability testing and is certified for CH-47 Chinook Internal Air Transport (IAT), air drop, and UH-60 Black Hawk Sling Load.
"DAGOR is under contract with elements of U.S. SOCOM and international SOF customers," says Rich Haddad, Polaris Defense General Manager. "DAGOR is larger than our previous offerings like the MRZR and MV850, and represents a step up in size for Polaris and in payload for our customers. DAGOR highlights Polaris Defense's ability to fill an urgent need, with an affordable purpose-built MILCOTS solution that can be maintained anywhere with a COTS supply chain."
Published October 7th, 2014 4:51 PM