1 View
Barker's Performance Unveils Yamaha Raptor 700 Exhaust
September 17th, 2015 4:23 PM
Share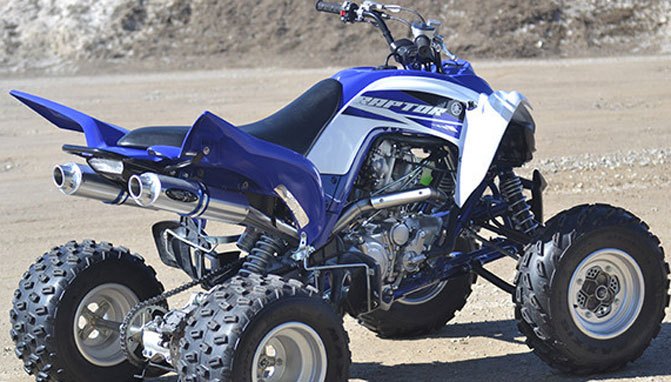 1-into-2 dual exhaust promises boost in HP and torque
Barker's Performance has unveiled its 2015 Yamaha Raptor 700 Dual Exhaust System.
"Since Barker's flagship exhaust system is for the Raptor 700, the bar was high for manufacturing a system that would meet expectations of their discerning customers," Barker's says in a release. "Barker's is confident that their new dualcan system, which takes a single exhaust and splits it into two exit cans, will excite anyone looking to gain more power, torque, and overall performance. Barker's engineers have concluded that the Raptor 700 truly loves a dual exhaust system.
"Barker's spent months developing their unique exhaust and even longer testing the system to reach results that adhere to their core principles of Quality, Durability, and Performance."
According to Barker's, when the system is paired with a fuel controller, modified airflow setup, and tuned appropriately, it can provide 6 to 10 additional horsepower, with an increase of 4-10 lb-ft torque.
Barker's says the dualcan design actually makes for a slightly quieter system than single exhaust designs from other competitors. As well, Barker's notes that this dualcan design aids in potentially doubling the life of the internal packaging.
The new 2015 Raptor 700 exhaust systems start at $899 and are available for immediate shipping from BarkersExhaust.com. Your local Barker's authorized dealer can order the system for you and assist in proper installation and tuning.
You can outfit the new Barker's exhaust can with an anodized tip (black, blue, or red), and the system is attached to your machine with billet clamps (also available in black, blue, or red).
Published September 17th, 2015 4:23 PM
Top Brands
Popular Articles