1 View
Top Ten UTV Creature Comforts
November 3rd, 2015 2:34 PM
Share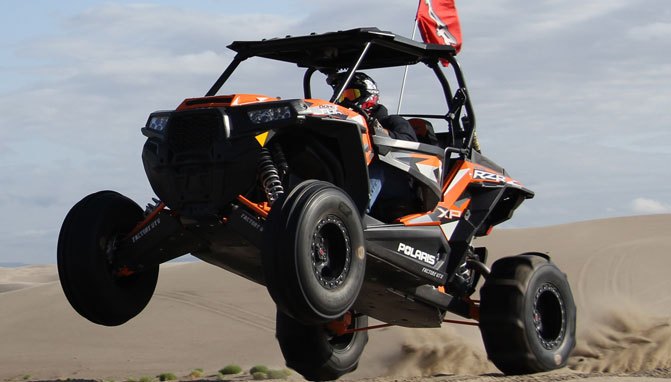 10 easy ways to make your ride more enjoyable
When people think aftermarket, very often the first thing that comes to mind is giving the vehicle some sort of boost in performance. A slip-on exhaust, better suspension or more durable tires; any number of upgrades intended to improve the performance of the vehicle. While we love more power and better handling as much as the next guy, we also realize there are a number of creature comforts that offer zero in terms of performance upgrades but that drastically improve the user experience. Here is our list of the top ten creature comforts for your UTV.
Stereo
As someone recently pointed out to us, the first thing most people do when getting in their car is turn on the radio. While UTVs certainly aren't designed for commuting, we can't deny that bumping to some of our favorite tunes while carving sand or making our way down a trail can make the entire experience that much more enjoyable. A stereo is a simple addition that can give you a completely new user experience by adding a soundtrack to your off-road excursion.
Communication System
One of the many great things about UTVs is the ability to take passengers with you to share in the outdoor experience. While it's great having people in the car, it can be very difficult to communicate over the sound of the engine. An intercom system with noise canceling headphones or an in-helmet system will allow you to easily communicate with passengers whether you're on a sightseeing trip trying to point out landmarks or you're in a race environment communicating with a copilot.
Custom Wrap
If there is any one modification that can set your vehicle apart more than any other it has got to be a custom wrap. What's more, having a vehicle wrap custom designed to your specifications is a great way to give your UTV a trick look that is completely unique to you. You could hop up the motor, add an exhaust or improve the suspension, but none of those things are remotely as noticeable as a wrap. A number of companies design and install custom wraps and each one offers a few design elements that make them unique from the rest. An aftermarket wrap is a simple solution to set your vehicle apart from the pack.
Harnesses
We're not ones to spend money on things that don't seem to matter and until recently we probably would have filed aftermarket harnesses in this category. It's a lot easier to just reach across and buckle a standard seatbelt and for the average Joe who seldom rides at high speeds, it might seem a bit overkill. However, as UTVs get more and more powerful and the speeds at which they are driven continue to increase, having a solid 4- or 5-point harness keeping passengers stable and synched into the vehicle is a worthwhile investment.
Seats
Aftermarket seats are another one of those modifications that people tend to second guess because it can seem like an unnecessary expense. Speaking from experience, your backside will thank you for getting a plush set of aftermarket seats. While OEM seats are increasingly more comfortable than they used to be, most will start feeling very stiff after a long day behind the wheel. A good set of aftermarket seats will hug your body and keep your backside comfortable so you can continue enjoying the outdoors without a second thought.
Underbody Protection
Unless you're a dune-only rider, we strongly recommend making an investment in some underbody protection. Most OEM skid plates consist of little more than a thin sheet of plastic or metal and typically protect only the key components. It takes very little for a rock or a log to puncture it, potentially causing serious damage to the vehicle or even a passenger. A number of companies offer full body armor kits constructed of UHMW, a material that has become very popular in recent years as a durable solution for protecting the underside of a UTV. While the material is very durable, its slick surface tends to glide over rocks and rough terrain verses allowing the obstacle to puncture it.
Mirrors
A set of side-mounted mirrors or a rearview mirror is an inexpensive, convenient addition for people who ride in large groups and want to keep an eye on the person behind them. Before you go calling us lazy, consider that it's a lot easier to simply glance in a mirror than it is to turn your entire head and body around to look behind you; especially if you're strapped down with a multi-point harness. Mirrors are a convenient way to keep tabs on what's going on behind you and make sure that no one in your crew gets left behind.
Winch
If being prepared counts for anything, a winch is a worthwhile investment even if you never have to use it. All it takes is getting stuck in a mud hole out on a remote trail and you're in for a long hike back to the truck. Winches are also a great accessory if you're into rock crawling, as many of our nation's popular rock crawling destinations require winching up and over certain obstacles. It may offer more peace of mind than practicality, but we think a good winch is a worthwhile investment.
Aftermarket LED Lights
Aftermarket lighting is quickly becoming as much of a bling accessory as it is a practical one. Why limit yourself to a light bar that merely illuminates the trail in front of you when you can dress up virtually every corner of your vehicle with accent lights? Aftermarket lighting is a unique way to customize your vehicle and really increase the visual appeal. Companies offer everything from underbody lights to LED bars integrated into the front grill of the vehicle. If turning heads is something you're all about, outfitting your UTV with LED lights is a surefire way to make sure people see you coming.
(Photo courtesy Hazer Live)
Aftermarket Roof
Overhead protection is an afterthought for most people, but outfitting your UTV with a roof is a great way to ensure Mother Nature doesn't dampen your off-roading plans. An aftermarket roof can protect you from the sun's rays while carving dunes or riding in the desert, as well as shield you from a sudden downpour that you didn't see coming. Since most UTVs come from the factory without roofs, most manufacturers offer factory authorized options and a number of aftermarket companies make some really trick-looking roofs as well. All it takes is one good sunburn after a long day of duning and you'll be looking to add a roof for some much needed protection. Seth Fargher
Growing up in Oregon, most of Seth's involvement in the powersports world was limited to what he saw in magazines and videos. Following a brief stint in the corporate world, Seth took a flying leap (literally) and moved to California to pursue a career in freestyle motocross. Though short lived, the opportunity immersed him in the industry and is now a well-established off-road writer.
More by Seth Fargher
Published October 22nd, 2015 10:02 AM
Top Brands
Popular Articles