1 View
BRP Releases Line of Can-Am Defender Accessories
November 26th, 2015 2:42 PM
Share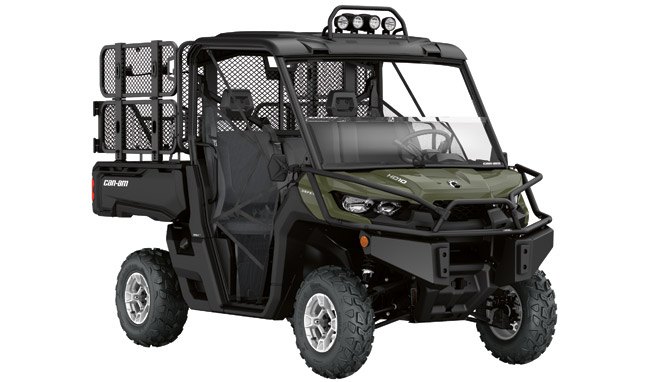 The easiest way to customize your Can-Am Defender
The New Can-Am Defender Utility UTV is built to work, but sometimes you need to customize a UTV to better suit your needs. With this in mind, BRP has released a long list of accessories for its newest off-road machines.
Bumpers

Made from heavy-duty steel, the Front Bumper ($229.99) features a dual-protective, anti-corrosion coating. It can be fitted with Front Corner Protectors ($189.99) and Xtreme Front Bumper Plates ($249.99).
The Rear Bumper ($169.99), with its HSLA grade steel construction, adds protection for the rear cargo box and lower box corners, while allowing the tailgate to function normally. The Body Side Protectors [ keep brush and low-lying branches away from the vehicle.
Skid Plates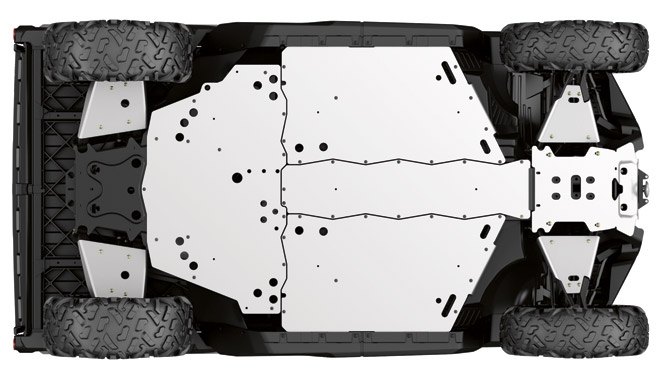 The Defender Skid Plate system is comprised of four separate kits made of 3/16-inch High Strength 5052 H32 Aluminum. Sold in pairs, the Front A-arm Protectors ($144.99) offer underside protection for the A-arms and steering mechanism, while Rear A-arm Protectors($149.99), protect the suspension components. The Front Skid ($184.99) adds style to the front of the vehicle and also protects against hard hits to the front. The Underbelly Skid Plate ($749.99) includes a central, lateral and rear skid plates
Winches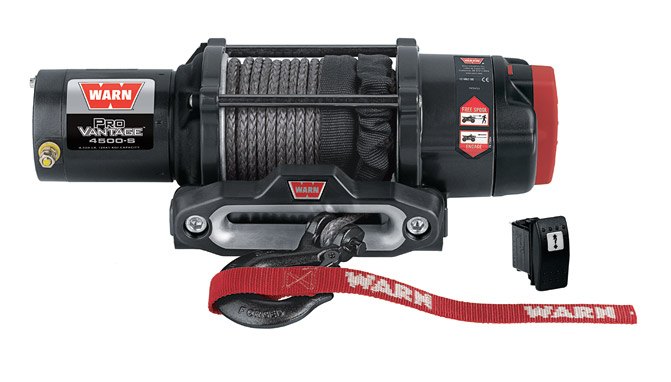 Three different winches are available and adapted for use on the Defender side-by-side vehicle. All three winches have a 4,500-pound pulling strength capability. Choose between two different WARN Provantage winches (4500-S for $819.99, 4500 for $719.99) or a Can-Am Terra 45 by Superwinch ($369.99). The WARN winches come with either a wire cable or a synthetic rope cable. An Electrical Harness is required for units without an XT package.
Apache 360 LT Track System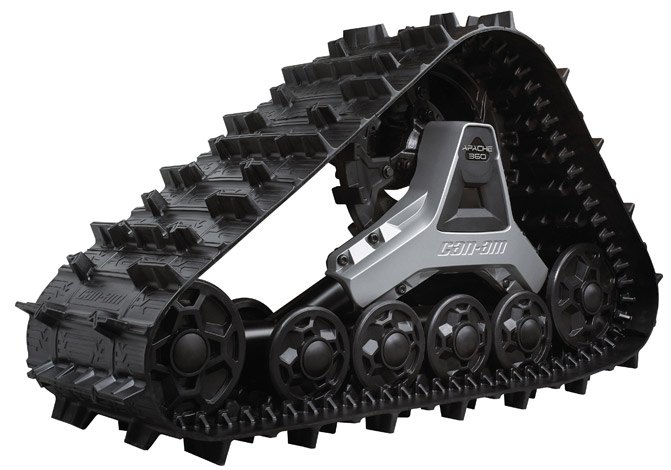 The Apache 360 LT Track system ($4,699.99), according to BRP, features a specific Defender mounting kit, offers the biggest contact patch, highest ground clearance and lowest steering effort. The angled front lugs enhance steering from the front tracks. Requires an Apache 360LT Mounting Kit.
Plow Kits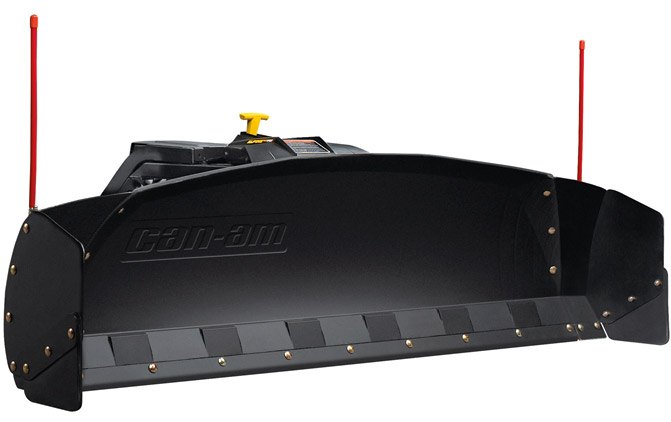 Either the existing Alpine Flex Plow Kit ($1,404.99) or the Super Duty Plow Kit ($1,299.97) can be used with the Defender. Defender-specific mounting kits and push frames are required for proper fitment and are sold separately.
The 72-inch Alpine Flex Plow Kit is made of high-impact-resistant UHMW thermoplastic. The Super Duty Plow Kit also includes a 72-inch blade, this one made of 12-gauge heavy-duty steel. A winch is used for raising and lowering the blade, which can be lifted to 11 inches.
Power Tilt Bed
The Power Tilt Bed ($599.99) system uses an integrated dash switch located to the left of the Defender steering wheel. The Power Tilt Bed system can lift up to 1,000 pounds and has a maximum lift speed of 15 seconds.
Headache Rack
Like those made popular in the pick-up market, the Can-Am Headache Rack ($349.99) is designed to protect passengers and cab components from the load in the cargo bed. Cargo. Mounted to the cargo box, the Headache Rack is compatible with multiple Can-Am accessories (Gear Rail, LinQ, Gun Boot, Gear Grips, Saw Press and more) for added versatility.
Bed Wall Extender
Designed to offer quick-and-easy tool-less modularity and to increase the volume capacity of the cargo bed, the Bed Wall Extender ($699.99) has twin rear doors that can be closed, latched open or removed entirely. The system's overall height, with its foldable / removable panels, lets owners create custom fit and look for certain tasks.
Gear Rail, Gun Boot & Mount

The Gear Rail ($249.99) serves as a stationary mount for a wide range of BRP accessories, including the Gun Boot 6.0 Impact and Mount by Kolpin. Made from heavy-duty seven-gauge anodized black aluminum, the Gear Rail attaches to the Headache Rack (sole separately). The Gun Boot ($249.99) fits firearms up to 51 inches in length and provides ample room for 2 ⅜-inch scopes. The Mount ($79.99) is designed for specific use with the 6.0 Gun Boot and offers tool-less adjustments and offers the proper angle for the boot.
Soft Cab Enclosure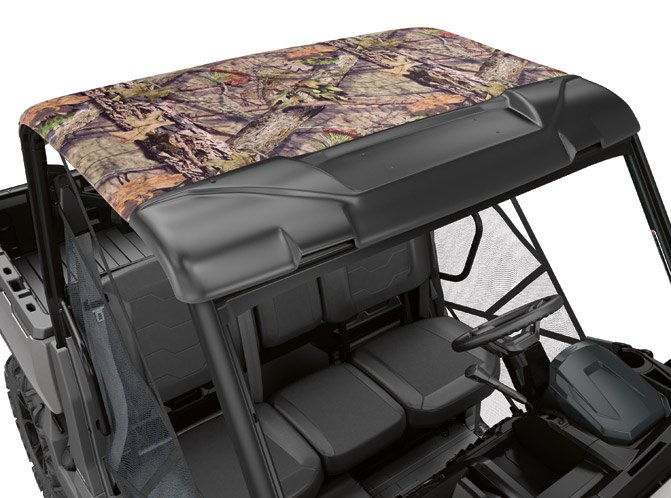 The Complete Soft Cab Enclosure ($1,849.99) comes in black or in Mossy Oak Break-Up Country Camo ($2,199.99) and includes several individual accessories as part of package. It includes a Bimini Roof, Full Windshield (hardcoated), Soft Doors and Soft Rear Panel. The UV-resistant roof has a hard visor and soft water-repellent 600-denier-coated fabric top. The Defender line of accessories offers various roof, windshield and window options to all for personalization beyond the soft cab kit.
Lighting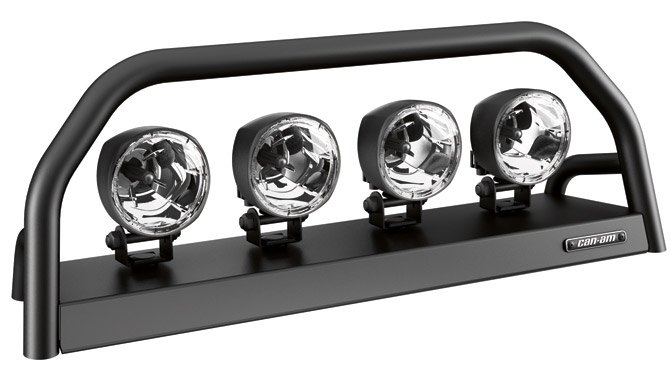 The Defender can utilize almost every light in the current line of Can-Am lighting options with the use of the correct wiring cables and mounts. The Defender Light Rack ($149.99) is housed in a mount / rack for added protection and improved lighting. A Roof Power Cable is required. The Rear Cargo Light ($129.99) allows a clear vision of the cargo box contents, offers 55W H3 illumination and includes an in-dash switch and wiring. The Dome Light Kit ($69.99) can work with the XT-Cab model or the available soft cabin and is designed to lighten the cabin in low-light situations.
D.E.S.S. Keys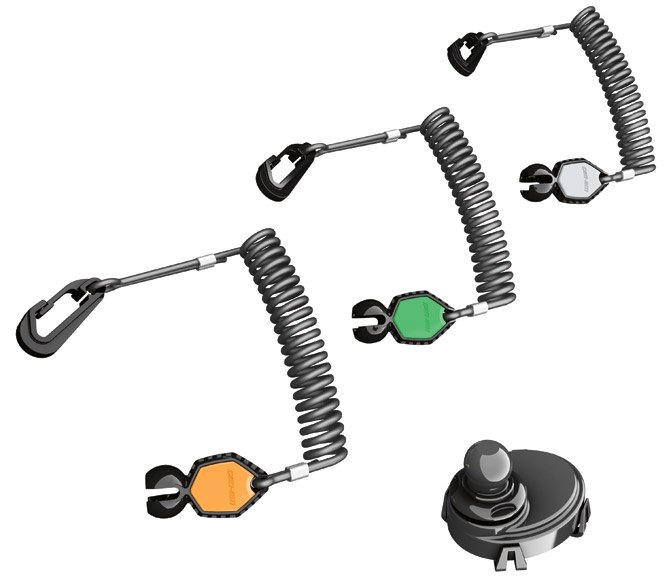 The Digitally Encoded Security System keys offer anti-theft protection. Encrypted chip technology restricts access to the vehicle's ignition. The system includes three programmable keys (Work, restricted to 25 mph but full torque; Standard, 44 mph with 10% less torque; Performance, full power / torque).
Defender Clothing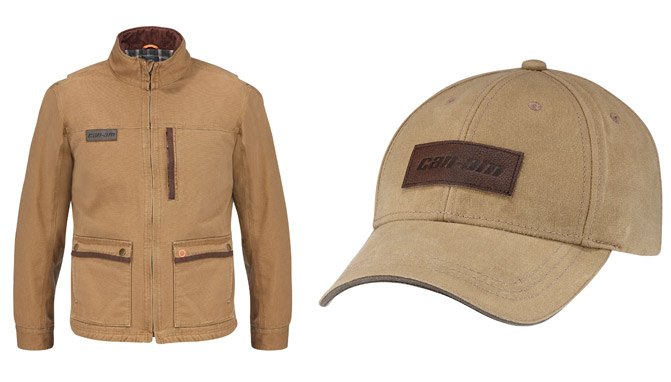 The Ranch Heavy Duty Jacket ($129.99) is made from stain and water-repellent cotton canvas, lightly insulated and shaped to fit for work and trail riding. The Ranch Heavy Duty Pants ($79.99), also made from stain and water-resistant cotton canvas, have belt loops, preshaped legs and convenient twin side cargo pockets. The Ranch Heavy Duty Gloves ($19.99) are made from 100% full cow leather, have a durable double layer sueded palm elastic wrist. The Ranch Cap ($19.99) is constructed from water-resistant waxed cotton.
Can-Am Defender accessories will be available in store on after the first week of December and on the online store starting December 15.
Published November 26th, 2015 2:42 PM
Top Brands
Popular Articles