1 View
Polaris RZRs Sweep Pro UTV Classes at Laughlin Desert Classic
May 17th, 2016 1:39 PM
Share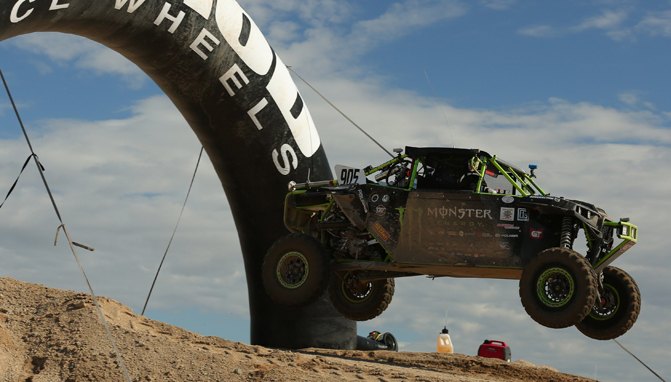 Pro Production and Pro Turbo podiums full of RZRs
(Press Release) For the second Best in the Desert race in a row, Polaris RZRs swept both the Pro Turbo and Pro Production podiums. Polaris Factory Racers Marc Burnett and Justin Lambert would win each class with Burnett taking the overall and Polaris Factory Racer Branden Sims taking third overall.
Close to 50 UTVs would start the Laughlin Desert Classic, most of them being Polaris RZRs. The two-day race is a true test of grit and stamina on a punishing track. Pro Turbo and Overall Winner, Burnett in his No. 905 Monster Energy RZR XP Turbo EPS would start on the fourth row on the first day and by three miles in, would start passing cars until he reached the front runner, Sims. Sims would cross the finish line first in his No. 913 Lone Star Racing RZR XP Turbo EPS with Burnett chasing him but, on corrected time, Burnett would take the win.
Day two Burnett would start in the first row and duel out in front with fellow Polaris Factory Racer Mitch Guthrie Jr., in his No. 1951 RZR XP Turbo EPS, until bad luck would take Guthrie Jr. out of the race. Burnett would take the checkered flag for the Pro Turbo win and the overall for the two-day race. Jacob Carver, also racing a RZR, would take second overall with Sims taking third overall.
For the UTV Production class, Justin Lambert would pilot his No. 1918 Cognito Motorsports RZR XP 4 1000 EPS to another win in the class extending his streak to four in a row. Day one, Lambert would start on the front row and pull the hole shot. He would finish the race with a four-minute lead to head into day two.
The second day, Lambert would start in the second row and would drive smart taking no unnecessary risks given the cushion he set up the first day. The No. 1918 would finish first with a one-minute lead and secure the Pro Production win for the weekend.
The next BITD Race is the General Tire "Vegas to Reno" The Long Way presented by FOX, Aug. 17-20.
Mark Burnett is sponsored by Polaris, Monster, MB Motorsports, Lincoln Welders, UNI, P.C.I, Eibach, HJC, Heatshield, FOX, ORW, RacePak, Pace Off-Road Logo, Rigid industries, RPI, RCV, Razor Back Technologies, CP Tools, Energy Coil, Lucas Oil, General Tires, Aeromotive, OMF, Cryoheat, iON, Antigravity Batteries, Factory UTV Red Cap, Magnaflow, Apollo Sat Phones, Bullet Liner, Dragon, Beard Seats
Justin Lambert is sponsored by Polaris, Cognito, Mystik Lubricants, ITP Tires, Method Race Wheels, Sparks Performance Products and Fox Racing Shocks.
Branden Sims is sponsored by Polaris, Lonestar Racing, ITP Tires, Method Race Wheels, Fox Shocks, Baja Designs, Factory UTV, Beard, Rugged Radios, Trinity Racing, Northern Az Auto & Off-road and Sims Motorsports
Published May 17th, 2016 1:39 PM