1 View
ATV AnswerMan - October 2016
October 31st, 2016 2:28 PM
Share
We're committed to finding, researching, and recommending the best products. We earn commissions from purchases you make using links in our articles. Learn more here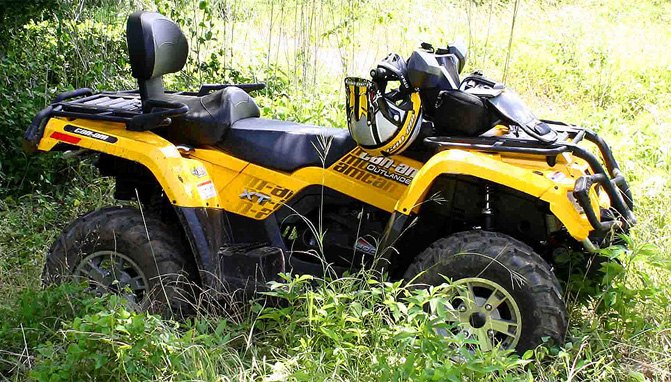 Three Outlander Issues and a solution to a bunged up fuel system
Have an ATV or Side-by-Side tech question for the ATV AnswerMan? Send an e-mail with your name, vehicle year, model and a detailed description of the problem to answers@atv.com: ATV AnswerMan. Just be sure to watch your spelling and write clearly, because it will be out there for the world to see.
Exhaust Pops
I have a 2007 650 Outlander Max it won't idle and pops an half throttle! Changed the fuel pump an plugs any help
I personally own two of these machines so maybe, just maybe, I can help. Popping through the exhaust can be attributed to a couple of things, but not limited to these items: fuel that has small amounts of water or trash can cause running issues; headers that are cracked or have gaskets that are failing will pop under deceleration and sometimes as you press the throttle; valves or timing issues will also cause popping; if you have installed a fuel management device that is programmable then you might have an issue there. Dig in and eliminate these items one at a time.
More Information Needed
I have a question I have a 08 outty 800 an have a clicking noise somewhere u have taken the rear diff off an it looks fine but still can't figure out where it's coming from any advice would much appreciated!
Clicking noises are always a problem, especially for the guy who is being asked to help find it from the other side of the web. When does the machine make the noise? Exactly where on the machine (front or rear) do you hear it most? If you want something to try so you feel vindicated for writing to our show then lift the machine up and see if just maybe you have a bearing in a wheel going bad or possibly a CV joint that is on its way out. Just a thought until I get more info from you on when and where it happens.
We Love an Easy Fix!
Need to know how to replace the ignition coil [2007 Can-Am Outlander]
This is quite possibly the easiest replacement on the machine. The ignition coil is mounted to the framework on the passenger side below the airbox. There is an M6 bolt holding it to the frame. Simply unplug the plug wires on the coil and bam, that's it. Obviously you need to remove the plastic side panel to get a better view of it, but that should be the easy part.
Come Again?
I replaced the carb in my 1986 Honda FourTrax 350 and it ran like a [redacted] ape for a while and now it's having trouble starting.. Mostly runs good except when I down shift it whines a bit and shuts off I tried replacing spark plug but still no luck. I just keep flooding it.
Well, I'm not sure I've ever seen a [redacted] ape run but it sounds like it would be a high pitched squeal with plenty of parts falling off. My point is that maybe the carburetor was not adjusted properly and you have squeezed the life out of your ape? Just a thought here…have a trained mechanic perform a compression test on the engine once it's warm. I would also check the valves for proper clearance as well. Good luck with the Honda and remember it is a Utility ATV not a drag car (ape or not).
Fuel System Issues
I just bought a 2004 Arctic Cat 650 twin fourwheeler the guy said it had carburetor problems but when I got to work on it I found I wasn't getting any fuel to carbs. He also said he put a brand new fuel pump in, which it does look very new, so my problem is there is a plug in the top of tank that goes to fuel pump I believe it has four prongs inside of that plug with key on I only have power to the upper right prong the other three are dead is that right or should there be more prongs that have power to the pump or do I have a bad fuel pump?
This can be a complicated mess without an OEM service manual or wiring diagram to look at. My initial thoughts are that not all of the leads on the plug will have power. One is going to be for fuel level and I would think there would be a negative for the pump along with the power supply. As for the fuel delivery to the carburetors, I bet the jetting in the float bowls could be clogged, causing issues with fueling. This would be especially true if the ATV has sat for a couple of months. Varnish is a vicious thing and if left to rot it makes a mess in the fuel system. Float needles can stick with enough varnish and that's a big problem. I'd pull those carburetors and clean or replace the brass jetting inside along with the needle/seat combo's.
More Fuel System Trouble
Hi there,
I've been told you are the best of the best when dealing with ATV's and i was just wondering if you could help. I have a Eton viper 90 it idles fine but when i rev it she only revs a tiny bit the she starts to bog out if i carry on revving it cuts out it pulls forward slightly when idling if your not sat on it and if you pick the back end up the back wheels spin at quite some speed you think it could be anything to do with the clutch?
Thanks in advance
Joshua
Hi, Joshua.
I wanted to shoot you an email about your ATV. The symptoms you are describing in the first part of your email sounds like you have some fuel varnishing issues due to the ethanol in the gas inside the carb. This is a common problem with any carburetor that may not get much use, but especially in the smaller engine sizes where the ports for fuel are so much smaller inside the fuel system.
The one question i have is do you think you can handle removing and cleaning the inside of the carb? If not, my suggestion would be to drain the fuel tank and fill it with about a half gallon of fresh high test fuel. I would then purchase a product called Ethanol Equalizer from your local ATV dealership (or you can also find it online). Buy the large bottle that I think is about 6 or 8 ounces. Pour this and only this into the tank with the half gallon of gas. Use the entire bottle.
Put the ATV on a jack or something to keep the rear wheels off the floor so the machine doesn't move. Start the ATV and allow it to idle for about 5 minutes and gently press the throttle a little during this idling. The chemical will begin cleaning the fine holes in the jets inside the Carburetor. This is a process that will take a bit of patience but it will clean the carb well without having to remove it from the engine. As the engine begins to respond to the input of throttle, gently rev the engine a little at a time. Run the half-gallon of fuel out completely through the idling or until it begins to run better.
As for the quad wanting to move under idle, I bet the idle is set too high and the clutch is engaging prematurely. This can be corrected by lowering the idle, but not so much that it does not want to run. Be sure to complete the process above first.
Good luck and feel free to let me know if you have any other issues. Published October 14th, 2016 1:34 PM
Top Brands
Popular Articles