1 View
Wienen Wins Third Annual ATV Supercross
March 21st, 2017 1:15 PM
Share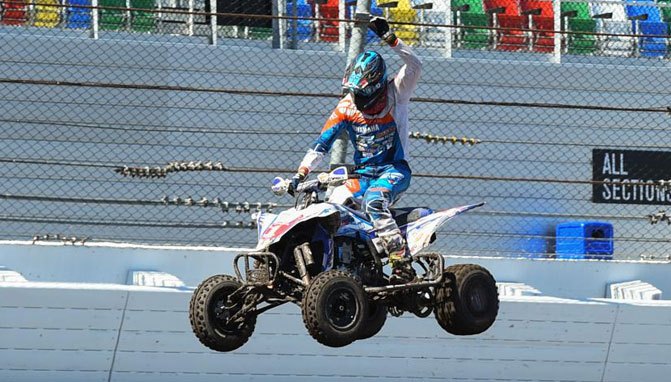 Hetrick, Brown join Wienen on podium
The 2017 Wiseco ATV Motocross National Championship (ATVMX) presented by CST Tires, an AMA National Championship kicked off yesterday, March 14, at the iconic Daytona International Speedway in Daytona Beach, Florida for the Third Annual ATV Supercross.
After opting out of the first timed qualifying session, Wienen Motorsports/SSi Decals/Walsh Racecraft/Yamaha/Maxxis/7240's Chad Wienen came out swinging in the second qualifying session to claim the first ATVriders.com Fastest Qualifier Award of the season.
When the heat races got underway for the Third Annual FLY Racing ATV Supercross, Root River Racing's Josh Upperman and Maxxis/Elka/Liquid Wrench/Honda's Joel Hetrick emerged with the wins.
The $100 Bell Helmets Holeshot Award was up for grabs as the main gate dropped. Hetrick used his momentum from his heat race win to fire off the start and grab the early lead. Upperman and GennUSA Racing's Nick Gennusa was in tow, while Wienen sat in a top-five position.
Wienen wasted no time and made the pass for a podium position after the first lap was complete, and then second shortly after that. Wienen set his eyes on Hetrick who already had a gap on the rest of the field.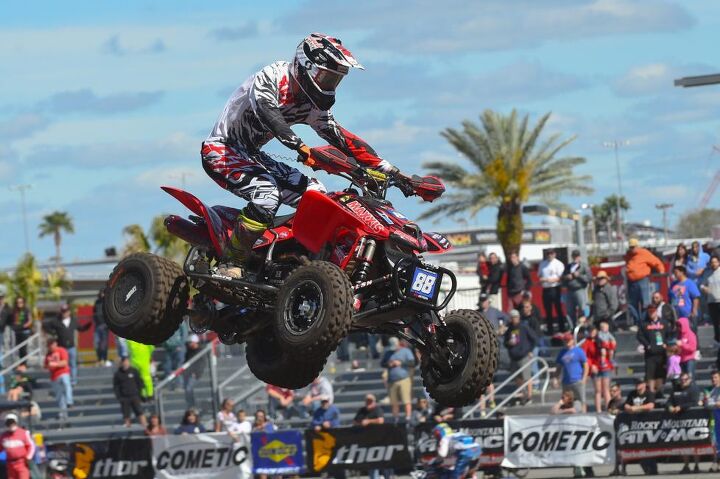 Joel Hetrick proved he has the speed and mentality to be a championship contender. (Photo by Ken Hill)
Hetrick and Wienen maintained a four second gap between each other for the first half of the race, until Hetrick bobbled coming out of the second turn. "I made a mistake, but it didn't cost me too much this year," said Hetrick. "Of course I'm a little upset at what happened. I went wide and caught the Honda banner and it tossed me off. I'm lucky that I got up and got going as quick as I did."
Once in the lead, Wienen ran his own race while the battles continued behind him. After getting back up, Hetrick was running in fourth. He was able diligently work his way around Upperman and put the pressure on Nick Gennusa.
With much of the focus was on Hetrick recovering from his mistake, Root River Racing/CST Tires' Thomas Brown was quickly rising through the ranks. After an unfavorable start, Brown rode in fourth. With only a handful of laps remaining, Gennusa held off Brown, but with only three turns to go Brown would make the pass and steal the last ATV Supercross podium position away from Gennusa.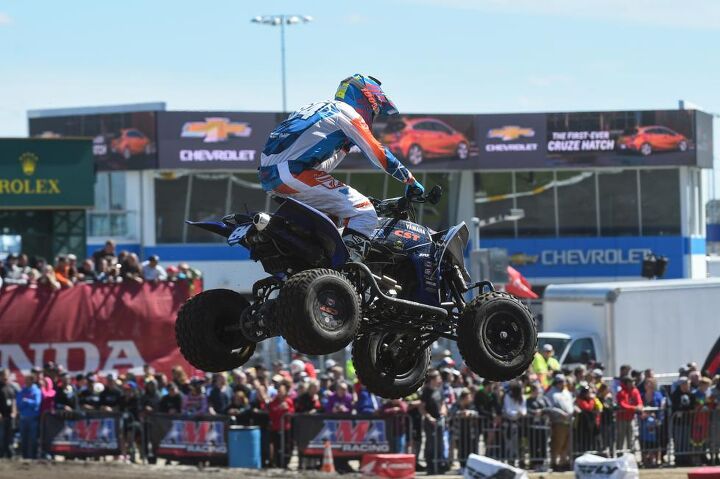 Thomas Brown put in an impressive ride where he came from behind for third. (Photo by Ken Hill)
Wienen defended his 2016 ATVSX win, with Hetrick crossing the finish line behind him in second and Brown rounding out the main event podium. Gennusa placed just off the podium in fourth, and Upperman rounded out the top-five finishers in the opening round. Walsh Racecraft/Honda's Parker Wewerka had an impressive showing for his pro debut in sixth.
"Lines on the track were crossing everywhere so you had to ride very precisely. My goal was to go out there and not make any mistakes," said Wienen. "I know Joel rides hard so when I saw him down, I knew I had to be cool, calm and collective to win the race."
"Over the years my mistakes here at Daytona have cost me big time." said Hetrick. I'm just glad to be up on the podium, because that was my main goal coming into the race."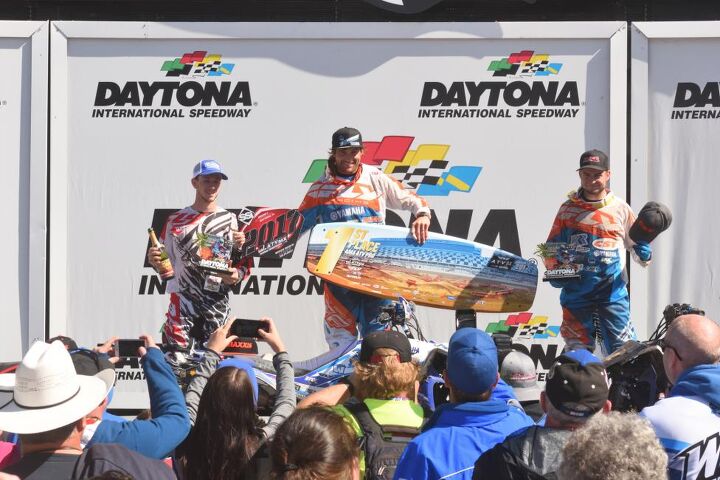 Main Event Podium: (2) Joel Hetrick, (1) Chad Wienen, (3) Thomas Brown. (Photo by Ken Hill)
Racer TV captured LIVE streaming of each qualifying round and main event from the 2017 edition of ATV Supercross, both amateur and pros. To watch the archived footage head over to RacerTV.com. A highlight show featuring the event will be aired on the MAVTV later this spring.
The 2017 Wiseco ATV Motocross National Championship resumes with a return to the traditional motocross format on Saturday, April 1 at the popular Underground MX in Kemp, Texas.
For more information on the 2017 Wiseco ATV Motocross National Championship, visit the series official website at www.atvmotocross.com. Join the conversation on the series Facebook page, follow on Twitter and Instagram, and be sure to always hashtag
2017 National Championship Standings
Chad Wienen (25)
Joel Hetrick (22)
Thomas Brown (20)
Nick Gennusa (18)
Josh Upperman (16)
Parker Wewerka (15)
Ronnie Higgerson (14)
Westley Wolfe (13)
Cole Sepesi (12)
Sam Rowe (11)
Published March 15th, 2017 10:51 AM