32 Views
2018 Arctic Cat MudPro 700 Limited vs. Can-Am Outlander X MR 650: By the Numbers
July 17th, 2017 2:24 PM
Share
We're committed to finding, researching, and recommending the best products. We earn commissions from purchases you make using links in our articles. Learn more here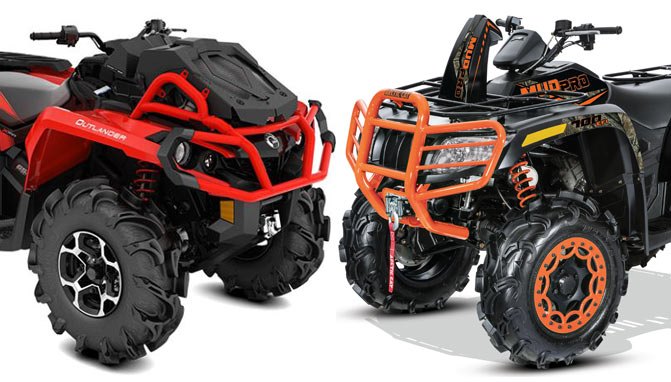 ATV mud wrestling
What kid didn't grow up loving to play in the mud? For some of us, we never outgrow that desire to mix water and dirt together into some slimy goo and find a way to bring big smiles. Some ATV riders find mud on the trail and go around it. Others go through it, but reluctantly, hoping not to get too much on anything. Others, the ones who didn't outgrow that desire, actively seek out mud to plow through.
For these dirty-minded adventure seekers, there are some highly specialized machines out there. Let's see how well two of them – the Arctic Cat MudPro 700 Limited and the Can-Am Outlander X MR 650 – compare, by the numbers.
| | | |
| --- | --- | --- |
| | Can-Am Outlander X MR 650 | Arctic Cat MudPro 700 Limited EPS |
| Price | $10,549 | $10,499 |
| Engine | Rotax 649.6 cc V-twin, snorkeled, liquid cooled with relocated radiator | 695, SOHC, 4-Stroke, 4 Valve w/EFI |
| Horsepower | 62 | 48 |
| Driveline/Differential | Selectable 2WD / 4WD with Visco-Lok QE auto-locking front differential | 2/4 WD + Electronic Front Differential Lock |
| Transmission | CVT, P / R / N / H / L, standard engine braking | Automatic CVT with EBS Hi/Lo Range, Neutral, Reverse and Park |
| Wheelbase | 51 in | 50 in |
| Overall Dimensions (LxWxH) | 88 x 46.5 x 50.5 in | 86.5 x 47.5 x 51.8 in in |
| Weight | 875 lbs | 800 lbs |
| Front Tires | ITP Mega Mayhem 28 x 8 x 12 in | Maxxis Zilla / 28x9R14 |
| Rear Tires | ITP Mega Mayhem 28 x 10 x 12 in | Maxxis Zilla / 28x11R14 |
| Ground Clearance | 11.75 in | 14 in |
| Fuel Capacity | 5.4 gal | 5.7 gal |
| Front Suspension | Double A-arm | Double A-arm |
| Rear Suspension | Torsional Trailing arm Independent (TTI) | Double A-arm |
| Front / Rear Brakes | Dual disc front, single disc rear | Hydraulic disc |
| Rack Capacity | Rear: 200 lbs | Front: 100 lbs; Rear: 200 lbs |
| Towing Capacity | 1,300 lbs | 1,050 lbs |
Powering Up
These two machines are similar in overall displacement, but that is about where the similarities end when it comes to engines. The Cat runs on the tried and true 695cc SOHC H1 engine that has powered many an AC machine. These big single-cylinder engines have been around for a while and are built in the Arctic Cat factory in Minnesota. Now, some dealerships have posted pictures of the newest 2018 version of this machine with the new Textron Off-Road branding. It's still the same Cat under the logo as the MudPro isn't changing for 2018 beyond adding the Altera name to the machine like other full-size ATVs. AC/Textron doesn't list horsepower numbers, the California Air Resources Board shows the H1 engine in the MudPro 700 is rated at 48+ horsepower.
Can-Am powers the Outlander X MR with a completely different 649.6cc Rotax V-Twin engine that pumps out 62 horses and gives the Outlander excellent power to weight. One other trick, which you've undoubtedly noticed, is that Can-Am repositioned the X MR's radiator to where the front rack would normally be. This helps the Can-Am run cool even in the thickest slime, a trick learned from the professional mud runners. Yeah, it's a thing. You can race in mud professionally!
What Else?
So what else goes into making a mud master machine right off the factory floor? Plenty, and much of it is similar between the two brands. Specialized mud tires ride on both machines, with the MudPro running 28-inch Maxxis Zilla tires and the Outlander running on 28-inch ITP Monster Mayhems. Mud-specific tires have deep directional lugs that dig into the slop and force it out and away from the tire. Both companies selected tires that have exceptional mud traction, while being able to traverse normal trails. Both ATVs also run on aluminum wheels, although the Cat has bead-lock rims to help with low-tire pressure situations.
Both machines also run extended front and rear bumpers for added protection. You never can tell what might be hiding in the mud. A tree stump can ruin your day if you're not adequately protected.
For those times when the mud wins, the MudPro comes with a 3,000-pound, factory-installed Warn winch. The Outlander is pre-wired for a winch, but you have to add it as an accessory. Both machines have a two-inch receiver.
The X MR has some specialized running gear. As mentioned, the radiator is relocated to the front, keeping it higher and away from the mud more. Can-Am also added raised and serrated mug footpegs to give you extra grip to keep your feet firmly planted.
The MudPro has a raised snorkel air intake to keep clean air going to the engine and transmission. The CVT is sealed to keep water and goo out as well.
As of this writing, the current MudPro comes in a cool black/orange camo color scheme. The Textron version we'll see before too long should boast the gray/lime green color scheme which looks pretty sweet, too. The Can-Am comes in a stunning red/black color for 2018.
Learn more about each machine by going to your local dealer, or by visiting their websites. Good mudding!
Complete Arctic Cat MudPro 700 EPS LE Specs Derrek Sigler
Derrek's love for all things ATV started when he was a mere 11 years old, growing up on his family farm. His mom gave him and his sister a choice - get a horse, or a three-wheeler. The sister wanted the horse, and Derrek wanted the ATV. Luckily he won out, and was soon burning up the trails on a Yamaha Tri-Moto 200. By the time he was 14, he had saved enough of his own money by working on the farm and in his folks restaurant to buy a new 4-wheeler. That happened the day he and his mom were driving past the dealership and saw 1987 Banshee. His mom had no idea what he was buying, and he never looked back. He's been riding ever since, and been writing professionally for many years. He has ridden all over North America and been behind the controls of just about every machine out there. And yes, he still has his 1987 Yamaha Banshee.
More by Derrek Sigler
Published July 6th, 2017 10:49 PM
Top Brands
Popular Articles