1 View
2018 Can-Am Outlander 650 DPS vs. 2018 Kawasaki Brute Force 750: By the Numbers
June 9th, 2017 10:14 PM
Share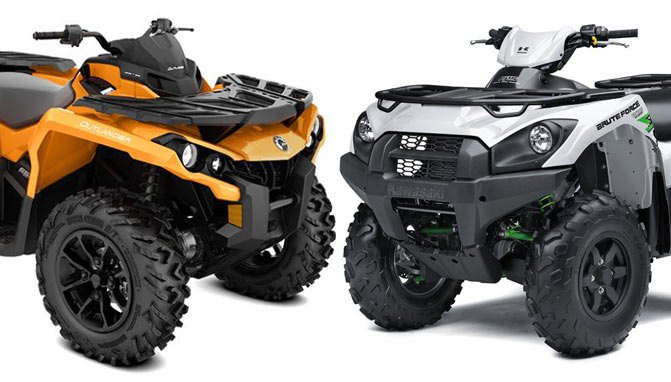 Mid-heavyweight ATV showdown
So you want a new ATV but you're not sure of which one you are going to get. You don't need the massive horsepower of the 1,000-class machines, but at the same time want a bit more oomph than can be found with the machines in the 500-class area. If you want a twin-cylinder engine, tons of stump-pulling power, extreme reliability and excellent handling, two of the choices you simply must look at are the 2018 Can-Am Outlander 650 DPS and the 2018 Kawasaki Brute Force 750i EPS. Let's see how these two compare, by the numbers.
| | | |
| --- | --- | --- |
| | 2018 Can-Am Outlander 650 DPS | 2018 Kawasaki Brute Force 750i EPS |
| Price | $9,699 | $9,999 |
| Engine | Rotax 649.6 cc V-twin, liquid cooled | 749cc 4-stroke, V-twin, SOHC, liquid-cooled |
| Horsepower | 62 | 50 |
| Driveline/Differential | Selectable 2WD / 4WD with Visco-Lok QE auto-locking front differential | Selectable 4WD with variable front differential control, shaft |
| Transmission | CVT, P / R / N / H / L, standard engine braking | 2-Speed automatic, reverse |
| Wheelbase | 51.0 in | 50.6 in |
| Overall Dimensions (LxWxH) | 86 x 46 x 49.5 in | 86.4 x 46.5 x 48 in |
| Weight | 726 lbs | 699 lbs |
| Front Tires | ITP Terracross 26 x 8 x 14 in | AT 25 x 8-12 |
| Rear Tires | ITP Terracross 26 x 10 x 14 in | AT 25 x 10-12 |
| Ground Clearance | 11.0 in | 9.4 in |
| Fuel Capacity | 5.4 gal | 5.0 gal |
| Front Suspension | Double A-arm, 9 inches of travel | Double wishbone, 6.7 inches of travel |
| Rear Suspension | Torsional Trailing arm Independent (TTI), 9.3 inches of travel | Full independent, dual A-arm, 7.5 inches of travel |
| Front / Rear Brakes | Dual 214 mm ventilated disc / Single 214 mm ventilated disc | Dual hydraulic 176mm disc / Sealed, oil-bathed, multi-disc |
| Rack Capacity | Front: 100 lbs; Rear: 200 lbs | Front: 88 lbs; Rear: 176 lbs |
Engines
The Can-Am is powered by a 649.6cc Rotax V-Twin that pumps out an amazing 62 horsepower. These engines have an outstanding reputation for durability and for making some serious power. It not only makes mean power, but it sounds great too. There is a healthy grumble that only comes from a big V-Twin engine.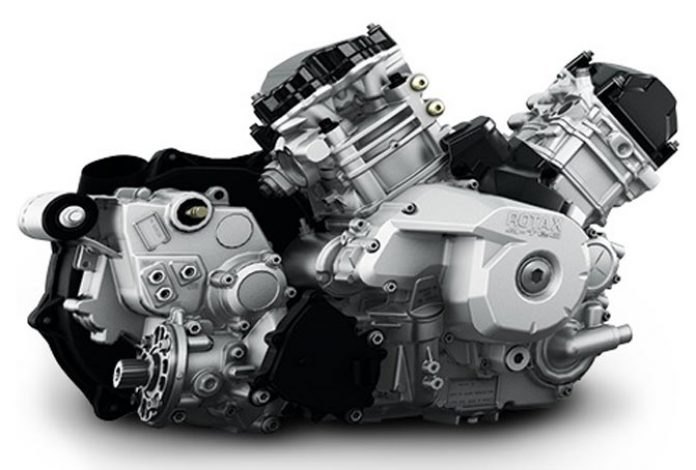 Rotax 750 Engine
The Brute Force uses Kawasaki's legendary V-Twin. In this case, it's a big 749cc monster that also has that healthy grumble letting you know you've got plenty of power on tap. Kawasaki doesn't publish its horsepower ratings, but a quick search reveals approximately 50 horsepower on tap; more than enough ponies to accomplish whatever you want with power to spare.
Capabilities
When you buy a machine like this, you want it to be able to do some work. The Can-Am Outlander can tow an impressive 1,300 pounds. It has a combined rack capacity of 300 pounds too, so hauling your gear shouldn't be a problem. The racks are reinforced composite with a wide range of accessories designed to fit right in.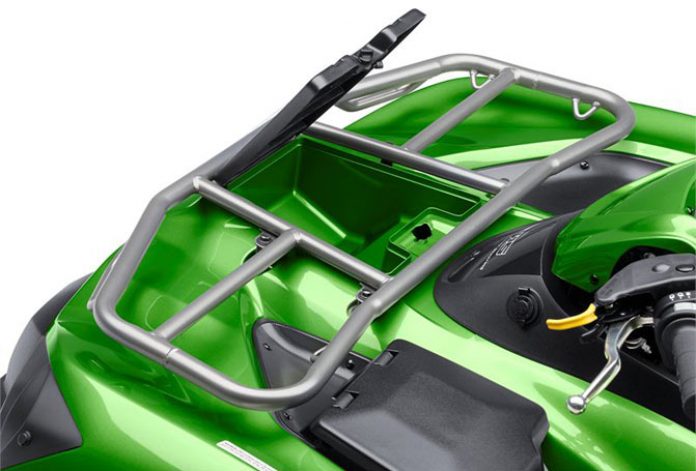 The Brute Force will get the job done as well. It has 1,250 pounds of towing capacity and will take on 264 pounds of gear on the sturdy steel racks and compartments. There are plenty of accessories available for the Brute Force to assist you with whatever task you've got in mind. Everything from farming, to hunting, construction to trail riding, there are ways to tailor the Brute Force to your personal tastes.
Differential Differences
The Can-Am uses its Visco-lok QE Automatic-locking front differential to lock in the both front wheels for additional traction while in four-wheel drive. It also uses a tri-mode electronic power steering system that lets you adjust the amount of power steering assist. The differential is a nice touch for those times when you need extra traction, but don't have time to manually lock in the front differential.
The Kawasaki has its own system for locking in the front differential. A rocker switch on the right handlebar switches from two- and four-wheel drive. The rider can gain additional control when the going gets tough with Kawasaki's Variable Front Differential Control, the small control lever on the left handlebar. With it, the rider can manage the amount of power to both front wheels when conditions call for more traction.
For more information on either model, visit your local Can-Am and Kawasaki dealers.
Published June 9th, 2017 10:14 PM