36 Views
2018 Honda Pioneer 700 Deluxe vs. Yamaha Wolverine R-SPEC: By the Numbers
January 26th, 2018 5:06 PM
Share
We're committed to finding, researching, and recommending the best products. We earn commissions from purchases you make using links in our articles. Learn more here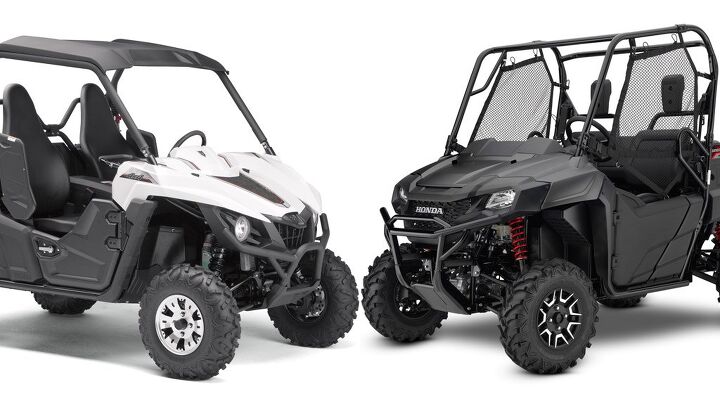 The 2018 Honda Pioneer 700 Deluxe and Yamaha Wolverine R-Spec are two middleweight adventure UTVs that share quite a bit in common.
Like many of you, I like to get my need for speed fulfilled with the big horsepower UTVs that are readily available. However, if you asked most of us here which machines we enjoy and spend most of our time in, the smaller machines usually make the list. For that reason, I'm going to have two of my personal favorite face off by the numbers; the 2018 Honda Pioneer 700 Deluxe and the 2018 Yamaha Wolverine R-Spec. These two adventure UTVs have similar engine sizes and the similarities go beyond that, although it may not look like that right off the bat.
| | | |
| --- | --- | --- |
| | 2018 Honda Pioneer 700 Deluxe | 2018 Yamaha Wolverine R-Spec |
| Price | $12,099 | $13,499 |
| Engine | 675cc liquid-cooled OHV single-cylinder four-stroke | 708cc liquid-cooled DOHC 4-stroke; 4 valves |
| Horsepower | 36 | 47 |
| Driveline/Differential | Direct front and rear driveshafts | On-Command 3-way locking differential; 2WD, 4WD, locked 4WD; shaft |
| Transmission | Automotive-style automatic transmission with hydraulic torque converter with paddle shifters | Ultramatic V-belt with all-wheel engine braking; L, H, N, R |
| Wheelbase | 76.8 in | 81.3 in |
| Overall Dimensions | 114.7 x 59.7 x 78.5 in | 116.9 x 60.6 x 74.2 in |
| Ground Clearance | 10.7 in | 11.4 in |
| Weight | 1,283 lbs | 1,311 lbs |
| Fuel Capacity | 7.9 gal | 9.7 gal |
| Front Tires | 25 x 8-12 | 26 x 8-12 |
| Rear Tires | 25 x 10-12 | 26 x 10-12 |
| Front Suspension | Independent double-wishbone; 7.9 inches travel | Independent double wishbone, KYB® fully adjustable shocks; 9.7-in travel |
| Rear Suspension | Independent double-wishbone; 9.1 inches travel | Independent double wishbone, anti-sway bar, KYB® fully adjustable shocks; 10.6- in travel |
| Front /Rear Brakes | Dual 200mm hydraulic discs / 170mm hydraulic disc | Dual hydraulic discs / Dual hydraulic discs, multi-disc wet parking brake |
| Bed/Rack Capacity | 1,000 lbs | 300 lbs |
| Towing Capacity | 1,500 lbs | 1,500 lbs |
But Why?
That is a question I hear a lot, mostly from my kids when I tell them to do something. What is it about these two machines that appeals to me, and should to you as well? It's a combination of things, but the most important is the versatility of each combined with the value. These are two fun machines that work well for the types of riding I do for recreation, and they can tackle many of the work chores I'd need them to as well.
The 2018 Honda Pioneer 700 Deluxe is powered by a 675cc single-cylinder four-stroke engine. It runs through an automotive-styled transmission that gives you the option of full automatic or manual shifting via paddle shifters. This set up is similar to the one used in the Pioneer 1000. It has high and low range and a lot of torque for the engine size.
The Yamaha Wolverine R-Spec has a 708cc single-cylinder four stroke that is a beast. The Wolverine transmits power through Yamaha's amazing Ultramatic V-belt CVT transmission. I don't even have to go out on a limb to say that when it comes to the CVT-style transmission, there is none better than what Yamaha has done.
Putting it down
There is an old saying in powersports that there is no replacement for displacement. To that end, some folks think that bigger is always better. And while I will not lie and say that there aren't times I really dig having all that power on tap, for most of the time, the question isn't how much power I have, but how much I can use. That is why these two machines are favorites.
I was working on food plots on my hunting property. I had been using a competitor's machine with a bigger engine size, but was running into issues getting the small plow to dig in enough before I wasn't able to pull it without getting completely stuck. I gave up and the next day thought I'd try the Honda. The Pioneer 700 not only was able to plow the entire plot with ease, but I never had to even engage the dif-lock. The Pioneer has two-wheel drive, four-wheel drive and four-wheel with a differential lock. These systems work flawlessly and hook up. Period.
When it comes to the Yamaha, I can't help but think of a time when I sat at the bottom of a muddy, nasty and steep hill thinking there was no way to get up it, but going around wasn't much of an option either. The lone trail going up this muddy Everest was rutted and nasty, with the obvious signs of other attempts that failed. I slipped the Wolverine into gear with 4WD and dif-lock engaged. The Yamaha barely spun a tire as it clawed its way up and over.
Picking One?
Ha! How could I pick one over the other? There are a few things to consider, which might help you, should you being trying to decide yourself. The Honda has a couple of features you won't find on the Yamaha, and vice versa.
If you need a dumping cargo box, the 2018 Honda Pioneer 700 is the only way to go, making it a better choice if you're doing more utility work than recreational driving. It has a 1,500-pound towing capacity and 10.7 inches of ground clearance. It is a fun and nimble trail machine though, and is a great option. Move up to the Deluxe to get the paddle shifters and electronic power steering.
If you feel the urge the realize your adventure, the Yamaha Wolverine R-Spec is better suited to going into the wild places. The R-Spec suspension system alone will help make up for the reduction of cargo capacity that you lose with the smaller, non-dumping cargo box. You also get 11.4 inches of ground clearance, a tight 181-inch turning radius, and a sun top.
There is no wrong answer when contemplating the mid-sized UTV question. Yes, you can spend more money for more power, but why not get power you can use? Derrek Sigler
Derrek's love for all things ATV started when he was a mere 11 years old, growing up on his family farm. His mom gave him and his sister a choice - get a horse, or a three-wheeler. The sister wanted the horse, and Derrek wanted the ATV. Luckily he won out, and was soon burning up the trails on a Yamaha Tri-Moto 200. By the time he was 14, he had saved enough of his own money by working on the farm and in his folks restaurant to buy a new 4-wheeler. That happened the day he and his mom were driving past the dealership and saw 1987 Banshee. His mom had no idea what he was buying, and he never looked back. He's been riding ever since, and been writing professionally for many years. He has ridden all over North America and been behind the controls of just about every machine out there. And yes, he still has his 1987 Yamaha Banshee.
More by Derrek Sigler
Published January 26th, 2018 5:06 PM
Top Brands
Popular Articles