1 View
Ballance Back On Top of the Podium
April 22nd, 2009 11:10 AM
Share
We're committed to finding, researching, and recommending the best products. We earn commissions from purchases you make using links in our articles. Learn more here
Wins Acerbis Loretta Lynn's GNCC
Defending GNCC Champion Bill Ballance did what he does best at the Acerbis Loretta Lynn GNCC – he won. Ballance powered his Yamaha YFZ450R to his first win of the season in round five of the Can-Am Grand National Cross Country Series in Hurricane Mills, Tenn. on April 18.

"I'm getting better and stronger," says Ballance. "Oh man, it puts me back in the hunt."
Ballance, winner of the last nine GNCC Titles, started the year with two-straight Did Not Finish (DNF) scores as he struggled to recover from having three ribs surgically removed from his side.
Ballance's teammate Brandon Sommers came in second, making it on the podium for the first time this season. FRE KTM's Adam McGill kept his consistent season going by claiming another podium with third – his fifth podium finish in five races this season. The hard charging pack battled on the Loretta Lynn Ranch GNCC course, which featured hills, hills and more hills.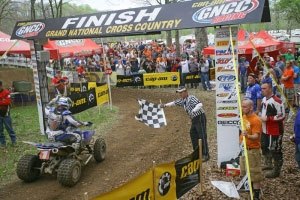 XCBOB.com's Tyler Lenig started the race off fast, leading the pace through lap one. Rockstar Makita Suzuki's Chris Borich ended lap one in 10th place, but by the end of the second lap, he had worked his way up into first and was battling wheel-to-wheel for the lead with Ballance and McGill. Yamaha's Taylor Kiser, Houser Racing's Bryan Cook and Sommers were close behind until lap three when Borich suddenly went off the map after breaking his chain.
"We had the lead with two laps to go, I climbed the hill and heard something clunking and my chain broke off," says Borich. "There's nothing I can do. It was a brand new chain. It just wasn't my day. The Suzuki worked awesome, it was just a shame we broke a chain."
McGill was able to take the lead with Ballance, Cook and Sommers behind him. The four traded in and out of the lead until Ballance and Sommers pulled ahead when McGill pitted at the beginning of the fourth lap.
"I just couldn't pull away from them," says McGill, who took over the lead in the points chase. "If Bill isn't at 100 percent now, then I don't know what we're in for!"
Ballance took the lead on the fourth lap and charged to the finish, even though he was beginning to fatigue, and his gas tank was running low.
"I gritted my teeth and started pushing as hard as I could until the finish line," says Ballance.
Sommers second-place finish was impressive, as he recovered from a bad start. His bike didn't fire and he lost a bumper in a first-turn crash.
"I'm pretty pumped to get on the podium again so I just played it safe," says Sommers. "I was up here last year, but this means way more than any of the other ones."
Cook came in fourth followed by Kiser in fifth. Honda's Duane Johnson came in sixth and National Guard Polaris rider William Yokley came in seventh followed by Yamaha's Donnie Ockerman in eighth. Jeffrey Pickens and Brent Sturdivant rounded out the top 10.
In the XC2 race, the podium saw a familiar trio as Brian Wolfe took another first place finish, followed by Josh Kirkland in second and Eric Hoyland in third.
Wolfe fired first got out to a quick start and grabbed the holeshot. At the end of the first lap, Corbin Knox took the lead, followed by Wolf, Kirkland and Hoyland. Wolfe, Kirkland and Hoyland were able to pick up the pace and get past Knox. The trio stayed tight together and led the way through the rest of the race.
"We're striving for a win but it's a long season to go," says Wolf. "I can't wait for the next race."
"It was just a blast out there," says Hoyland. "I can't wait to get out there riding with Eric and Kirkland again.
In the AM race, Super Senior 50+ rider Glen Pritchard took first overall and the $100 GT Thunder ATV Amateur Award, followed by Mike Hanson in second. Pritchard has only been racing for five years.
"It feels pretty good to get up here on the podium," says Pritchard. "I tried to push as hard as I could push."
In third place came Yamaha's Traci Cecco, taking her first Women's Class win of the year. Following her in the women's class was Lexie Coulter in second and Angel Atwell in third.
"It's an awesome feeling," says Cecco. "I've been waiting for this. It was a very important race for me."
The 2009 Can-Am GNCC series heads to Lafayette, Tenn. for the Weekend Warrior Titan on May 2-3.
Acerbis Loretta Lynn GNCC Results
GNCC XC1 Standings
Pos.
Rider
ATV
Pos.
Rider
ATV
Points
1.
Bill Ballance
Yamaha
1.
Adam McGill
KTM
113
2.
Brandon Sommers
Yamaha
2.
Taylor Kiser
Yamaha
105
3.
Adam McGill
KTM
3.
Chris Borich
Suzuki
102
4.
Bryan Cook
Honda
4.
Bryan Cook
Honda
86
5.
Taylor Kiser
Yamaha
5.
Bill Ballance
Yamaha
82
6.
Duane Johnson
Honda
6.
Brandon Sommers
Yamaha
76
7.
William Yokley
Polaris
7.
Duane Johnson
Honda
65
8.
Donald Ockerman
Yamaha
8.
Donald Ockerman
Yamaha
64
9.
Jeffrey Pickens
Yamaha
9.
Johnny Gallagher
Yamaha
57
10.
Brent Sturdivant
Can-Am
10.
Jarrod McClure
Yamaha
55
Related Reading
Borich Earns Second GNCC Win of Season Published April 22nd, 2009 11:10 AM
Top Brands
Popular Articles