1 View
May 4th, 2009 11:41 AM
Share
We're committed to finding, researching, and recommending the best products. We earn commissions from purchases you make using links in our articles. Learn more here
Second win of season for Yamaha rider
Note: Several days after the XC1 Pro ATV race at the Weekend Warrior Titan GNCC it was discovered that Taylor Kiser, Adam McGill and Donald Ockerman missed a portion of the course. Kiser was penalized two positions, while McGill and Ockerman were penalized three positions. Click here for a full description, updated results and standings. What follows is the original race report filed before the infractions were made public.
Yamaha's Taylor Kiser fought deep mud and constant position changes on his way to winning the Weekend Warrior Titan GNCC in Lafayette, Tenn. on May 2.
"I just kept telling myself to keep steady and not make any mistakes," says Kiser. "I pushed as hard as I could push. I'm so happy it's unbelievable."
Rockstar Makita Suzuki's Chris Borich recovered after his disappointment at Loretta Lynn's, where he broke a chain, to take second place, while Kiser's teammate Brandon Sommers took his second podium in a row with third place.
"I just tried to ride smooth today," says Borich. "I was pretty bummed out by the last one. This is a big confidence booster."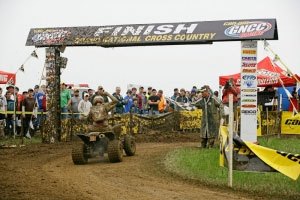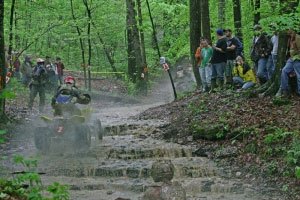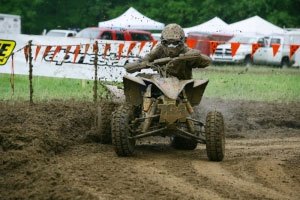 Heavy downpours the day before and morning of the race cleared up before the start of the day's races, but the rain still left its mark on the track and had turned the pits into a soupy mess. Jarrod McClure got off to a great start and grabbed the holeshot. From then on, every turn and hill of the race seemed to produce a new line of leaders.
Can-Am's Brent Sturdivant led the first two laps, followed closely by Yamaha's Johnny Gallagher and Bill Ballance, FRE KTM's Adam McGill, Borich and Kiser. By the end of second lap, Ballance began to drop back, and Houser Racing's Bryan Cook was able to catch up to him. Sturdivant, Gallagher and McGill held the lead right before the pit stops, when McGill was able to take the lead with Sturdivant close behind. Meanwhile, Yamaha's Donnie Ockerman overtook Borich, Gallagher and Kiser to take the third place position.
Sturdivant grabbed the lead again on the third lap, and Kiser began making his move to inch up from second place, followed by McGill and Borich. Late in the race, Kiser, Borich and Sommers fought into the top three positions, and then Kiser and Borich battled wheel-to-wheel until the finish line. Kiser made the right moves late in the race to take first, followed by Borich in second and Sommers in third.
"I tried to ride smart, pick good lines and all of a sudden I realized I was in third," says Sommers.
Ockerman held on for fourth followed by Sturdivant in fifth. McGill came in sixth with privateer Ryan Lane on Honda coming in seventh. Ballance fell back to eighth and Cook and McClure rounded out the top 10.
In the XC2 Pro-Am Class, Brian Wolf took yet another first place position despite his vocal dislike of the mud.
"I think first off, I hate the mud," says Wolf. "The mud slows everything down. The fans out there though just made me smile, cheering me on, pointing out lines. I just really appreciate it."
FRE KTM's Josh Kirkland also nabbed another second place finish followed by Parker Jones who made it on the podium for the first time.
"I try to stay on the podium all year long," says Kirkland.
Dave Phillips started off the race in front. Jones was dead last off the starting line and Kirkland battled his own problems in the first lap. Wolf started out in strong fashion and rode to another stellar finish.
Fourth place went to Gabe Phillips followed by Craig Bowman in fifth. Jeremy Rice came in sixth followed by Rob Hertz. Blake Kramer, Eric Wilezek and Joey Margueria filled out the top 10.
Top Amateur Honors went to Jamie Bithell.
In the AM race, Warnert Can-Am's Bryan Buckhannon of the 4X4 Open Class finished first overall.
"It's awesome man," says Buckhannon, who took advantage of four-wheel drive in the mud. "I've been wanting to get on the podium all season long. Anytime you can get up here and win an overall is huge."
Michael Swift came in for second place overall and a win in the 4×4 Limited Class. Traci Cecco came in third overall and first in the women's class.
In the women's class, Cecco was followed by Jennifer Albright in second and Angel Atwell in third.
"It was going to come down to who picks the smartest line and who doesn't get stuck," says Cecco.
The Can-Am Grand National Cross Country Series continues on May 16 -17 with the Geico Mountain Ridge GNCC in Somerset, Penn.
Weekend Warrior Titan GNCC Results
GNCC XC1 Standings
Pos.
Rider
ATV
Pos.
Rider
ATV
Points
1.
Taylor Kiser
Yamaha
1.
Taylor Kiser
Yamaha
135
2.
Chris Borich
Suzuki
2.
Adam McGill
KTM
128
3.
Brandon Sommers
Yamaha
3.
Chris Borich
Suzuki
127
4.
Donald Ockerman
Yamaha
4.
Bryan Cook
Honda
98
5.
Brent Strudivant
Can-Am
5.
Brandon Sommers
Yamaha
97
6.
Adam McGill
KTM
6.
Bill Ballance
Yamaha
95
7.
Ryan Lane
Honda
7.
Donald Ockerman
Yamaha
82
8.
Bill Ballance
Yamaha
8.
Duane Johnson
Honda
75
9.
Bryan Cook
Honda
9.
Jarrod McClure
Yamaha
66
10.
Jarrod McClure
Yamaha
10.
Johnny Gallagher
Yamaha
63
Related Reading
GNCC: Kiser victory overturned
Ballance Back On Top of the Podium Published May 4th, 2009 11:41 AM
Top Brands
Popular Articles