1 View
Borich Edges Kiser to Win Titan GNCC
September 27th, 2010 9:15 AM
Share
Defending champ claims ninth win of the year
Chris Borich claimed an exciting win at one of the closest races of the year during the Titan GNCC in Lafayette, Tenn. After two hours of racing, the Yoshimura Suzuki-backed rider topped Ballance Racing Yamaha's Taylor Kiser by less then two seconds to nab his ninth victory of the season and further extend his lead in the Can-Am Grand National Cross Country Series championship standings.
With the win Borich inched ever closer to a second-straight XC1 GNCC title, and now holds a 50-point lead over Kiser with just two races to go.
"I've just been training hard and the bike has been working awesome and things are working out for me – so this was a good win," says Borich. "We're getting close to that second championship and I think we can win a few more races before the year is over as well."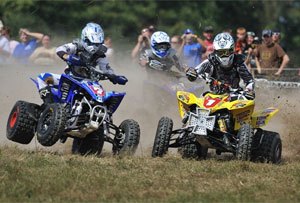 Borich didn't make things easy for himself at the start of the race when he jumped the flag, assuring himself of a 30-second stop-and-go penalty.
"I guess I jumped the gun a little bit," says Borich. "I heard somebody fire a bike up and I fired mine up and took off. So I was leading the first lap but when I came around I got a pit board saying I was going to get docked 30 seconds, so I put the hammer down and tried to get as big of a lead as I could before I came in."
After taking his 30-second penalty, Borich got back into the race in fourth position and worked his way back to the front, where he and Kiser took the battle all the way down to the final few turns.
"I got into the lead on the last lap and then Taylor got by me and then he made a mistake close to the end of the race where it was double arrowed and I got by him with about 30 seconds to go in the race," says Borich.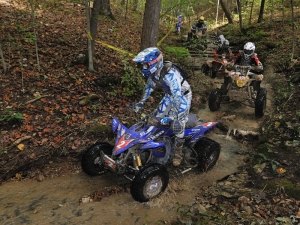 The Titan was the second race in a row where Kiser narrowly missed out on the win.
"We're determined to get a win before the year is over," says Kiser. "Chris and I battled back and forth and we had a good race. Second is not too bad but it's not what we were hoping for. We'll just have to come back at the next race."
After getting off to a mid-pack start, Chris Bithell rounded out the podium with a third. The Warnert Racing Can-Am rider worked his way to the front, running as high as second when Borich bobbled on the final lap.
"I stayed right there in third for most of the day," says Bithell. "I was right behind Kiser and Borich and then Borich bobbled on the last lap when he hit a loose rock on a big hill and I was able to pass him. I stalled the bike a little bit later and he got back around me, but it was a good race for me overall."
Since Borich was penalized for jumping early at the start, Bryan Cook was claimed the holeshot award and the FRE/KTM rider went on to finish fourth for one of his best finishes of the year.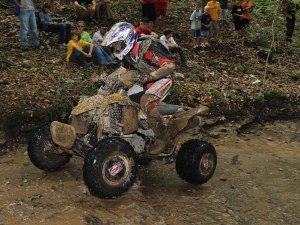 "We've had some struggles off and on this year, so this was a good race for us and we're showing what we should have been doing all year," says Cook. "We were running good and on the last lap I had a couple of places I thought I could make some passes and I just got too comfortable in a corner and let the front end push out. I hit a little tree and after that I had to push it pretty hard to try to catch back up to those guys. Now we just need to come back and try to get a win."
Warnert Racing Can-Am's Adam McGill rounded out the top five ahead of Yamaha-mounted Donnie Ockerman. Meanwhile, Yamaha riders Jeffrey Pickens and Brandon Sommers were seventh and eighth ahead of Honda riders Ryan Lane and Harold Goodman.
With two races remaining, Borich leads the title chase with 316 points. Meanwhile, Kiser is second with 266 and McGill is third with 215.
After his three-year-old put a garden hose in the exhaust of his Honda the day before the race, Brian Wolf borrowed a Yamaha from XC1 rider Brandon Sommers and claimed his fifth win of the season in the XC2 class, beating out Yamaha riders Gabe Phillips and Eric Hoyland.
"I'm on Brandon's practice bike and I can't thank Brandon Sommers enough," says Wolf. "The bike was phenomenal and I can't say enough about the bike."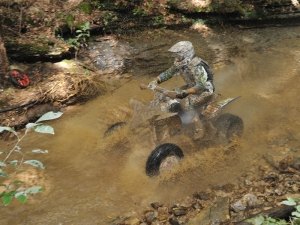 Wolf added to his points lead in the XC2 division, and now holds a 30-point lead over Ballance Racing Yamaha's Walker Fowler, who finished sixth on the day in Tennessee.
Phillips, who won round five of the series earlier in the year, finished second after getting a last place start.
"I've been chasing this series for a while and up here on the podium is where I want to be," says Phillips. "After getting the bad start I just had to put my head down and charge to the front."
Hoyland finished third ahead of Yamaha rider Kevin Yoho, while Honda rider Parker Jones was fifth. Fowler, Corbin Knox (Hon), Nathan Thomas (Hon), Blake Kramer (Suz) and Matt Hanna (Yam) rounded out the top 10.
Meanwhile, Kawasaki rider Dustin Canipe won holeshot award to start the XC2 race.
In the morning race, Women's class winner Kristen Atwell claimed the GT Thunder ATV Amateur $100 Overall Award after a tough battle with Lexi Colter. It was her second GT Thunder Amateur award in a row and fifth of the year.
"Me and Lexi were battling on the last lap and I got around her once and then I got cut off by a lapper and she got back around me," says Atwell. "I was able to get her back, however, with two miles left in the race."
In the meantime, Dave Simmons was third overall on his Yamaha and first on the 50+ Super Senior division.
In the Youth race, Marshal Goings claimed his third-straight win in the 90 Modified (12-15) division and claimed the overall victory as well.
"I was kind of mad that I didn't get the start and I just going as hard as I could to get back up there," says Goings. "Me and Levi battled back and forth for most of the race, but I was finally able to get him towards the end."
Next up for the series is the ITP Power Line Park GNCC in St. Clairsville, Ohio on Oct. 9-10.
XC1 Standings
XC2 Standings
Pos.
Rider
ATV
Points
Pos.
Rider
ATV
Points
1.
Chris Borich
Suzuki
316 (9 wins)
1.
Brian Wolf
Honda
256 (5 wins)
2.
Taylor Kiser
Yamaha
266 (1 win)
2.
Walker Fowler
Yamaha
226 (3 wins)
3.
Adam McGill
Can-Am
215
3.
Gabe Phillips
Yamaha
203 (1 win)
4.
Chris Bithell
Can-Am
184 (1 win)
4.
Kevin Yoho
Yamaha
201
5.
Don Ockerman
Yamaha
(1 win)
5.
Josh Kirkland
KTM
178 (1 win)
6.
Bryan Cook
KTM
142
6.
Eric Hoyland
Yamaha
154
7.
Johnny Gallagher
Yamaha
137
7.
Corbin Knox
Honda
135 (1 win)
8.
Jeffrey Pickens
Yamaha
133
8.
Dustin Canipe
Kawasaki
125
9.
Brandon Sommers
Yamaha
132
9.
Blake Kramer
Suzuki
125
10.
Jarrod McClure
Polaris
110
10.
Mark Notman
Suzuki
117 Published September 27th, 2010 9:15 AM
Top Brands
Popular Articles