1 View
Borich Earns Second GNCC Win of Season
April 6th, 2009 2:11 PM
Share
McGill and Ballance on podium
Rockstar Makita Suzuki's Chris Borich became the first repeat winner of the season as he beat out some stiff competition at round three of the 2009 Can-Am Grand National Cross Country Series at the Pirelli Big Buck GNCC in Union, SC on April 4. Borich's win puts him at the top of the points standings, nine points ahead of FRE KTM's Adam McGill.
McGill finished right behind Borich and has finished on the podium in all four races this season. McGill held the lead late in the race, but Borich made a pass on him just a few turns from the finish after two hours of racing. McGill was the first to congratulate Borich at the finish. The defending GNCC Champion, Yamaha's Bill Ballance, was back on the podium, taking third for the second round in a row.
"I finally got a good start," says Borich. "The bike is working awesome. We were in a train there for awhile, it was a good time, pretty much like trail riding. It was a good battle."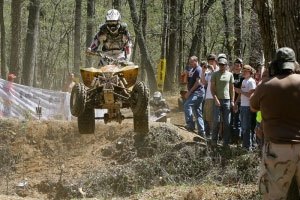 Ballance started in the lead, with McGill and Borich trailing. Yamaha's Taylor Kiser and Houser Racing's Bryan Cook were also close behind and that pack led the rest of the field throughout the race, battling it out wheel-to-wheel.
As the pack decided to pit on the second lap, Borich and McGill decided to power through and took the lead. The two stayed close on each other's heels as they took on creek jumps, steep hills and the red clay of the South Carolina track. McGill clipped a tree and fell back and Borich was able to put pressure on him. The duo continued to battle until Borich was able to make a good pass on McGill about 100 yards from the checkered flag – about three turns before an exciting finish.
"The track was tight," says Borich. "It was hard to pass in the woods."
Ballance, who struggled for weeks after having injured ribs surgically removed, is improving. He had problems with lappers on the track but stayed near the front of the pack throughout the race.
"I'm getting stronger everyone week," says Ballance. "We just need to move up a few spots on the podium."
Bryan Cook, who won the previous round of the 2009 GNCC series, came in fourth, just seconds behind Ballance. Kiser, who led the GNCC standings coming into the race, took fifth ahead of teammates Brandon Sommers and Jarrod McClure. Honda's Duane Johnson came in 8th and Yamaha's Donald Ockerman and Johnny Gallagher came in 9th and 10th respectively.
The XC2 class saw all returning winners on the podium. Brian Wolf took his second win of the year while Josh Kirkland came in second and Eric Hoyland took third. Wolf is now in the points lead.
"It's pretty awesome," says Wolf. "I got around Kirkland after a little stunt trick he pulled with that tree and got around Parker and never looked back."
The XC2 race started when Brian Parker grabbed the $100 Rekluse holeshot award. Kirkland was second going into the woods but Wolf was able to get ahead when Kirkland clipped a tree and fell back into sixth. Kirkland worked his way back up to the front and was able to come in right behind Wolf at the finish. Hoyland started out in fifth on the first lap but worked his way up to the leaders. His brakes went out after hitting a tree, but he hung on to come in third.
Honda's Gabe Phillips came in fourth, ahead of Polaris's Kevin Yoho in fifth and Jeremy Rice in sixth. Kawasaki's Scottie Rich took seventh and Suzuki's Blake Kramer took eighth. Kawasaki's Dustin Canipe finished ninth and Honda's Rob Hertz claimed tenth.
The ladies took the podium again in the morning race. FRE KTM's Angel Atwell won her fourth round in a row, followed by Lexie Coulter and Defending Women's GNCC Champion Traci Cecco.
"It's the bike," says Atwell. "The bike is awesome and my crew is great. I tried to keep my own pace. A few years ago I won four rounds in a row and that was crazy, and it's crazy now."
Cecco misjudged a pass around Atwell and ended up clipping a tree and bending her axle. Her wheel was almost off her quad when she pulled up to the finish.
"I'm happy to have third," says Cecco. "I could have had a DNF."
In the UTV race, National Guard Polaris rider William Yokley took a decisive overall win. In second was Justin Fleming, while Scott Goodwin finished third.
The Can-Am GNCC Series continues on April 18 and 19 with the Acerbis Loretta Lynn's in Hurrican Mills, Tenn.
Pirelli Big Buck GNCC Results
GNCC XC1 Standings
Pos.
Rider
ATV
Pos.
Rider
ATV
Points
1.
Chris Borich
Suzuki
1.
Chris Borich
Suzuki
101
2.
Adam McGill
KTM
2.
Adam McGill
KTM
92
3.
Bill Ballance
Yamaha
3.
Taylor Kiser
Yamaha
89
4.
Bryan Cook
Honda
4.
Bryan Cook
Honda
68
5.
Taylor Kiser
Yamaha
5.
Bill Ballance
Yamaha
52
6.
Brandon Sommers
Yamaha
6.
Donald Ockerman
Yamaha
51
7.
Jarrod McClure
Yamaha
7.
Brandon Sommers
Yamaha
51
8.
Duane Johnson
Honda
8.
Duane Johnson
Honda
50
9.
Donald Ockerman
Yamaha
9.
Johnny Gallagher
Yamaha
47
10.
Johnny Gallagher
Yamaha
10.
Jarrod McClure
Yamaha
46
Related Reading
Privateer Bryan Cook Wins Steele Creek GNCC
Published April 6th, 2009 2:11 PM
Top Brands
Popular Articles