1 View
Borich Earns Sixth Win at John Penton GNCC
June 7th, 2010 2:09 PM
Share
We're committed to finding, researching, and recommending the best products. We earn commissions from purchases you make using links in our articles. Learn more here
Corbin Knox wins XC2 class
Yoshimura Suzuki rider Chris Borich earned his sixth win of the Can-Am Grand National Cross Country Series at a muddy Wiseco John Penton GNCC in Millfield, Ohio.
Anyone who has ever ridden the John Penton in the rain knows how slippery this race can get, and for sure, this one will go down as one of the muddiest. When a driving rainstorm left rivers of water cascading across the course, Trail Boss Jeff Russell made the decision to move the 1 p.m. start time back an hour to give the water a chance to subside. This helped the worst areas of the trail, but the damage was already done, and a steady afternoon rain didn't help matters.
When the flag finally dropped to start the two-hour race, it was Jeffery Pickens who grabbed the holeshot, leading Borich, Balance Racing Yamaha's Taylor Kiser, Honda-mounted Brent Sturdivant, FRE KTM's Bryan Cook and Warnert Racing Can-Am's Adam McGill through the first sections of the motocross course. Sturdivant actually held the lead at the end of the opening lap; however, Borich soon took the point, with Kiser, Cook, McGill and Sturdivant right on his tail.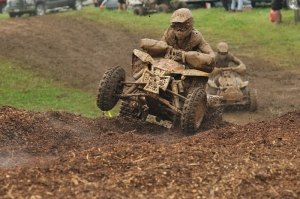 The five front-runners mixed it up in the mud until the final lap when Borich was finally able to break away, turning a small lead into a 30-second gap at the finish.
"This was a good win, there were just so many places where things could go wrong – a lot of waterholes where you could drown out, but everything went my way," says Borich. "It was tough out there and I was trying all day to break away, but it seemed like they kept catching up to me in some of the slower parts of the course. But towards the end, going into the last lap, I knew I could charge and get away."
Kiser ran with Borich for most of the day, but on the third lap he and Sturdivant got stuck in a bottleneck, which eventually got rerouted, and both riders dropped down the order. Kiser crossed the finish line in fourth, however, after a time adjustment he was moved back into second place in the final results, while Sturdivant was credited with a seventh.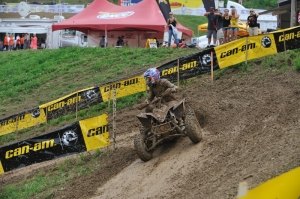 "I ran pretty steady all day," says Kiser. "I was 1-2 all day with Borich. But then I got hung up in a bottleneck and dropped back a ways. But my Yamaha ran great and I had a pretty solid race."
Third place went to McGill, who collected his fifth podium of the year with the finish.
"I don't know if this was as bad as years past, but this was still pretty bad," says McGill. "There we some pretty deep water sections in the back and I just pinned it. I was afraid the bike was going to be like a vacuum cleaner and suck up the water, but the bike did great."
Don Ockerman rode his Yamaha to fourth, finishing just two seconds behind McGill, despite getting flipped over on the start.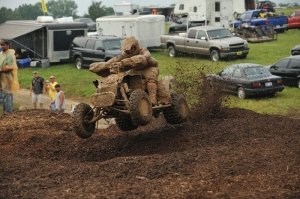 "It was kind of slow motion, and I stayed under the bike so no one would run over me," says Okerman. "But I was able to make up time pretty quick. I biked the track yesterday and so I kind of knew it and I moved up pretty good."
Cook ran as high as second place, but a miscue on the final lap dropped him to fifth at the finish.
"I moved into second after the white flag and went into this section and just took a bad line," says Cook. "When I started in I saw two wrong way arrows but I had already started in it and I couldn't stop and turn around fast enough and a couple of guys got by me."
Round six winner Chris Bithell finished sixth on his Warnert Racing Can-Am, ahead of Sturdivant, while Yamaha riders Brandon Sommers and Johnny Gallagher were eighth and ninth. Meanwhile, Honda-mounted Harold Goodman rounded out the top 10.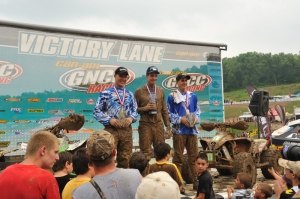 In the XC2 race, Honda rider Corbin Knox took a surprising win, leading HMF Honda's Brian Wolf and early race leader FRE KTM's Josh Kirkland across the finish line. The win also marked Knox's first podium.
"This is unbelievable, I'm still in shock," says Knox. "I had a horrible start and I think I was dead last off the start. Brian [Wolf] must not have got a good start either and I hooked up with him and I knew if I stayed with him I would do alright."
"I never looked at the score board when I went through scoring, and I never knew what position I was in," added Knox. "I had mud all over my contacts and I couldn't see, so I rode with one eye closed for most of the race and I just kept pushing."
Wolf took over the series points lead from Walker Fowler with his runner-up finish, and now holds a five-point advantage over the Yamaha rider.
"I had a bad start and just took my time and I thought consistency would pay off and it did," says Wolf.
Kirkland held the early lead in the XC2 division, and actually held the overall lead at one point, but like his teammate, Cook, was a victim of a poor line.
"I don't know what happened, I was leading and then all of a sudden I was fifth," says Kirkland. "I didn't get stuck or anything, I guess there was a cut-off I didn't get to take on the third lap. But it was still a good day."
Honda-mounted Ian Laufersweiler finished fourth, about 30 seconds ahead of
Yamaha rider Kevin Yoho, while Walker Fowler finished sixth. Meanwhile, Polaris rider Joey Margueria was seventh ahead of Yamaha riders Eric Hoyland and Gabe Phillips. Honda rider Nathan Thomas was 10th.
In the morning race, Kristen Atwell rode strong to claim her third straight Women's class win, and by doing so won the GT Thunder ATV Amateur $100 Overall Award.
"I got the holeshot, but I kind of went a little wide and Traci Cecco got around me," says Atwell. "We went into the woods and she chose a different line and I was able to get around her. After that I caught Dave Simmons ahead of me and we just kind of hooked up and had a good race."
Simmons (Yam) ended up with second overall and first in the Super Senior (50+) division, while Angel Atwell (KTM) was third overall and second in the Women's class.
Bryan Buckhannon was fourth overall and first in the 4X4 Open division on his Can-Am.
"I got the holeshot, which was unusual for me," says Buckhannon. "We ran bumper to bumper with Zac Zakowski, then I pulled a lead on him. But then I started having some mechanical issues and got in a bottle neck and he actually caught up to me and got around me when I pitted. I was able to squeeze by him before the finish."
In the Youth race, Levi Cohn won the overall in the Youth division, making two in a row and seven out of eight.
"I took a few kicks to get going and I was second to last off the start," said Cohn, who was in the lead at the end of the first lap."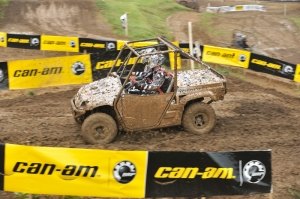 In the UTV divisions, 45 teams lined up to do battle and when the mud had settled, Team Fleming (POL) topped Team National Guard (POL) and Team Costal II (POL) to win the Open Modified class. In the Open Limited division, Team Fortner (POL) beat out Team Fisher (POL) and TEAM JPMX (POL).
Team Haymaker (Yam) won the Lites Modified race ahead of Team Faith (Yam), while Team Travalena (Kaw) beat Team Held (Kaw) and Team Midwest (Kaw) to win the Lites Limited class.
Meanwhile, Team Dulaney Trackside (Hon) won the Pilot class over Team Stoneman (Hon) and Michael Doolittle (Hon).
Racing resumes tomorrow at the Wiseco John Penton GNCC, with a full slate of motorcycle classes.
XC1 Standings
XC2 Standings
Pos.
Rider
ATV
Points
Pos.
Rider
ATV
Points
1.
Chris Borich
Suzuki
226 (6 wins)
1.
Brian Wolf
Honda
166 (2 wins)
2.
Taylor Kiser
Yamaha
198 (1 win)
2.
Walker Fowler
Yamaha
161 (3 wins)
3.
Adam McGill
Can-Am
153
3.
Josh Kirkland
KTM
157 (1 win)
4.
Chris Bithell
Can-Am
129 (1 win)
4.
Kevin Yoho
Yamaha
150
5.
Don Ockerman
Yamaha
122
5.
Gabe Phillips
Yamaha
141 (1 win)
6.
Johnny Gallagher
Yamaha
107
6.
Eric Hoyland
Yamaha
106
7.
Bryan Cook
KTM
101
7.
Corbin Knox
Honda
104 (1 win)
8.
Jeffrey Pickens
Yamaha
92
8.
Mark Notman
Suzuki
93
9.
Brandon Sommers
Yamaha
81
9.
Dustin Canipe
Kawasaki
89
10.
Jarrod McClure
Polaris
81
10.
Blake Kramer
Suzuki
87 Published June 7th, 2010 2:09 PM
Top Brands
Popular Articles