1 View
Borich Back on Top at John Penton GNCC
July 11th, 2011 10:34 AM
Share
We're committed to finding, researching, and recommending the best products. We earn commissions from purchases you make using links in our articles. Learn more here
Fifth win of season for Suzuki pilot
After suffering a disappointing mechanical failure at the previous round in West Virginia, Chris Borich got back on top of the podium with a spectacular win at the Wiseco John Penton GNCC, round nine of the 2011 Can-Am Grand National Cross Series in Millfield, Ohio.
Borich battled race-long with Ballance Racing Yamaha's Taylor Kiser, Foremost Insurance/Warnert Racing Can-Am's Chris Bithell and GT Thunder-backed Brian Wolf before putting his Rockstar Makita Suzuki into the lead on the final lap to claim his fifth victory of the season and extend his lead in the series standings to an impressive 27 points heading into the summer break.
"That race at Snowshoe was kind of a bummer, it was just a freak deal and I thought we had at least a top two," says Borich. "You just can't control things like that sometimes, but it's good to come back strong here and get the win."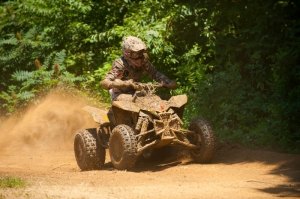 The four front-runners took turns holding the lead until Borich and Bithell broke away from the pack near the end of the race. However, a low hanging tree limb nearly took Borich out of the competition.
"I was chasing Chris and there was a limb hanging down and he ducked and I didn't see it and it cleaned me completely off the bike," says Borich. "I hit my head pretty hard and I sat there for a while getting my bearings before I could take off again."
After getting back into the fray, Borich made a strong push and was able to catch Bithell and later took the lead when Bithell hit a tree.
"I just put the hammer down and took some good lines and did what I needed to do to get back up front," says Borich.
Kiser also took advantage of Bithell's mistake and ended the day in second to match his best finish of the year. The Florida rider also claimed the $250 Motosport.com Holeshot Award to start the race.
"I got a good start and that made a big difference," says Kiser. "The bike was working well and I feel things are starting to go our way heading into the break."
Meanwhile, Wolf finished third, making his third podium finish in four races.
"I got up around third after the start and then I made a mistake and dropped back to about eighth," says Wolf. "I worked back up into third and then Bithell and Borich got hung up on a hill and I was able to go around them to take the lead. I pulled a pretty good lead after that but then I got stuck in a creek trying to go around a lapped rider and that's when those guys got back around me."
Bithell ran one of his best races of the year; unfortunately, his collision with the tree dropped the Pennsylvania rider back to fourth.
"Me and Borich were having a good battle," explained Bithell. "We both got stuck on a hill on the second lap and dropped back behind Wolf and Kiser. But then we worked our way back up to the front. I was in the lead and running pretty good but then I got crossed up in some ruts and hit a tree. It put me on the ground and everyone got by me."
Honda rider Jarrod McClure finished the day in fifth, while FRE KTM's Bryan Cook turned in another solid performance to claim sixth.
JET Suspension Honda's Donnie Ockerman and GT Thunder rider Kevin Yoho were seventh and eighth, with Yamaha riders Johnny Gallagher and Jeffrey Pickens rounding out the top 10.
Despite getting off to a bad start, Walker Fowler made it eight wins in eight tries in the XC2 division, as the Ballance Racing Yamaha rider turned in an impressive ride through the pack to take a well deserved victory.
"I probably went into the woods in 10thand then just picked them off one at a time," says Fowler. "At about the nine-mile marker I passed Pat McGuire to take the lead and then I rode a pretty clean lap and started catching the back half of the Pro class, but about that time I clipped a stump and it pitched me off the bike. After that I just kind of chilled. It wasn't the overall finish I was looking for, but a class win is always good and we're going into the summer break undefeated."
After grabbing the $100 Motosport.com Holeshot Award to start the race, Derisi Racing Honda rider Eric Hoyland rode a steady race to grab the runners-up position.
"I got a good start but I picked some bad lines and got passed by a couple of guys," says Hoyland. "But it was an awesome race out there and it was fun racing with Mike Lancaster."
After battling with Hoyland, Lancaster made his first-ever podium finish with a third.
"It was a tough race, but I like that motocross track and I'm happy to finish third," says Lancaster.
Greg's ATV & Cycle Yamaha rider Gabe Phillips just missed out on a podium finish, crossing the line just three seconds behind Lancaster. Meanwhile, KTM rider Aarol Bright rounded out the top five, while Yamaha riders Matt Pierce, Matt Hanna and Eric Wilczek finished sixth, seventh and eighth.
Nathan Wallpe finished ninth on a Honda, while Yamaha rider Joshua Merritt was 10th.
Braden Henthorn was the top finishing non-Pro rider, winning the College A (16-21) class with a 15th overall finish.
In the A.M. race, Dave Simmons (Yam) won the $100 GT Thunder Amateur Overall and topped the Masters (50+) class as well. Kevin Trantham was second overall on a Can-Am and first in the 4×4 Lites division, while Traci Cecco (Yam) was third overall and first in the Women's class.
Bryan Buckhannon won the prestigious 4×4 Open division, beating out fellow Can-Am riders Michael Swift and Andrew Langston.
In the Youth race, Cody Collier got his first overall win of the year on a bike he borrowed from Ballance Yamaha. The Ohio rider also took first in the 90 Open (12-15) class.
Hunter Hart (Cob) was second overall and first in the 90 Open (8-11), while Josh Simmons (PIT) was third overall and second in the 90 Open (12-15) division.
The 2011 Can-Am Grand National Cross Country Series heads to New Berlin, NY for the Can-Am Unadilla GNCC on September 10 & 11.
GNCC XC1 Standings
GNCC XC2 Standings
Pos.
Rider
ATV
Points
Pos.
Rider
ATV
Points
1.
Chris Borich
Suzuki
200 (5 wins)
1.
Walker Fowler
Yamaha
240 (8 wins)
2.
Adam McGill
Can-Am
173 (2 wins)
2.
Gabe Phillips
Yamaha
169
3.
Taylor Kiser
Yamaha
161
3.
Eric Hoyland
Honda
137
4.
Chris Bithell
Can-Am
159 (1 win)
4.
Patrick McGuire
Yamaha
126
5.
Brian Wolf
Honda
121
5.
Aarol Bright
KTM
122
6.
Bryan Cook
KTM
118
6.
Matt Hanna
Yamaha
102
7.
Donald Ockerman
Honda
112
7.
Dustin Canipe
Honda
98
8.
Jarrod McClure
Honda
111
8.
Parker Jones
Honda
96
9.
Kevin Yoho
Yamaha
100
9.
Richie Brown
KTM
89
10.
Jeffrey Pickens
Yamaha
86
10.
Blake Kramer
Suzuki
81 Published July 11th, 2011 10:34 AM
Top Brands
Popular Articles