1 View
Borich Wins Thrilling John Penton GNCC
June 8th, 2009 10:35 AM
Share
Kiser, Bithell finish on podium
The Wiseco John Penton GNCC, round 8 of the 2009 Can-Am Grand National Cross Country series, presented some of the tensest racing action thus far this season as Rockstar/Makita Suzuki's Chris Borich took the win after a neck-and-neck race with FRE KTM's Adam McGill in dry, sunny conditions. McGill eventually broke his A-Arm and finished 13th. Yamaha's Taylor Kiser finished in second and Warnert Can-Am's Chris Bithell made his first podium appearance this year in third place.
The race began as the riders took the first turn in a roaring freight train. Kiser got off to a great start and took the holeshot. McGill, Houser Racing's Bryan Cook, Jeff Pickens, and Bithell followed in hot pursuit. The 12-mile race track prevented most pass attempts but McGill was able to take the lead by the end of the first lap, followed by Cook, Kiser and Pickens.
Borich began making his move in the second lap after a slow start at the beginning, and was able to move up to second place, right on the heels of McGill. Cook, in one of the best races he's had since his win at Steele Creek, fell to third but kept a close gap on the leaders. Bithell began moving up and by the end of the second lap was in fourth place.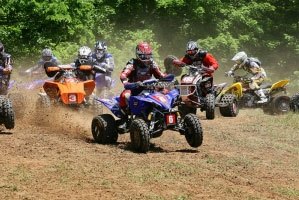 McGill held on tight to first place as the riders went through the motocross track. By the third lap, he still had a lead on Borich but disaster struck when his A-Arm broke and he had to wheel his bike out to be repaired. Borich took the lead to take the checkered flag just seconds ahead of Kiser who had kept the heat on him until the end.
Bithell's past races have seen him near the end of the pack, and he's only been in the top 10 twice this season. Bithell kept up a hard-charging fight to come up with his season best third place.
Cook settled for fourth place and Defending Champion Ballance recovered from a disheartening start in 14th place to make a huge comeback, moving into fifth place at the finish. Pickens fell back to finish in sixth followed by Honda's Duane Johnson in seventh. Yamaha's Donald Ockerman, privateer Jarrod McClure and Ryan Lane on a Honda rounded out the top 10. McGill reentered the race and finished his final lap to come in 13th place.
In XC2 action, the Wolf is back. Brian Wolf, who finished second at the last race, was back in the first place position. Wolf only gave up the first place position to move back in second in the second lap. Kevin Yoho moved up from a 4th place start to take second place, followed by Dustin Canipe in third. Previous winner, FRE KTM's Josh Kirkland finished in fourth, followed by Eric Hoyland in fifth. Sixth place went to Rob Hertz, followed by Joey Margueria in seventh. John Cunningham, Josh Beavers and Eric Wilezek rounded out the top 10.
In the AM Race, Yamaha's Traci Cecco took first followed by Michael Swift in second and Samuel Williams in third. Swift was the top 4×4 rider with second overall on his Warnert Can-Am.
In addition to the claiming the morning race overall award, this was Cecco's third Women's class win of the season. Lexie Coulter took second and Jennifer Albright, third. Cecco's biggest rival, Angel Atwell finished in a season worst 9th place.
The 2009 Can- Am Grand National Cross Country series heads to Snowshoe, WV for its last race before the summer break for the Snowshoe GNCC on June 27-28.
John Penton GNCC Results
GNCC XC1 Standings
Pos.
Rider
ATV
Pos.
Rider
ATV
Points
1.
Chris Borich
Suzuki
1.
Chris Borich
Suzuki
192 (5 wins)
2.
Taylor Kiser
Yamaha
2.
Taylor Kiser
Yamaha
169 (1 win)
3.
Chris Bithell
Can-Am
3.
Adam McGill
KTM
158
4.
Bryan Cook
Honda
4.
Bryan Cook
Honda
132 (1 win)
5.
Bill Ballance
Yamaha
5.
Bill Ballance
Yamaha
129 (1 win)
6.
Jeffrey Pickens
Yamaha
6.
Brandon Sommers
Yamaha
126
7.
Duane Johnson
Honda
7.
Donald Ockerman
Yamaha
104
8.
Donald Ockerman
Yamaha
8.
Duane Johnson
Honda
100
9.
Jarrod McClure
Yamaha
9.
Jarrod McClure
Yamaha
92
10.
Ryan Lane
Honda
10.
Johnny Gallagher
Yamaha
77
Related Reading
Borich Outduels McGill at Mountain Ridge GNCC
Published June 8th, 2009 10:35 AM
Top Brands
Popular Articles