1 View
Borich Wins Klotz Ironman GNCC
October 28th, 2008 11:33 AM
Share
Suzuki rider finishes second in standings
Chris Borich finished the 2008 Can-Am Grand National Cross Country (GNCC) Series the same way he started it – with a win.
Borich rode his Rockstar Yoshimura Suzuki LT-R 450 to victory at the Klotz Ironman GNCC in Crawfordsville, Ind. on Oct. 25. He also won the series opener in Florida, but struggled somewhat in the middle of the season.
"We were all just battling all day, it was wide open out there," says Borich. "We've got this Suzuki figured out on the muddy tracks, should be good for 2009."
GNCC XC2 Champion Don Ockerman finished second for the second-straight race on his GT Thunder Yamaha, an impressive debut in the XC1 pro class. GNCC Champion Bill Ballance rounded out the podium on his Yamaha, edging FRE KTM's Adam McGill by inches.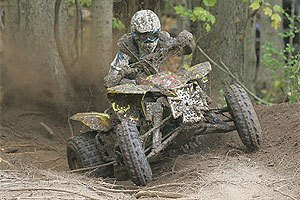 Ballance grabbed the ITP Holeshot Award and battled with Borich all day. Borich led as the pack took the white flag, but Ballance made a move to get into the lead. By then Ballance had lost his goggles from following Borich through the mud, and he took a bad line through a mud hole, allowing Borich and Ockerman to get past him.
"I thought we had it won, but I couldn't see that well, Chris was really throwing it on me," says Ballance. "I took a line that I thought looked pretty good, but it turned out to be a terrible line and I almost got stuck."
Ockerman followed Borich through to take second, which resulted in major cheers from his local Indiana fans. "We tried a different strategy in the pits, we pitted a lap late," says Ockerman. "It helped us get in front and pull a gap, and we almost pulled it off. Once I had to pit I went back a few spots, but when I got around Ballance, I couldn't believe it. I was so excited, I just held it wide open to the finish."
Ballance kept battling with McGill, and the two pushed side-by-side through the final whoop section before the finish. Ballance held off McGill by half of a tire length for third. McGill took fourth, while Warnert Racing Can-Am's Chris Bithell completed the top five.
After clinching the 2008 GNCC Bike Championship, David Knight entered the ATV race in the XC1 pro class for fun. Knight finished the full two hours, claiming 22nd in the class and 49th overall.
With Ockerman out of the XC2 division, Tom Clark Motorsports' Josh Kirkland railed to another win ahead of National Guard's Mark Nottman and Kawasaki rider Dustin Canipe, who also grabbed the Rekluse Holeshot award.
While Ballance and McGill had already wrapped up their titles in the XC1 and XC2 classes, respectively, the Women's Championship remained up for grabs between Yamaha's Traci Cecco and Tom Clark Motorsports' Angel Atwell. Both riders suffered through crashes, bad luck and misfortune throughout the day, at one point even locking their two machines together in a field section. Late in the race, Cecco rallied to get the class win and her seventh GNCC Women's Title.
"I was nervous, I admit it," says Cecco. "I haven't even been able to sleep lately. I got a bad start, I hit a tree on the first lap, and then Angel and I came together in a field, I couldn't believe it, we were locked. She got out ahead of me, but I just told myself to calm down and take my time. I managed to pass her and it was looking good, but then I went over the bars on the last lap. I'm just so relieved right now."
Bryan Buckhannon led wire to wire to win the ATVRiders.com Morning Race Overall on his ATV Parts Plus/LTERacing.com Can-Am. Scott Kilby finished second and Robert Smith finished third, winning the U2 class.
Josh Merritt won the Youth Race overall and also claimed the 2008 GNCC Youth Championship on his Cobra.
Can-Am GNCC Round 13 Results:
| | | |
| --- | --- | --- |
| Position | Rider | Manufacturer |
| 1. | Chris Borich | Suzuki |
| 2. | Donald Ockerman | Yamaha |
| 3. | Bill Ballance | Yamaha |
| 4. | Adam McGill | KTM |
| 5. | Chris Bithell | Can-Am |
| 6. | Brandon Sommers | Yamaha |
| 7. | Bryan Cook | Honda |
| 8. | Jarrod McClure | Honda |
| 9. | Ryan Lane | Honda |
| 10. | Matt Smiley | Honda |
Can-Am GNCC Series Final Standings:
| | | | |
| --- | --- | --- | --- |
| Position | Rider | Manufacturer | Points |
| 1. | Bill Ballance | Yamaha | 283 |
| 2. | Chris Borich | Suzuki | 242 |
| 3. | Adam McGill | KTM | 236 |
| 4. | Bryan Cook | Honda | 224 |
| 5. | Brandon Sommers | Yamaha | 214 |
| 6. | Taylor Kiser | KTM | 180 |
| 7. | Jarrod McClure | Honda | 172 |
| 7. | William Yokley | Honda | 169 |
| 9. | Ryan Lane | Honda | 164 |
| 10. | Matthew Smiley | Honda | 163 |
Related Reading:
Ballance clinches ninth GNCC championship
Published October 28th, 2008 11:33 AM
Top Brands
Popular Articles