1 View
Borich Secures Title With Win at Ironman GNCC
October 24th, 2011 1:29 PM
Share
We're committed to finding, researching, and recommending the best products. We earn commissions from purchases you make using links in our articles. Learn more here
Third straight championship for Borich
The Ironman GNCC is historically known for its spectator-friendly obstacles and festive aura, usually serving as the final round of racing; but due to a previous rainout, the Ironman provided a penultimate round of exciting racing action in all classes, the finale taking place at Loretta Lynn's Ranch November 4-6. Aside from racing action, there were a variety of special events taking place at the festive Ironman event and there's no doubt the Crawfordsville, Ind. locals witnessed a day of ATV racing they will never forget.
Chris Borich wrapped up the 2011 Can-Am Grand National Cross Series championship with one round remaining on the schedule after taking an exciting and hard-fought victory at the prestigious Amsoil Ironman GNCC – marking his third consecutive title.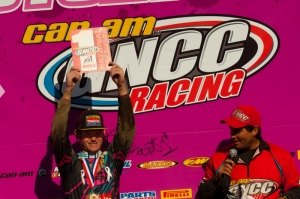 As he has done several times before, the Rockstar Makita Suzuki rider made it interesting by coming from behind, this time passing Ballance Racing Yamaha's Taylor Kiser and Foremost Insurance/Warnert Racing Can-Am's Adam McGill on the final lap to take the win. Although Borich knew that in order to secure the title at Ironman, he only needed to finish in front of McGill or one place behind, the Rockstar Makita Suzuki rider wanted to tack on another Ironman win to his resume. This makes the fourth time Borich has won the Ironman GNCC, and it's his third-straight XC1 title.
"It's been a pretty stressful year and it feels good to finally wrap it up," says Borich. "This is a big race and there are a lot of people here and it feels good to get the win at this race."
GT Thunder-backed Brian Wolf was a heavy contender coming into today's Ironman with two wins under his belt, but unfortunately Wolf was slightly injured while helping a fellow racer in the morning race. Wolf put his best efforts to compete in the race but wasn't able to contend a podium position this weekend.
Borich battled up front with Kiser, McGill, Foremost Insurance/Warnert Racing Can-Am's Chris Bithell, and Honda-mounted Jarrod McClure for most of the two-hour race, and was running second behind McGill at the halfway mark. However, McGill got stuck on one of the nasty hills and collected Borich with him, as both riders dropped back to fourth and fifth. After inspecting possible passing opportunities before and throughout the race, Borich was saving an ace up his sleeve and used it to his advantage on the final lap to take the lead and eventually the win.
"I knew of a line at the four-mile mark and on the last lap I was in third and I took that line and ended up with the lead," says Borich. "After I got the lead I just held on."
Despite getting flipped over in the first turn, Kiser turned in a strong performance to claim the runner-up position, marking his fifth podium appearance of the year. Kiser led at one point after working his way up from nearly last, and was less than two seconds off of Borich at the finish.
"We charged hard today and the bike really hooked up and was running great," says Kiser.
Meanwhile, McGill rounded out the podium with a solid third-place showing, and sits a safe second in the standings heading into the series final at Loretta Lynn's in two weeks.
Bithell ended the day in fourth, ahead of McClure, who kicked off the race by grabbing the $250 Motosport.com Holeshot Award.
Sixth went to JET Suspension Honda's Donnie Ockerman, while Yamaha-mounted Jeffrey Pickens was seventh. After Pickens came GT Thunder rider Kevin Yoho, and Ryan Lane (Hon), with Mark Notman (Yam) rounding out the top 10.
In the XC2 class, Walker Fowler continued his impressive run to an undefeated season, taking his 12th win in 12 races. The Ballance Racing Yamaha rider passed $100 Motosport.com Holeshot Award winner Eric Hoyland on the opening lap and extended the lead to over two minutes by the end of the race. Walker can make history if he wins the series finale at Loretta Lynn's by going undefeated in the XC2 Pro Am class, in addition to his impressive two overall wins this year.
Despite getting off to a mid-pack start, Greg's ATV & Cycle Yamaha rider Gabe Phillips claimed the runner-up finish for the third-straight race, passing Hoyland late in the race to do so.
Hoyland held on for third on his Honda, and maintains third overall in the XC2 standings.
Honda rider Braden Henthorn finished an impressive fourth in his first race in the XC2 class, beating out Matt Hanna (Yam) and Parker Jones (Hon) in the process.
KTM rider Aarol Bright was seventh, while Honda riders Tyler Bostock, Michael Lancaster and Nathan Wallpe rounded out the top 10.
Landon Wolfe was the top finishing "non-Pro" rider, winning the College A (16-21) class with a 15th overall finish on a Suzuki.
In the A.M. race, Dave Simmons (CAN) won the $100 GT Thunder Amateur Overall and topped the Masters (50+) class as well, his eighth time to do so this year.
Zachary Zakowski was second overall and first in the 4×4 Open division. Meanwhile, Traci Cecco wrapped up the Women's title with a third overall finish and first place in the Women's race.
In the Youth race, Hunter Hart claimed his eighth overall win of the year with a solid victory in the 90 Open (8-11) class on a Cobra. Second overall and first in the 90 Modified (12-15) went to Zachary Jones (APX), with Westley Wolfe (APX) taking third overall and first in the 90 Open (12-15) division.
In the Girls (8-15) class, Crystal Diebold (PIT) was first, followed by Sadie Welch (DRR) in second and Bailey Steuben (Yam) in third.
The UTV divisions wrapped up their season at the Ironman, with a competitive seven-lap race. Team Hendershot (POL) claimed the overall win and first in the Open Modified division, however, it was William Yokley and his Polaris National Guard entry that captured the UTV series title with a second overall finish.
"We knew there was a lot riding on this race, so we came out a little conservative and took our second place," says Yokley.
Third overall and third in the Open Modified class went to Coastal National Guard (POL).
Team Polaris Parts Plus Stafford Racing (CAN) won the Open Limited division, topping Team Held (CAN) in second and Team Elia (POL) in third.
Drew Escore beat out fellow Honda drivers Guy Trackside and Michael Doolittle to win the Single Seat class, while Team Wyatt Farms (Kaw) won the Lites division ahead of Team Tata Twins (POL) and Team Faith (Yam).
The 2011 Can-Am Grand National Cross Country Series heads to Hurricane Mills, Tenn. for the Parts Unlimited Loretta Lynn's GNCC on November 4-6. For the first time in GNCC history, bike racing will take place on Friday, with ATV racing on Saturday and bike racing will take place again on Sunday – making up for two rain dates previously in the schedule.
GNCC XC1 Standings
GNCC XC2 Standings
Pos.
Rider
ATV
Points
Pos.
Rider
ATV
Points
1.
Chris Borich
Suzuki
306 (8 wins)
1.
Walker Fowler
Yamaha
360 (12 wins)
2.
Adam McGill
Can-Am
261 (2 wins)
2.
Gabe Phillips
Yamaha
251
3.
Taylor Kiser
Yamaha
238
3.
Eric Hoyland
Honda
2054
4.
Chris Bithell
Can-Am
235
4.
Patrick McGuire
Yamaha
172
5.
Brian Wolf
Honda
202 (2 wins)
5.
Aarol Bright
KTM
170
6.
Jarrod McClure
Honda
170
6.
Matt Hanna
Yamaha
161
7.
Bryan Cook
KTM
167
7.
Michael Lancaster
Honda
129
8.
Donald Ockerman
Honda
166
8.
Blake Kramer
Honda
120
9.
Kevin Yoho
Yamaha
152
9.
Nathan Wallpe
Honda
116
10.
Jeffrey Pickens
Yamaha
136
10.
Richie Brown
KTM
98 Published October 24th, 2011 1:29 PM
Top Brands
Popular Articles