1 View
Yamaha ATV Team Earns Wins and Gives Back at Ironman GNCC
October 27th, 2011 12:25 PM
Share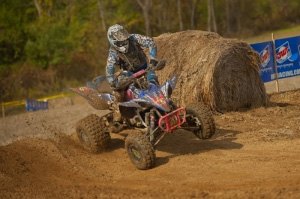 Yamaha's cross country ATV race team started celebrating the 2011 season early this year at the Grand National Cross Country (GNCC) Ironman in Crawfordsville, Ind. With two series championships already clinched and the season's largest gathering of racers and fans on hand, Yamaha rolled out a host of racer and fan appreciation activities and raised the donation bar for the "Annual Pink Race."
Typically the season finale, this year's Ironman landed two weeks before the final round of 2011 coming up at Loretta Lynn's in Hurricane Mills, Tennessee, which was rescheduled to Nov. 5. Traci Cecco took her eighth win of the year in the Women's class adding to her record eighth series championship which she secured even before the Ironman. Ballance Racing's Walker Fowler, who has also already locked in his series championship, took his twelfth straight XC2 Pro Am win – a series record. In XC1 Pro competition, Ballance Racing's Taylor Kiser finished second – his fifth podium of the season – which moved him to third in overall series points.
A true supporter of the sport, Yamaha rolled its demo truck into Crawfordsville again this year and set up a hospitality area for racers and fans alike handing out 800 Yamaha beanies. New for this year, Yamaha displayed large banners and gave out posters listing top Yamaha racers from each category. More than 100 racers were recognized and congratulated for their seasons.
"GNCC Racing is proud to provide a platform in which members of the off-road racing community can give back to local organizations such as FAITH Alliance," says GNCC Media Manager Jen Kenyon. "Yamaha stepped up in a big way at Ironman to show their support for Breast Cancer Awareness and their commitment to their program here at GNCC."
Yamaha set an Ironman "Annual Pink Race" record by committing $6,000 in support of FAITH Alliance, a breast cancer resource in Montgomery County, Ind. Yamaha will donate $1,000 on behalf of each of the five Yamaha racers who captured podium finishes in the overall morning and afternoon ATV races, including Taylor Kiser, second place in XC-1; Walker Fowler, first in XC-2; Gabe Philips, second in XC-2, Traci Cecco, first place Women's; and Dave Simmons, first in the Master's. Yamaha also raised another $1,000 by raffling donated gear from Cecco and Fowler with the number one ( commemorating their 2011 series championships.
"Yamaha congratulates Traci and Walker for their 2011 championships, as well as all of the Yamaha racers for a great season of cross country racing," says Steve Nessl, Yamaha's ATV/SxS marketing manager who was at the Ironman and offered the $1,000 challenge to Yamaha racers. "Yamaha is proud to make a financial contribution to the FAITH Alliance and its efforts to support breast cancer patients."
"On behalf of the entire FAITH Alliance board, I would like to extend our deepest gratitude for the generous donation from Yamaha," says Sasha Clements of the FAITH Alliance. "We normally operate on small donations from individuals or community events. This donation will make an enormous difference in the amount of assistance we can provide in the following year(s)."
FAITH Alliance provides access to screenings and treatment, assistance with transportation to medical appointments, educational programs to increase awareness of prevention, screening, and treatment, coordination of efforts with medical and healthcare communities, informational publications, and services to support the immediate needs of breast cancer patients.
Related Reading
Borich Secures Title with Win at Ironman GNCC
Published October 27th, 2011 12:22 PM
Top Brands
Popular Articles