1 View
March 10th, 2008 3:26 PM
Share
Adam McGill finishes six minutes clear of field
After a pair of top-five finishes in the first round of the Can-Am Grand National Cross Country (GNCC) series, KTM took a huge leap in round two, with Adam McGill and Taylor Kiser finishing 1-2.
ATV racing is brand new for KTM, as the Austrian motorcycle manufacturer didn't release its first quad until August of 2007. KTM claims its 450 XC was built to win races and it certainly proved that with its performance at the Maxxis General GNCC in Washington, Ga. on Saturday, March 8.
Not only did McGill ride his 450 XC to victory, but he dominated, crossing the finish line an amazing six minutes ahead of teammate Kiser for his first-ever GNCC win.
"It feels great," says McGill. "This is the machine I wanted to race the first time I saw it. I was a little worried on the last lap, because I've been there before and it hasn't worked out. I would get to sections, and it was just unbelievable, just like a bomb went off. There were people everywhere. I'm so glad there were people out there helping, and everyone at KTM, the whole team, I can't thank them enough."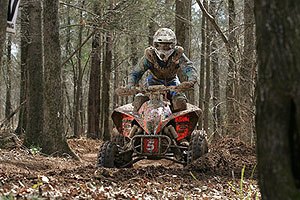 Kiser's second-place finish didn't come with quite as big cushion as McGill enjoyed, as he had to fight off a tough challenge from Yamaha's Brandon Sommers.
"I didn't get a good start but I was able to work my way through," says Kiser. "I feel good now. The sky's the limit for this team."
Sommers, who won the 2007 GNCC Pro-Am championship, earned his first XC1 pro podium.
"There were a lot of lines out there and that definitely made it tough," says Sommers. "Taylor and I hooked up and we really got into a good rhythm out there. On the last lap, I was ahead of him, but I got some water under my goggles, and I had to get rid of them. I was hoping he wouldn't see it, but I guess he did because he started working to get around me and once he did there was nothing I could do."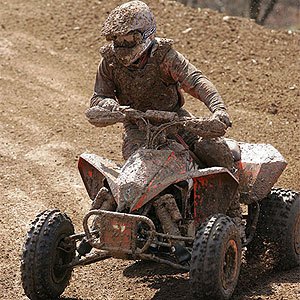 Bryan Cook and new XC1 pro Ryan Lane rounded out the top five.
The podium was missing some familiar names as eight-time GNCC champion Bill Ballance and last week's winner Chris Borich both suffered mechanical troubles and failed to finish the race. Ballance, who picked up his first-ever DNF in four years on a Yamaha, had some electrical problems. Borich, meanwhile, snapped a chain on his Rockstar/Yoshimura Suzuki.
Warnert Racing Can-Am's Chris Bithell, who finished third in last year's standings, was battling with Kiser and Sommers before getting stuck in the deep ruts in a bottleneck. By the time he managed to dig out, he had fallen out of the top 10.
The third round of the Can-Am GNCC series continues with the Steele Creek GNCC in Morganton, NC on Mar. 29 and 30.
Related Reading
Borich wins GNCC opener
Can-Am GNCC Round 2 Results:
| | | |
| --- | --- | --- |
| Position | Rider | Manufacturer |
| 1. | Adam McGill | KTM |
| 2. | Taylor Kiser | KTM |
| 3. | Brandon Sommers | Yamaha |
| 4. | Bryan Cook | Honda |
| 5. | Ryan Lane | Honda |
Can-Am GNCC Standings:
| | | | |
| --- | --- | --- | --- |
| Position | Rider | Manufacturer | Points |
| 1. | Adam McGill | KTM | 46 |
| 2. | Bryan Cook | Honda | 43 |
| 3. | Taylor Kiser | KTM | 43 |
| 4. | Brandon Sommers | Yamaha | 36 |
| 5. | Chris Borich | Suzuki | 30 |
Published March 10th, 2008 3:26 PM
Top Brands
Popular Articles