1 View
Wolf Earns Historic Win at Snowshoe GNCC
June 29th, 2009 11:41 AM
Share
First Pro-Am rider to earn GNCC overall victory
In an unprecedented surprise, privateer Brian Wolf on a Yamaha took home the overall win at the MotorcycleUSA.com Snowshoe GNCC, round 9 of the 2009 Can-Am Grand National Cross Country Series, making him the first XC2 Pro-Am ATV rider ever to take a GNCC overall win.
Wolf was welcomed on the podium with wolf howls and thunderous applause by the largest podium crowd the 2009 season has seen so far.
"I'm so pumped, so excited to be here," Wolf said as he accepted his $10,000 purse prize from MotorcycleUSA.com. "I'm really not going for the overall. I'm going for the XC2 Championship. This is just a bonus. "
Making the win even bigger, Wolf said this would be his last year competing in GNCC and when asked if he thought he would return for the next season because of his big win, Wolf still didn't have any definite answers.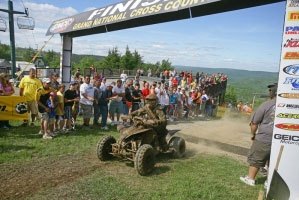 "I always told myself, the pro guys are so fast," he said. "Bill and Chris are so fast. I said there would be no sense to keep racing if I can't be up here with these guys. I guess I stuck my foot in my mouth!
"I just promised my wife some things though so… but she's phenomenal so maybe she will let me."
Wolf took the first overall and first in the XC2 Class, while Rockstar/Makita
Suzuki
's Chris Borich took first place in XC1, followed by defending GNCC champion, Yamaha's Bill Ballance in second and Ballance's teammate Brandon Sommers in third.
Borich took the early lead, starting in the first line of the modified start, where a different line of riders started off every five seconds with live engines on a paved road beside the Snowshoe Resort Village. FRE KTM's Adam McGill, Yamaha's Taylor Kiser and Sommers, Ballance and Houser Racing's Bryan Cook battled the roughest course of the year, taking on mud bogs, fast trails and almost vertical climbs.
The twenty mile-double loop and the modified start are unique to the Snowshoe GNCC, and the Snowshoe race is considered the toughest of the season.
"This event is strange with the way it starts and the time differences," says Ballance. "Maybe this should be looked at as a money event- not a point event. It was great to come up for this. It was like a Last Man Standing type of event."
Borich, the current GNCC points leader, fell back to ninth place in the second lap after he missed a trail and had to retrace his steps. Ballance also fell back in the second lap, falling into eighth place while Yamaha's Donnie Ockerman ran in first place physically on the track. Wolf, who started on the 11th line in the pack, roared to the overall lead with time adjustments and had a 45 second margin over Ockerman.
Ockerman fell back to fourth place in the fourth lap, and Borich and Ballance began making their recovery, with Borich moving back to second place in the third lap. Borich crossed the finish line physically first, less than a second ahead of Ballance with Sommers in third.
"We had a good time out there," Borich said. "I knew Bill was there. It was good to see him out there. I just wanted to get out and worry about the points. We're sitting pretty right now."
Borich accepted a $5,000 purse prize and Ballance earned an extra $3,000 with his for their second and third overall positions.
"They threw about everything out at us that they could," says Ballance. "I had a good time. It's a unique event for us."
Jarrod McClure started the race in fourth on a Yamaha, and held third in the second and third laps to finish fourth.
Cook finished in fifth, followed by Ockerman in sixth and Warnert Can-Am's Chris Bithell in seventh. Ryan Lane finished in eighth place while Taylor Kiser, who started the race in third place, fell back to fourth and then eventually finished ninth. Duane Johnson on a Honda took 10th.
McGill, the winner of last year's Snowshoe race, finished the first lap in first, but broke a footpeg in the second lap, taking an extended pit for repairs. He didn't finish his second lap until more than an hour later. McGill finished the race in 19th place.
Wolf returned to the XC2 podium where he was joined by the familiar trio of FRE KTM's Josh Kirkland in second and Eric Hoyland on a Honda in third.
Walker Fowler continued his streak as Top Amateur.
Can-Am riders swept the A.M. race as Michael Swift took the GT Thunder Morning Racing Overall Award, followed by Jerime Duding in second and Scott Kilby in third overall. Their 4×4 machines took advantage of the rugged Snowshoe track.
In the Women's race, FRE KTM's Angel Atwell took first, followed by Yamaha's Traci Cecco in second and Jesi Stracham in third.
The Can-Am GNCC Series is now on its summer break. Racing action will resume Sept. 12-13 at the Unadilla GNCC in New Berlin, NY.
Snowshoe GNCC Results
GNCC XC1 Standings
Pos.
Rider
ATV
Pos.
Rider
ATV
Points
1.
Brian Wolf
Yamaha
1.
Chris Borich
Suzuki
222 (6 wins)
2.
Chris Borich
Suzuki
2.
Taylor Kiser
Yamaha
182 (1 win)
3.
Bill Ballance
Yamaha
3.
Adam McGill
KTM
160
4.
Brandon Sommers
Yamaha
4.
Bill Ballance
Yamaha
154 (1 win)
5.
Jarrod McClure
Yamaha
5.
Bryan Cook
Honda
148 (1 win)
6.
Bryan Cook
Honda
6.
Brandon Sommers
Yamaha
147
7.
Donald Ockerman
Yamaha
7.
Donald Ockerman
Yamaha
119
8.
Chris Bithell
Can-Am
8.
Duane Johnson
Honda
111
9.
Josh Kirkland
KTM
9.
Jarrod McClure
Yamaha
110
10.
Ryan Lane
Honda
10.
Chris Bithell
Can-Am
89
Related Reading
Borich Wins Thrilling John Penton GNCC
Published June 29th, 2009 11:41 AM
Top Brands
Popular Articles