1 View
GBC Motorsports Returns 2016 Terracross Championship Partner
July 26th, 2016 10:46 PM
Share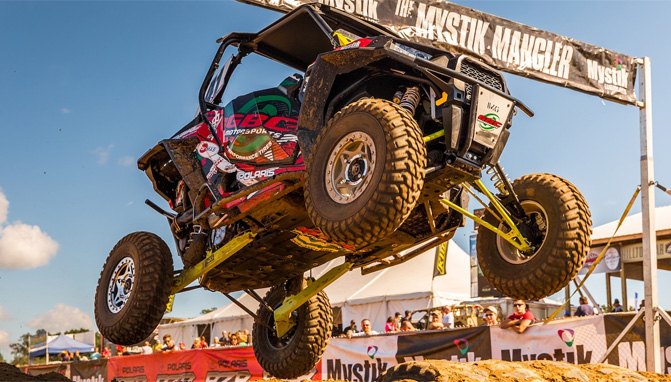 Third straight year as tire partner of Terracross Championship
GBC Motorsports will return for the third year as a tire partner of the 2016 Terracross Championship. GBC Motorsports will be providing the popular and race-proven 10-ply rated Kanati Mongrel tire for all vehicles participating in two of the Terracross classes.
"The tires would have fallen off Terracross a few years back without the support of GBC Motorsports," says Terracross co-owner Joe Duncan. "When we started Terracross, our racers were getting flats and tire damage after every heat race. Once GBC came on board, tire issues were virtually eliminated with the exception of major crashes. The GBC Mongrel has been the best all-around tire for all of the rough, tough and muddy conditions that Terracross throws at them."
The Terracross Championship features the best of off-road racers, action sport athletes, and celebrities competing on challenging courses complete with obstacles like rocks, logs, crossover jumps and tight turns. With events televised on CBS Sports Network, spec Polaris RZR XP 1000 vehicles, and top athletes from diverse racing backgrounds, Terracross has become one of the premier racing series in the world.
"We're very proud to support the Terracross series and all that they're doing to help grow the sport of UTV racing," says GBC Motorsports Representative Kory Ellis. "The 10ply rated Mongrels are the perfect tire for this type of racing. They're durable and versatile, and they deliver everything that these RZR XP 1000s demand of them."
The 2016 Terracross Championship kicks off September 10-11 at the Haydays Motorsports Expo in North Branch, MN. Next up is the "Support Our Troops" Terracross at Camp Legeune Military Base in Jacksonville, NC, scheduled for October 1-2. The season wraps up at the Glamis Sand Dunes for Camp RZR West on October 28-29. CBS Sports Network will once again be providing national television coverage of the Championship, with hour long specials from each event. Learn more at www.TerracrossRacing.com.
Learn more about the Kanati Mongrel and the complete GBC Motorsports UTV tire lineup at www.GBCMotorsports.com. Follow GBC Motorsports on Facebook, Twitter and Instagram for the latest product and racing updates.
Published July 27th, 2016 11:46 AM
Top Brands
Popular Articles