4 Views
How To Choose New ATV Tires
June 19th, 2015 4:41 PM
Share
We're committed to finding, researching, and recommending the best products. We earn commissions from purchases you make using links in our articles. Learn more here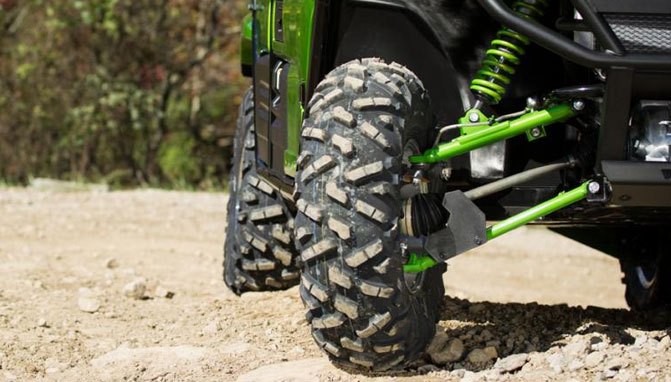 How to narrow your search and find the perfect tires
The ATV aftermarket is filled with products promising all sorts of improvements to your ride. Add a slip-on exhaust for more power, a new anti-vibe handlebar for more comfort, upgraded suspension for better handing – the list goes on and on. However, when it comes to improving the performance of your ATV the first place you should look is where your machine meets the ground – tires.A new set of tires can do more to alter the performance of your ATV than just about anything. Tires are about the first thing you should consider if you want to turn your utility ATV into a long-distance trail cruiser or technical rock climber. Same goes for your sport quad if you want to build a motocross racer or a dune tamer.Before you start shopping for a new set of tires, however, you have to figure out exactly what you need. To help you along the way we'll offer some general examples for sport ATVs, utility ATVs, and side-by-sides. Also, to help you stay safe on the trails, make sure your new tires properly fit your wheels and keep them properly inflated.Sport ATV
For our sport quad example we'll use Honda's popular TRX450R. The TRX450R hasn't had a major facelift in a few years, but it's still hugely popular and winning races over just about every terrain.
Maxxis RAZR
Maxxis RAZR MXSay you've had your TRX450R for a season or two and are thinking about doing a little cross-country racing to go along general trail riding. There are plenty of options available, but the Maxxis RAZR stands out to us.While RAZR Ballance is a newer model, the original Maxxis RAZR still has race-wining pedigree and is a more affordable. It's also available in four- and six-ply ratings, but we'd recommend the six-ply for the added puncture resistance if you plan on taking on rougher, rock-strewn terrain.A similar approach can be taken if you're looking at occasional motocross racing. While it may be tempting to shell out more money ultra soft compound tires that offer superb grip, these may be best left to those who take their racing seriously. Sure the performance is fantastic, but ultra soft compound tires wear out rather quickly. If you are looking for a tire that will both last and perform on the track consider something like the Maxxis RAZR MX or the Kenda Kutter MX. Both are proven motocross tires that should keep you rolling for many races.Utility ATV
For our utility ATV example we'll go with the Honda FourTrax Foreman Rubicon – a torque-heavy 500-class machine with a proven track record.
Kenda Bearclaw HTRThe Rubicon is known as a rugged, powerful middleweight and is a treat for high-mileage riding thanks in part to available Electronic Power Steering. Honda's power steering is known as perhaps the lightest in the industry, which is something to keep in mind when choosing a tire.Power steering affords you the option of a heavier tire that will hopefully last you a long time. We think Kenda's brand new Bearclaw HTR seems like a great fit.
Kenda's original Bearclaw
has been around for years and has a reputation superior traction over a variety of trail conditions. The Bearclaw HTR takes things a step further with a durable 8-ply rated radial casing and a new center-knob design for low vibration.We like the Bearclaw HTR because it offers a fairly aggressive tread pattern without getting crazy, which means you can handle some pretty gnarly trails and slippery mud without sacrificing a smooth ride. There are certainly other tires that are more adept at handling deep mud and other situations that require maximum traction, but those often lead to an uncomfortable ride. The Bearclaw HTR looks to offer a good mix traction and ride comfort.Side-by-Side
For our side-by-side we'll stick with Honda and look at the Big Red. It won't win many races, but few side-by-sides offer as much work capability without sacrificing on-trail fun.
ITP Terracross R/TSince we're looking at the Big Red, let's assume you just want to enhance its strengths with a new set of tires. The 2011 Big Red comes outfitted with the excellent Maxxis Big Horns on all four corners. However, if you bought a previous model and are looking to upgrade (or just replace worn-out rubber), you've got options.One of our favorites for the Big Red is the ITP Terracross R/T. Like the Big Horn, the Terracross is multi-use tire that will serve you well as a trail cruiser and handle moderate mud, snow and sand. It's also exceptionally light for a side-by-side tire.If you don't ride in the mud and snow much and mostly stick to hard-packed trails, consider something like the Kenda's Bounty Hunter HT. This tire was designed specifically for side-by-sides and specifically for riding hard-packed terrain.
Kenda Bounty Hunter HT
Maxxis Mud BugOn the opposite end of the spectrum, perhaps you prefer to play in the mud. In that case you can look at the Maxxis Mud Bug, which offers superior traction in the slippery stuff, but still a reasonably comfortable ride on the trail.ConclusionClearly you've got plenty of choices when it comes to tire selection. However, once you know what you want the tire to do you really narrow things down. With your list whittled down to a few options you can start to shop around for the best price. Good luck and happy shopping.Related Reading ATV Tires: Buyer's Guide ATV Helmets: Buyer's Guide Published January 21st, 2011 2:57 PM
Top Brands
Popular Articles