1 View
Innovative Products Spied at 2016 Rally on the Rocks
June 27th, 2016 12:37 PM
Share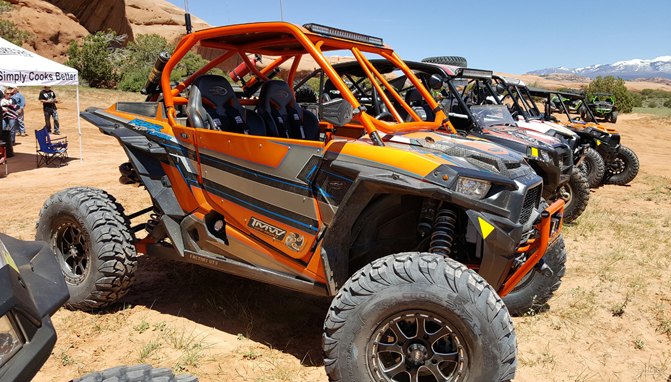 Cool gadgets and custom rigs in ample supply
Last year as we attended the Discount Tire Rally on the Rocks (ROTR), Moab, Utah, we combed through the many high-end Sport UTVs and at event's ending day, we drove away over stimulated. All we could think about was winning the lottery so all our UTV dreams and wishes would come true.
We didn't win.
For this year, we backed off on our champagne tastes, stuck with bottled water reality and looked at the little things a rock crawling or mountain UTV driver may want. But, this did not stop us from going all out in Wow-land when we saw some Honey-I-need-that Side-by-Side toy.
First a recap. In our earlier report on ROTR, we talked about two-days worth of trail riding, where on our first day Arctic Cat treated ATV and UTV journos to a Wildcat buffet. On the second day, we spent time with the Discount Tire talking heads on Cliffhanger, where we piloted the new ATV.com Polaris-supplied four-seat RZR 1000 Turbo with electronic power steering (EPS). Both days delivered a fair share of beauty and breakdowns, including a rollover.
Turning Real Tight
Way before many of you were texting and playing "Clash of Titans," a brilliant mind was at work designing turbochargers for the early GM 6.2L diesel engines. The man who did this was Steve Benson, who formed a company known as ATS – Advanced Turbo Systems – near Salt Lake City, Utah. The 1990s 7.3 L Ford Super Duty diesel had a turbocharger unit that he consulted on. Benson also developed a turbo unit that sat on a Polaris Indy 500 SKS snowmobile with factory fuel injection. In short, Benson, now retired to St. George, Utah, designed or improved many yesteryear products that make snowmobiles really, really fast.
After getting tired of the cold, Benson turned his attention to turbocharged sandrail cars and building turbos for the Polaris RZR; he has assisted MNTK, Ashton, Idaho, in designing and placing turbos on RMK Pro snowmobiles and RZRs – 900 and 1000.
We ran into him at ROTR and noticed his RZR 1000's rear wheel spacing –from center wheel to center wheel – was wider. "That's right," he said. "My RZR has rear wheel steering."
It's not often you see rear-wheel steering on a RZR.
Come again?
"Rear wheel steering…it crabs."
With a shop full of tools, lathes and fabricating equipment, Benson purchased a inboard-outboard (I/O) trim motor and designed and built a rear axle system that swings right or left via the trim motor; the controls are smartly blended into the tranny's shift lever.
Why would an UTV rock crawling aficionado want one? He said, "When picking a line up a rocky trail, and if the trail is tight and you want to protect your Side-by-Side, then counter-steering or crab-walking up a rock can make all the difference in the world."
You can watch the rear-wheel steering in the short video below.
Get the Flash Player to see this player.
Benson has not taken his concept to market, and he led us to believe he will not, as he said, "this is me just building stuff." We like the ingenuity and it shows the passion off-roaders have for their rock crawling ATVs. Benson consults MTNTK (Mountain Tech) Performance at mtntkperformance.com.
Gadgets
If it wasn't for its day-glow bright neon green color, we would have missed these. We've all experienced this once or twice, when killing it in some mud or sand, the front tires throw the junk up into the cab and the rear tires load up the rear storage compartment. What we saw here seemed to us, one of those ideas that we say to ourselves, "Why didn't I think of that?"
RokBlokz fender extensions mount to the front and rear fenders – top side – and the lower mud guards mount to the rear trailing arms. Nice. RokBlokz actually calls its product Rally Mud Flaps. For more information, dial in 801-404-4538 or hit Facebook at Facebook.Com/RokBlokz.
RokBlokz fender extensions and mud guards will keep you and your machine cleaner when riding in the muck.
Rope it and pull it. VooDoo Offroad Ropes has ropes of varying size (dimension and length) and tow strength; 9,700-pound recovery/tow strength to 60,000-pounds recovery/tow strength. VooDoo states, "Our Recovery Rope utilizes kinetic energy. Every percent the rope stretches it gains kinetic energy which transfers into force directed towards the stuck vehicle allowing for a smooth un-jarring extraction."
VooDoo Offroad's recover rope stretches up to 38% in length, helping you more smoothly pull somebody out of a sticky situation.
These recovery/tow ropes stretch 28% to 38% in length, without a quick snap and rebound, to pull any sized sport UTV up over rocks, and through mud and sand. We can all go to Walmart or to any auto supply story and purchase a tow strap, but what led us to admire these ropes and want one, or some, was the ropes' ability to slowly stretch and hold the stretched-out length, and retract to its original length after the load has been disbanded. Think of this, is a pseudo way, as tough flex-hose, but with greater purpose and strength. No, it's not hollow.
Tires may not be considered a gadget, but as we move to seasoned Moab ROTR crawlers, the most notable improvement one can make to their Side-by-Side is by installing taller-than-stock and stickier-than-stock tires.
Last year it appeared at ROTR the emphasis, by no design, was on rollbars/cages and front- and rear-crash bars. This year, 30-, 31- and 32-inch tires with and proper-sized beadlock wheels surfaced as the most visible add-on product. An example tire is the Pitbull Growler A/T Extra, which has integrated sidewall protectors, rounded edge tread blocks, a chip- and tear-resistant compound, and a rim guard to protect the UTV's wheels.
Tall tires provide extra ground clearance, which comes in handy in rock-strewn Moab.
Discount Tire's own line, such as the Rage Thunder and Rage Storm, which we reviewed last year, were on many units. As a bit of advice, when attaching tall tires to your fave UTV, ensure the drive axles are strong enough to handle the extra weight and grip. The OEMs made the drive axles specific to a certain tire size, to the tires the UTV was built with, thus it would behoove you, the owner, to install axles that can handle the increased stress that taller tires place on the UTV's drive system.
Tall tires will increase ground clearance, thus helping the sport UTV crest up over Earth's big old boulders.
Lastly in the gadget category are two-way communication (intercom) headsets – between driver and passenger – that also double as a VHF two-way radio where other crawler drivers can communicate; and rear view mirrors that have a built-in DVR which receives video feed from a rear-facing and front facing camera.
Communication devices, like this RTX InterCom and VHF radio from Polaris, allow riding groups to stay in audio contact.
We received from Polaris a ComLink RTX InterCom and VHF radio, and Total-Vison Mirror. We will install these on our turbo 1000 RZR.
For the VHF two-way and intercom radio headset, specifically, many sport UTVs were equipped with these and for good reasons –mostly safety (Rugged Radios and a ComLink RTX, to name two). Being in contact with other drivers, knowing location, trail conditions, injuries to a driver/passenger in case of an accident (injury extent or to contact medical/rescue professionals), or crawler status also in case of an accident (what spare parts or services are needed).
The ComLink RTX we received can connect to a cell phone or personal music device – via Bluetooth. The communication intercom headset comes with five two-way channels. Follow us as we detail the install in a future story.
Big Rigs, Fancy Rigs and a Deere
As we skipped from vendor to vendor, a highly-customized RZR with a pull-behind camp-trailer caught our attention – several times.
This RZR built by MIG Trailers (part of MIG Adventure Systems) was surely good looking, but the trailer was unbelievable. The trailers, which can be custom-built for your sport UTV and vacation wants, come in four different sizes/models (all called Apex with secondary model name) with many sleeping, cooking, storage, safety and lighting options. Think of this as the ultimate off-road pop-up camper-trailer, blended with a tear-drop style camper and a healthy dose of backcountry ruggedness. The Apex and Apex XL are trail rated at 50 inches. Full details are available at www.MigTrailers.Com or at Facebook.com/migadventuresystems.
Take your vacation home with you with a MIG Trailer.
We also scored a shot of Herbie, the Love Bug. No one was around when he spied it, time and time again, but we sure wanted to lay our fingerprints on it. The Beetle UTV, built by Rugged Radios, was just one of many vendors who fully use what they sell.
The local Sherriff department at Moab has the most awesome Side-by-Side ever. This search-and-rescue equipped RZR is equipped with custom seats, four-point harness, LED lights throughout – front, rear and side – 31-inch tires, auxiliary fuel cans, which take up the place of the right rear passenger seat, rescue ropes and harnesses, and a medical first aid kit. The rig was built SPF MotorSports, Tonganoxie, Kan.
The local Sheriff office travels the trails in style in this Search and Rescue RZR.
Several of companies who construct wild and safe Side-by-Sides are HCR, SPF (mentioned above) and RCR. As we ran our fingers over their custom-built full roll cages, front and rear crash bars, long travel suspensions, we pondered, "This is the way to go." If you are a dreamer, a crawler and a safety-conscience off-roader who likes to go big with style, then give one of these builders a call. For long travel suspension kits, contact HCR at HCRracing.com. For custom rollbar kits, fabrication and painting, contact SPF MotorSports at SPFmotorsports.com. For a complete build or parts for DIY, contact RCR Performance at RCRperformance.com. These three companies, and these are only three of many spied at ROTR, have products for your Polaris, Arctic Cat, Yamaha, Can-Am and Kawasaki.
Here, there and everywhere were, (listed in order of most popular) Polaris RZRs, Arctic cat Wildcats, Can-Am Mavericks, Yamaha YXZ 1000s, Kawasaki Teryx (the latest) and one lone John Deere Gator RSX850i (that we saw from two-days of trail riding and scanning the staging area for all routes). We admit, it was nice to see a Deere; perhaps it is the farmer in us, or the thought that someone was different kind of motor head.
Rally on the Rocks is a home for pure Sport UTVs. This John Deere RSX850i certainly stood out from the crowd.
This Deere's operators were John and Cheryl Gammon, Bonne Terre, Mo. They favored the Deere due to its exceptional extended warranty, and what John calls "a son-of-gun good motor." The Gammons rode a trail a day while at ROTR, and some days, two trails on half-day rides. He said, "What is there not to like about Moab? There are good friendships to be made on a daily basis."
2016 Closeout
The Discount Tire Rally on the Rocks, as mentioned in Part 1, is a bucket list item for any true-to-the-heart UTV rider. Also, if your rig needs a freshen-up, then ROTR is a mega hit for vendors and deals on- wheels. Registration for ROTR 2017 will open in a few months, but book your motel/hotel now to nail down that good deal.
Published June 3rd, 2016 2:21 PM
Top Brands
Popular Articles